Our Partners
Get immigration help you can trust.
Book a consultation with one of Moving2Canada's recommended Canadian immigration consultants.
Find a consultant
Be Prepared
Do you have health insurance for Canada?
Our partner, Cigna, offers international health insurance plans that give newcomers peace of mind.
Get a free quote
Learn all about Canada's provinces and territories.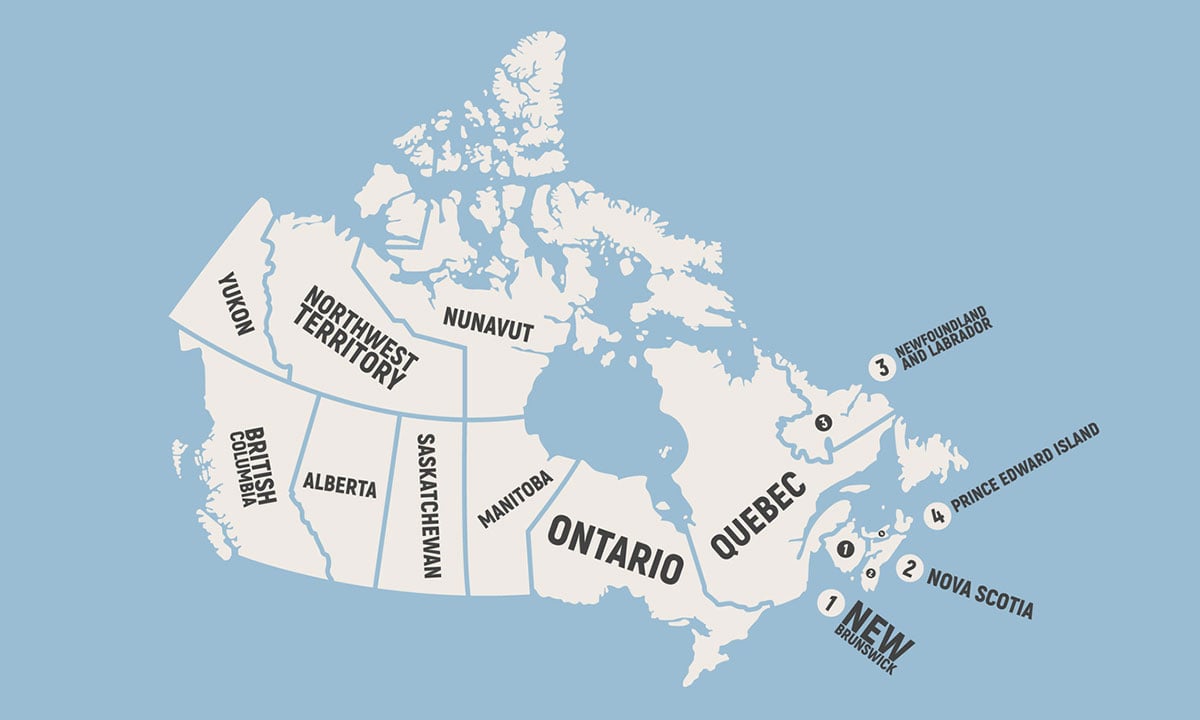 Provinces and Territories of Canada
Jump To
About Canada's Provinces and Territories
Alberta
Located in western Canada, Alberta is known for its stunning Rocky Mountains, rolling prairies, and vibrant cities. Alberta's two larges cities are Calgary and Edmonton, which are the centres of commerce and culture in the province. The provincial economy is heavily influenced by oil and gas, but Alberta also boasts a strong technology and tourism sector.
British Columbia
Also known as "BC" for short, the west-coast province of British Columbia is known for its coastal landscapes, mild climate, and diverse communities. The largest city in the province is Vancouver, which offers a rich cultural scene.  The capital city is Victoria, which is off of mainland Canada on an island called Vancouver Island. (Fun fact, Vancouver is not on Vancouver Island.) About a five-hours drive from Vancouver is the inland city of Kelowna, which offers a unique living experience in the Okanagan Valley. With a focus on sustainability and innovation, the province of British Columbia is a hub for tech, film, and green industries.
Manitoba
Manitoba sits in the heart of Canada. It is the central-most province, known for its friendly communities and diverse cultures. The capital city of Manitoba is Winnipeg—a hub of arts, culture, and history in the province. The province offers an abundance of economic opportunities in agriculture, manufacturing, and healthcare sectors.
New Brunswick
New Brunswick is located on the eastern coast of Canada. It is the only province where both English and French are recognized as official languages within the provincial government. This Atlantic province is known for not only its historic towns, but also its stunning coastal landscapes. The main cities are Fredericton and Saint John which offer a mix of historic and modern architecture. New Brunswick's economy centres around forestry, fishing, and technology.
Newfoundland and Labrador
Newfoundland and Labrador is situated on the east coast of Canada. It has its own unique dialect and culture that is distinct from other parts of Canada. The capital city is St. John's, a colourful city known for its friendly atmosphere. Fishing, offshore oil, and tourism are key sectors in Newfoundland and Labrador's economy.
Northwest Territories
The Northwest Territories offers a unique northern experience. Home to the city of Yellowknife, this territory is a hub for mining, Indigenous culture, and outdoor adventures under the Northern Lights.
Nova Scotia
Nova Scotia, along the Atlantic Ocean, is steeped in maritime heritage. Halifax, the capital, combines a rich history with modern amenities. The province's economy includes fishing, tourism, and a growing tech sector.
Nunavut
Nunavut is the northernmost territory in Canada. The capital city is Iqaluit, a hub of Indigenous culture. The territory's economy includes hunting, fishing, and government services among others.
Ontario
Canada's most populous province is Ontario—home to Canada's largest city, Toronto, as well as the nation's capital city, Ottawa. Ontario welcomes more immigrants per year than any other province. Known for its diverse communities and economic opportunities, you can find careers in finance, tech, arts, and more in Ontario.
Prince Edward Island
Prince Edward Island — also known as PEI for short — is an island off of the east coast of Canada. Among the maritime provinces, it is famous for its rolling hills, red soil, and seafood cuisine. The capital city of Charlottetown exudes small-town charm. The key industries in PEI include agriculture, tourism, and education.
Quebec
Quebec is a predominantly French-speaking province with a rich cultural heritage. Montreal, the largest city, is known for its arts and culinary scene, while Quebec City retains its historic charm. Quebec's economy includes aerospace, technology, and cultural industries.
Saskatchewan
Saskatchewan is located in the Canadian prairies. The people who live in Saskatchewan enjoy a strong sense of community and culture. The land is so flat that the daylight hours last longer than other parts of Canada. Regina and Saskatoon are the major cities. The province's economy is driven by agriculture, mining, and energy sectors.
Yukon
Yukon's stunning landscapes and gold rush history make it a unique destination. Whitehorse, the capital, is a hub for outdoor enthusiasts and government services. Mining, tourism, and indigenous culture are central to the territory's identity.
Canada Destination Guides
Moving2Canada offers detailed guides on Canada's major destinations. Check out our suite of resources for moving to Canadian cities and provinces on our Destination Guides page and our YouTube channel.