Be Prepared
Do you have health insurance for Canada?
Our partner, Cigna, offers international health insurance plans that give newcomers peace of mind.
Get a free quote
Be Prepared
Do you have health insurance for Canada?
Our partner, Cigna, offers international health insurance plans that give newcomers peace of mind.
Get a free quote
If you're thinking about living in Calgary or are a newcomer to Calgary, this guide will help you navigate life in your new surroundings.
What is it like living in Calgary? Where is Calgary in Canada? How does the cost of living in Calgary compare with other cities? We have compiled answers to some of the most pressing questions you might have about Calgary.
Jump To
What you'll find on this page
Where is Calgary in Canada?

Calgary is the largest city in the province of Alberta, Canada.
Alberta borders the United States. To the west is the province of British Columbia, Saskatchewan is to the east, and the Northwest Territories to the north. Calgary sits within the prairies just east of the Rocky Mountains, where the Bow and Elbow rivers meet.
From here, in Alberta's Grassland region, the prairies begin rolling east through central Canada. Calgary is referred to as the gateway to the Rocky Mountains. World-famous skiing, and the town of Banff, are a 90-minute drive to the west.
About Calgary
The population of Calgary is around 1.3 million, making it the third-largest municipality and fourth-largest metropolitan area in Canada.
Calgary is larger than Edmonton, the province's capital situated about two and a half hours to the north by car. Calgary is the major urban centre for the entire southern half of the province of Alberta. It is surrounded by an area of profound natural beauty.
Economic activity in Calgary is focused on the petroleum industry, agriculture, and tourism. Alberta has the lion's share of Canada's oil industry. Its oil sands are estimated to be second to Saudi Arabia's.
Most petroleum companies in Canada have their headquarters in Calgary, contributing to making Calgary one of Canada's wealthiest cities. The economic reliance on this industry results in 'boom' and 'bust' cycles, and current low oil prices mean that Calgary is in the midst of economic recovery.
In 1988, Calgary became the first Canadian city to host the Winter Olympic Games. These games continue to be a benchmark for future host countries on how to run a successful Olympics. The Calgary Olympics pioneered the use of community volunteers — something Canadians pride themselves on.
With its focus on the oil industry and proud 'Cowboy' traditions, you'll often hear Alberta referred to as "the Texas of Canada." Calgary is often called 'Cowtown' and the Calgary Stampede, which lasts 10 days every July, is known as the "Greatest Outdoor Show on Earth."
The Stampede is a rodeo where cowboys from different places gather to showcase their talents. It's not just for those living in Calgary — it's a major tourist attraction too. Hotels and flights get very busy and expensive during this time, so book early. Most of downtown Calgary shuts down during the Stampede to join in the festivities.
Calgary is also known as "Heart of the new West."
For more, read our 10 things to do in Calgary guide.
Living in Calgary: weather
Calgary is a mountain-high city at 1,048 metres above sea level. The climate is dry, with low levels of humidity.
Sitting on the prairies, Calgary gets the most sun of any of Canada's major cities. Summers can be warm and dry, with temperatures capable of reaching 30°C or higher.
More often than not it is mild, especially when compared with most of Canada. Even when it's cold, it's usually sunny. This can make living in Calgary in an attractive prospect.
There are four distinct seasons in Calgary. It almost always cools off at night, when frost can occur at any time of the year.
Winter is quite pleasant by Canadian standards, with temperatures staying below -10°C for a few weeks of the year. Calgary's proximity to the Rockies make winter all the more pleasant. There are so many great ski resorts to choose from, so don't be afraid to embrace the winter!
And, you probably won't pass a Calgary winter without a Chinook. This weather phenomenon is a warm wind from the Pacific Ocean. It can raise the temperature by as much as 15 degrees in a few hours.
When the dark Chinook arch appears in the western sky, the warm wind is about to blow in. One day you might be wearing your winter jacket, the next, a short-sleeved shirt and shorts. Running enthusiasts tend to boast that they have run in shorts in every month of the year, even in winter.
May is a windy month, while June has above average rainfall. July and August are the warmest months. September and October often enjoy warm conditions.
Calgary receives low amounts of annual rainfall. Most of its annual precipitation comes in the form of snow during the winter months.
Depending on the year and the frequency of the warm Chinook winds, winter snowfall events may remain visible for a few days. August is the most pleasant month in terms of weather. If you plan on living in Calgary year-round, make sure your wardrobe is fit for all seasons.
Culture in Calgary
Calgary is very diverse. Around one-in-three people living in Calgary were born outside Canada. Its population is made up of many immigrants from outside Canada. There are large Filipino, Indian, and Chinese communities. Just over one-third of the population is a visible minority.
During good economic times, Calgary attracts Canadians from other provinces.
Calgary is also often the first choice of "second movers". These are people who immigrated to Canada and settled elsewhere before deciding to relocate again.
Given that many Calgarians are not from Calgary, the ones that are will always make a point to mention it — "born and raised here!"
Calgary has a world class selection of theatres and music venues, including:
• Jack Singer Concert Hall.
• Calgary Philharmonic Orchestra.
• Theatre Calgary.
• Alberta Theatre Projects.
• Glenbow museum.
Calgary is also proud of its tradition in country music. You're likely to hear plenty of it if you decide to live in Calgary. Many of Calgary's radio stations are dedicated to this genre, including Wild 953 and Country 105.
You'll find the normal offering of recreational sports here in Calgary, if you want to keep fit with some soccer, basketball, tennis, volleyball, etc. The city's professional sports scene is not as vibrant as many other cities, however.
The Calgary Flames, the city's National Hockey League (NHL) franchise, are well followed and play at the iconic Scotiabank Saddledome downtown. You also have the Calgary Stampeders to cheer on the football (CFL) field throughout the summer and autumn, but there are no NBA, MLB, or MLS franchises in the city.
Explore more City of Calgary recreation and sports options here.
Cost of living in Calgary
This booming city has plenty of wealth, but Calgary living costs are lower than in its coastal neighbour Vancouver.
This is due in part to Alberta having no sales tax and a lower price of gasoline and natural gas. The cost of living in Calgary is high relative to smaller towns around Alberta. However, it is quite reasonable compared with many other Canadian cities.
Learn more about the cost of living in Calgary.
Transit in Calgary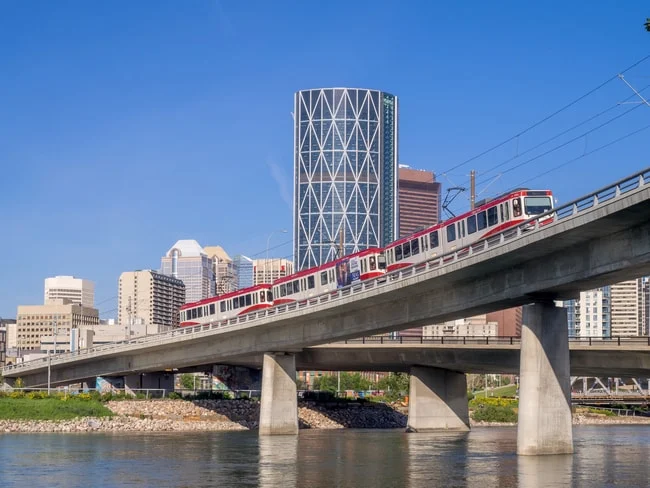 Calgary is served by buses and light rail transit (the C-Train). There is no underground rail system. You'll find that the public transport isn't as comprehensive as many other Canadian cities. The C-Train can prove useful, but note that living in Calgary can be tough without access to a vehicle. For detailed info on transport in Calgary, visit our dedicated page.
Dining out in Calgary
A special thank you to Sharon Whelton and Michael Brophy for their help with this section.
Calgary has a huge variety of cafes, restaurants, and pubs. All of them have an impressive offering in terms of dining out.
Alberta is famed for it's 'Berta Beef'. Which means there are lots of good steak options across the city. But, there's also a great variety of fine dining at reasonable pricing in Calgary. Many restaurants in Calgary have daily specials that offer a good value.
Here is a list of 10 places that are each unique and have great cuisine. They're a treat for anyone living in Calgary.
Many of the options listed below can be found throughout Calgary. However, 17th Avenue is often the best place to go as many of the best pubs and restaurants are situated here.
Calgary draws in the tastes of the world. So, you're likely to find great meals here that hark back to your homeland. This beautiful Nepalese restaurant is located in a popular South-West residential hotspot on 17th Avenue. Westbrook's C-Train station is a few minutes walk away. It's well worth a visit wherever in the city you're coming from, or if you're in Calgary from out of town.
The interior is beautifully decorated. There are stunning canvas paintings of traditional Himalayan scenes dotted across the walls. It's a comfortable dining experience, with only gentle musical tones supplementing the wonderful food on the tables.
The menu includes plenty of curry and noodle dishes, most of which are available in all levels of spiciness. Beware that medium would be hot enough for most foodie daredevils! The Vegetable Mo:Mo is a light, delicate, exquisite starter, which can be shared with others while waiting for the sizeable main courses.
The Himalayan main dish is a mild, creamy, and tangy option that's well worth sampling, but I'd recommend going for the Chau Chau noodles with shrimp if you're looking for an added spicy kick.
The menu caters to vegetarians, and there's also a great variety of gluten free options.
This delightful British pub is located on 17th Ave SW. It's about a five-minute drive from the busier nightlife spots on this popular street. It's a great place to start off the evening, with delicious pub grub at a reasonable price.
It's a hub for sports fans too. There are lots of televisions featuring the night's hockey, basketball, football, and soccer action. There are also great value food and drink specials any day of the week. So, keep it in mind if you want to treat yourself on a low budget.
Chill out there with a 'Wing Wednesday' special, where each delicious piece of chicken costs just 35c each (there's a great selection of sauces and toppings available too).
Burger fans will also be kept happy. I'd recommend going for the eye-catching 'Fat Bastard' if you're stomach is rumbling. This bulging feast includes an egg and delicious onion ring inside two tasty burger buns.
Stephen's Avenue is a busy shopping avenue in downtown Calgary. It's also home to plenty of interesting nightlife and dining. The Warehouse might not blow your socks off with stunning food, but it's a great place to visit if you're fed up of cooking at home and want an affordable meal.
You might have come across this chain elsewhere in Canada, but this is the only location in the entirety of Alberta. All items on the food menu are a staggering $5.95, whether it's a poutine, burger, or tray of nachos. It's hard to go wrong with any menu choice at that price, but I'd recommend trying the delicious Chaing-Mai Bowl if you're on the look for something a bit healthier. This noodle dish contains lots of chunky vegetables and Asian greens.
Its downtown location means that it usually gets a lively, youthful atmosphere in the evenings. The music playlist coming through the speakers plays hit after hit, and there's a great drinks menu available too. Go for the Tennessee Lemonade for a tangy whiskey hit to wash down your meal!
Oriental Phoenix is a fantastic Vietnamese restaurant. Conveniently, they have two locations – one in downtown Calgary (Suite 105-401 9 Ave SW), and another close to Chinook C-Train station (104 58 Ave SE).
Both are great restaurants, but from a personal perspective, I prefer the SE location for its atmosphere. There is a great vibe, and their staff are friendly and helpful.
Prices are very competitive, depending on what you order. I tend to go for the Papaya Salad or spring rolls to start with, and their noodle soups are fabulous. I would recommend the marinated chicken and grilled marinated pork noodle soup. It's served with rice noodles, and served with a chicken base broth.
Original Joe's has restaurants dotted across the city, and it's a very popular place for good food and a drink. On a Friday evening, it's one of the best places to be with a lively atmosphere and great service.
OJ's (as it's more commonly referred to) has quite the choice on their menu, from burgers to flatbreads and noodle bowls to entrees. They have plenty of tasty specials each day on both food and drinks, making it a great option for people of all budgets.
One of my personal favourites is The Original burger, which comes with two sides. Again, prices here are very competitive.
Notable is just a phenomenal restaurant. Situated in the NW near Bowness, this is a little far out for many, but I promise you it's worth the journey.
It is one of my favourite restaurants in Calgary, but I warn you – it is expensive.
Highly recommended dishes to order include the Thai marinated Notable chicken wings, or the crispy potato rolls to start with.
For mains, the grilled Alberta bison is amazing; I couldn't recommend it more. The free-range half chicken is also delicious, as well as their steaks.
For the desserts, the warm dark chocolate pudding is sublime, as is the dulce de leche crème brulee. What also impressed me is that the restaurant has separate lunch and dinner menus for gluten-free diners.
Situated in Brentwood and on 17th Avenue, this Irish pub chain is a lovely spot for a bite to eat and a relaxing evening with some friends. You'll find more intimate and exciting Irish pub atmospheres elsewhere, but this is a comfortable spot with lots of games to keep you occupied too. Check out the shuffleboard table at the 17th Avenue location for a unique pub game experience. A few hours could pass before you realise where the time went.
As with many other pubs in Calgary, Jameson's run daily specials on both drinks and food. Also, if you mention any dietary requests to the server, they check with the chef to see what can be prepared for you, which is great.
If you're out in a group of 3-4 meat eaters then you should consider sharing the Party Platter, which includes a mouthwatering mix of ribs, sausage, calamari, fried pickles, chicken skewers and plenty of dips. It says it's suitable for up to six people, but you might find yourself slightly hungry if it's spread that thin.
There can be live music playing too from time to time, but it does get quite loud later in the evening, so if you want to go for a chat with friends, then earlier in the day or late afternoon would be the best time. They also show a wide variety of sports.
Located on 17th Avenue SW, Una Pizza and Wine is one of the best pizzerias in Calgary. It's popular among those living in Calgary, so it's important to note that Una operates on a first come, first serve basis.
If you are unable to get a table right away, a server will take your contact details and call you closer to the time of when a table becomes available. It also provides pickup and delivery services, if you want to enjoy the meal in the comfort of your own home.
Their opening hours are 11.30 a.m. – 1 a.m. seven days a week, with the late closing time proving to be a practical option for late-night workers. Their pizzas are delicious, and their wine selection is impressive.
Moxie's Grill and Bar is another casual dining option for those wanting some nice food and a drink with friendly servers. Moxie's restaurants can be found in various locations throughout Calgary, although I've only frequented the restaurant downtown, which is close to a number of central C-train stops.
Calgary's summer may be brief, but the locals here take good advantage of it. When the temperature rises, many restaurants introduce outdoor seating, and this is one restaurant well worth checking out when you can saunter around in a t-shirt. Give the delicious classic beef burger a go, while the chicken tenders and the penne toscana are also great for appeasing the taste buds.
Prices in Moxie's are competitive, and they always have specials each day.
Joey's offers some great food at competitive prices, and their multiple locations serve many of Calgary's most popular neighbourhoods.
It's an enjoyable atmosphere, but beware about that things can get pretty busy there at weekends, so try and reserve ahead if you have your heart set on trying out their menu.
The meals in Joey's have always been enjoyable, and there's always an impressive selection of foods on the menu. Go for the roast chicken and BBQ ribs, while I would also have to recommend the lettuce wraps to start, as well as the delightful calamari fritti.
Calgary nightlife
It seems that the majority of people living in Calgary prefer pubs over nightclubs. The most popular pubs in town include Jameson's on 17th Ave, the Rose and Crown, the Trap and Gill, Ceili's, and St James Corner. These pubs also serve food until late.
If you fancy a traditional Irish music session, Sundays at the Oak Tree are the perfect time and place. There's always a great atmosphere upstairs, where conversation is encouraged, helped by a scarcity of televisions.
In terms of other options, Ranchman's, Cowboy's, and The Roadhouse are always popular choices. Cowboy's is probably the most popular of the three. With its large dance floor, DJ, live bands and country dance lessons, the venue is always extremely busy, particularly on the weekends.
Ranchman's isn't far behind though, as it's known as the "Official Hospitality Location of The Canadian Professional Rodeo Association." Ranchman's is almost always packed on a Saturday night, and their policy is to ask for ID, no matter what age you are.
Remember the fight scene from the iconic movie 'Cool Runnings'? That was filmed at Ranchman's. It's a unique nightlife experience, with lots of line dancing and a mechanical bull to also keep you occupied.
However, if it's a slightly quieter night that you are looking for, it may be best to avoid the above suggestions and stick to a pub.
Living in Calgary: positives & negatives

Positives of Living in Calgary
Low taxes. Taxes in Canada include both a Provincial Sales Tax (PST) and a general Goods and Service Tax (GST). Alberta residents pay no PST. GST is charged at 5 percent.
Calgary was named North America's most livable city in 2018.
House prices and rent prices competitive, with plenty of accommodation supply.
Salaries in Calgary are typically above the Canadian average.
It's clean and beautiful. with a modern, attractive downtown, a good-sized meandering river, and the Rocky Mountain backdrop.
The Rockies are easily accessible by car from Calgary, with world-class skiing in the winter and incredible vistas in the summer.
Clean air.
One of the sunniest climates in Canada and low rainfall.
Chinook winds bringing mild days in winter.
Fantastic winter sports and Canada Olympic Park.
Friendly people.
It's easy to "get away from it all" into a huge province with a small population.
Recreational opportunities abound.
Negatives of living in Calgary
Economic reliance on the oil industry leads to 'boom' and 'bust' cycles.
It can be difficult to get around Calgary if you don't have a car.
The long, cold winter, though Chinook winds can bring warm spells for a day or two.
The rapid thaw and slush when the warm Chinook wind blows in winter. Roads get messy.
The short summer. Calgary's summers can be considered short. There are only two months (July and August) of hot weather, although September and October are often warm and pleasant.
Special thanks to the following people for making the Calgary section of Moving2Canada possible: Paddy Slater, Colin Smyth, Enda McNulty, Andy Irvine, Sharon Whelton, Michael Brophy, and Ivan Hearty.
Want more help for living in Calgary?
Moving2Canada is here to help all those living in Calgary.
A special thank you to Michael Brophy for his help with updating this article.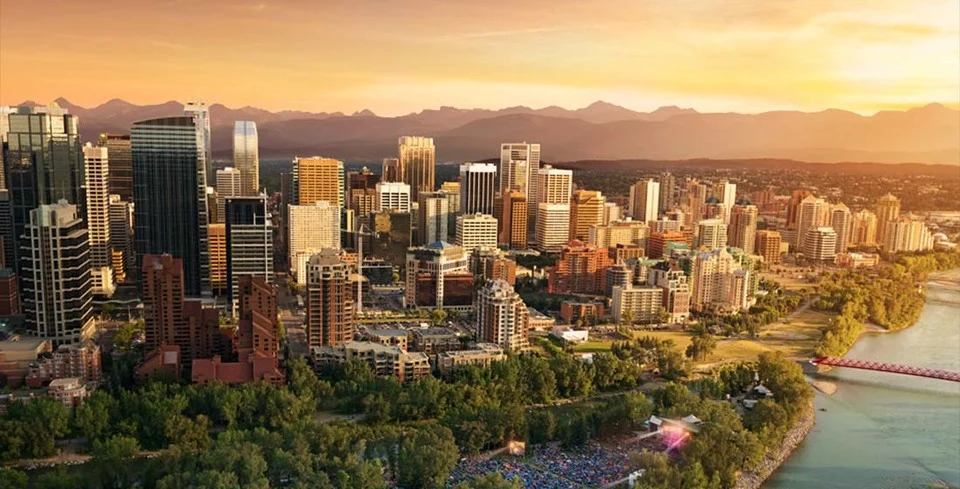 Free
Make your Calgary move with confidence
Job matching, a personalized checklist, exclusive events — it's all there with a free Moving2Canada account!
Register now