Be Prepared
Do you have health insurance for Canada?
Our partner, Cigna, offers international health insurance plans that give newcomers peace of mind.
Get a free quote
Be Prepared
Do you have health insurance for Canada?
Our partner, Cigna, offers international health insurance plans that give newcomers peace of mind.
Get a free quote
What is it like living in Vancouver? Where is Vancouver? What does day-to-day Vancouver life look like? And how does cost of living in Vancouver compare with other cities?
This guide is here to help you answer some of the important questions about Vancouver. By the end, you should have a pretty good general idea about life in this west-coast Canadian city.
Jump To
What you'll find on this page
So you haven't quite made up your mind on where to live? Hear what our experts have to say about Vancouver vs. Toronto vs. Montreal.
Where is Vancouver?
Vancouver is a coastal seaport city on the mainland of British Columbia, Canada.
It is located on the West Coast of Canada, just 50 kilometres north of the US border. Seattle is 230km to the south, about a 3-4 hour drive.
The Strait of Georgia lies immediately to the west. Beyond that is Vancouver Island (known locally as 'The Island'), and the Pacific Ocean.
About Vancouver
Vancouver frequently ranks highly as one of the world's most livable cities.  Perhaps it has something to do with its scenic location. Vancouver is wedged between the Pacific Ocean and the North Shore Mountains. Which means, you have easy access to beach and mountain activities. Ever gone skiing and played beach volley ball in the same day? That's what makes living in Vancouver an ideal base for year-round activities.
The city's coastline offers amazing views and great beaches, while the mountains offer hiking trails and snow sports. Living in 'Beautiful British Columbia', world-renowned for its natural beauty, is ideal if you have an appreciation for the outdoors. Even if you don't, you will still find something to love about Vancouver.
Vancouver life is special because of its setting, surrounded by the sea and the mountains. It has a diverse, metropolitan area, yet you're always close to nature. Residents have the best of both worlds.
Living in Vancouver is a fantastic experience.
Downtown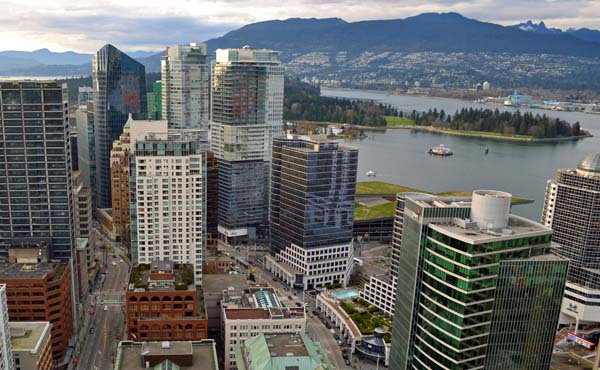 The Downtown core of Vancouver is located on a peninsula, which means it's surrounded by water on three sides. It also means the only way to expand downtown is by building up. As a result, downtown Vancouver is condensed within a small area. Residential high-rises and office blocks all contribute to a fantastic skyline.
The entire area is circled by the sea. From downtown, you can access the Vancouver Seawall and many beaches are only a short walk away.
The Downtown area includes the famous Stanley Park, one of the largest urban parks in North America. It offers more than 1,000 acres of park encircled by the sea wall.
English Bay to the south of downtown offers a collection of sandy beaches (English Bay Beach, Second Beach, Third Beach and Sunset Beach) when you need a break from the city.
The downtown area itself is very residential. There are over 500,000 people living downtown, where everything is within walking distance.
Vancouver Suburbs

Some 2.5 million people are living in Vancouver's metropolitan area. This includes the City of Vancouver (600,000), along with neighbouring urban areas which are formal cities in their own right. The major ones are: Surrey, Burnaby, Richmond, Coquitlam, Langley, Delta, North Vancouver, Maple Ridge, New Westminster, and West Vancouver.
With rapid growth, and a population of around 500,000, the city of Surrey is expected to overtake the City of Vancouver as the highest-populated city in Western Canada in the next decade.
See our Where to Live in Vancouver guide for more information on Vancouver neighbourhoods.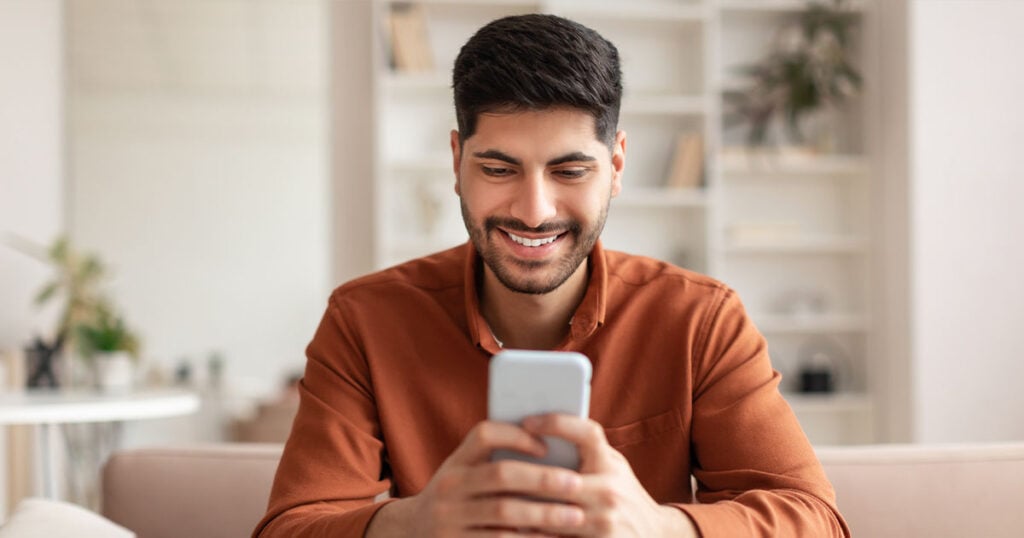 Stay up to date with our free newsletter.
Get immigration updates & new resources to help you move to Canada and succeed after arrival.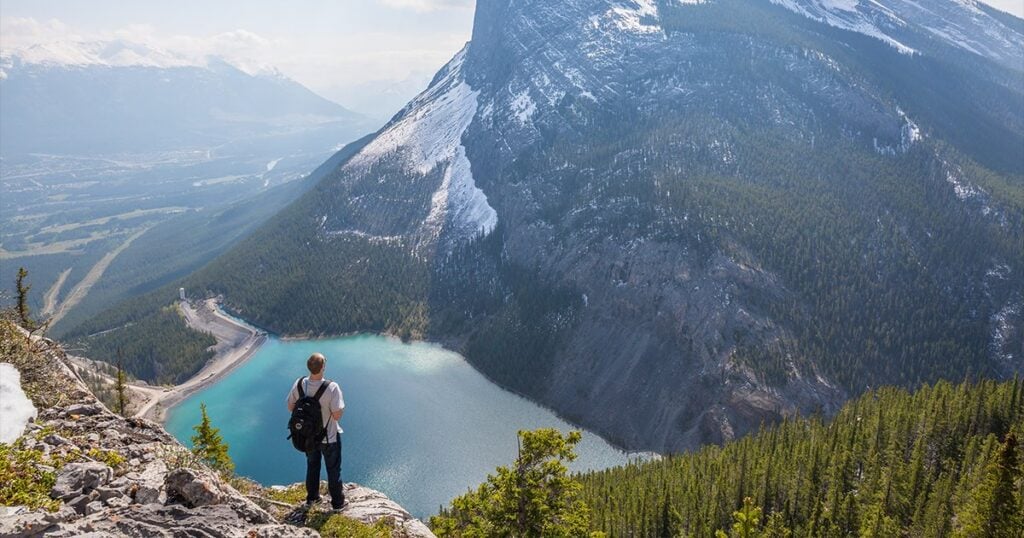 Our Partners
Enjoy exceptional health coverage
Make sure you're fully protected in Canada with an international health insurance plan from Cigna.
Get a free quote
Living in Vancouver: Weather
The summer months are typically dry, but temperate and rarely uncomfortably hot. In contrast, most days during late fall and winter (November to March) are rainy.
This regular rain can be one of the toughest things about Vancouver life. The upside to the dreary rainy winter weather is that when it's raining in the city it's usually snowing on the nearby mountains. This phenomenon allows for snow sports like downhill and cross-country skiing, snowboarding and snowshoeing.
And for many, the rain can be worth tolerating. Especially considering the dry and sunny months from April to October. Vancouver is one of the driest cities in Canada during the summer months.
Cost of living in Vancouver
Is living in Vancouver expensive?
We hear this question all the time. And, when it comes to the cost of living, Vancouver is one of the more expensive cities in Canada. But, what does this mean?
The average cost to rent a one-bedroom apartment in Vancouver is currently in the $1,900 to $2,000 price range depending on which report you consult. Similarly, an average phone plan in Vancouver will cost you about $75 per month. On average, transportation will set you back $93 per month. Finally, the cost of groceries and related household items could be about $315 per month or more.
What is the average salary and living wage in Vancouver?
The average salary of a Vancouver resident is currently $56,603 CAD per year. Meanwhile, the living wage in the Vancouver Metro area is around $20.91 per hour. These figures mean that Vancouver has some of the most competitive salaries among Canadian major cities.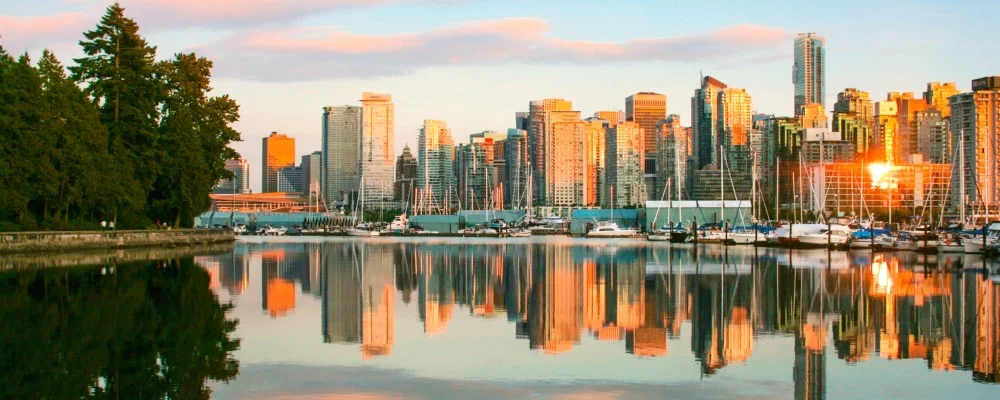 Free
Make the most of your Vancouver adventure
Job matching, a personalized checklist, exclusive events — it's all there with a free Moving2Canada account!
Register now
Living in Vancouver: Transit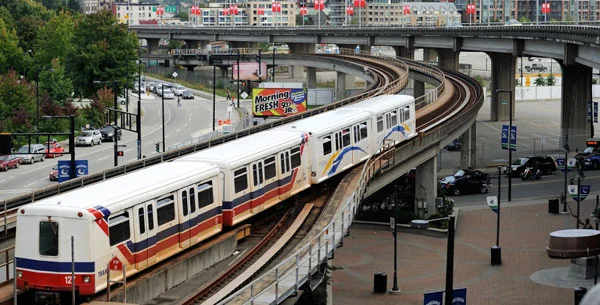 Public transport in Vancouver is excellent, so it's easy to time your trips. Translink is the main operator. It runs a network of buses, rapid transit trains (SkyTrain), commuter rail (West Coast Express), and sea ferry (SeaBus) between North Vancouver and Vancouver.
Since 2015, the Compass Card has been available across the network. It's similar to the Oyster Card in London, or the Leap Card in Ireland. It allows passengers to pre-load money onto their cards (known as adding 'stored value'). You simply tap your card on each journey to deduct your fare. A $6 deposit is required when you buy the card.
You can purchase a reloadable Compass card at a vending machine, transit station or one of the many drugstores and convenience stores that carry them. Pay your fare by "tapping in," and "tap out" (except on buses) when you exit to avoid overcharging. Or pay your fare by tapping your contactless Visa or Mastercard credit card, or Apple Pay, Google Pay and Samsung Pay. It will automatically charge one adult, cash fare.
Tickets are valid for 90 minutes, and you can use them across buses, SkyTrain, and SeaBus. You can start a journey on one method of transport, hop off, and complete your journey on a second service. It's all for the same fare, so long as it's within the 90-minute window.
For buses, a single ticket valid for 90 minutes will cost you $2.95 if paying by cash. Compass Card users get a reduced rate of $2.30. The same fare applies no matter what distance you travel, so long as the bus is the sole method of transport.
For SkyTrain and SeaBus, the metropolitan area is divided into three zones. The SeaBus travels between downtown Vancouver and North Vancouver, located across the Burrard Inlet. Your fare will depend on how many zones you travel through on your journey.
As of June, 2020, cash fares cost $3.00, $4.25, or $5.75. Compass Card fares cost $2.40, $3.45, or $4.50, and represent significant savings compared to cash fares.
After 6:30pm on weekdays, and all day on weekends and holidays, a one-zone fare is in effect. This means fares will cost $3.00 (cash) or $2.40 (Compass Card), no matter how far you travel.
Monthly passes are also available. They run by calendar month, and allow for unlimited travel on SkyTrain, SeaBus, and buses. They cost $98, $131, or $177, depending on how many zones are required. You can load the monthly pass onto the Compass Card.
For cash fares, you'll receive a small paper ticket (known as a 'Proof of Payment Transfer'). Take this with you. It will be valid for 90 minutes and you can use it for further travel.
Visit translink.ca for trip planners and further information. For real-time information for buses, visit nb.translink.ca (the 'nb' stands for 'next bus'), or download the Radar for Metro Vancouver Buses (unofficial) app.
TransLink's transportation network includes bus routes that connect with SkyTrain rapid transit lines and SeaBus passenger ferries.
When travelling from YVR airport into the city, you will see a $5 surcharge added to the standard fare. Buses can carry a limited number of bicycles, and most routes are wheelchair-lift equipped. Text the stop number 333-33 to receive times for the next six buses.
Vancouver by taxi
Cabs in Vancouver are metered, so there's no need to negotiate a fare. But rates do not include gratuities. A tip of 10% to 15% of the fare is customary. When travelling from the airport into the city, taxis charge a flat fee based on zone (see above).
As of January, 2020, Uber and Lyft are now part of the Vancouver transportation infrastructure. Their arrival, and that of other similar car services, had been projected for some while but faced opposition. Now, it looks like they are going to be a mainstay of transport in Vancouver for the foreseeable future.
Biking in Vancouver
Vancouver is very cycle-friendly, with a network of dedicated bike lanes and traffic-calmed bike paths. Bicycles are not permitted on sidewalks. Ride on the road when these designated routes aren't available. By law, cyclists must wear a helmet and have a bell on their bicycle.
Be sure to lock up your bike! Bicycle theft is common, so invest in a sturdy U-lock or folding steel lock — cable locks are never recommended. If you don't want to buy and store your own two-wheeled transport, bike-share program Mobi is a good option.
Driving in Vancouver
Traffic and parking are concerns for every driver, especially if you're travelling in the busy downtown core. Consider signing up for car-share programs Car2Go and Evo. They are convenient options for one-way trips, and offer a lot of parking options. Heading out of town? There are plenty of car rental agencies around the city and at YVR Airport.
Living in Vancouver: Culture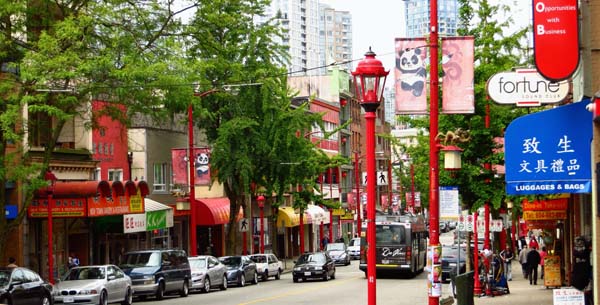 Vancouver is one of the most ethnically diverse cities in Canada. People of English, Scottish, Irish and German origins were historically the largest ethnic groups in the city.
Over the last 30 years, however, immigration has dramatically increased, making the city more ethnically and linguistically diverse. Some 52 percent of residents do not speak English as their first language. Also, almost 30 percent of the city's inhabitants are of Asian backgrounds.
Vancouver life is enhanced by the city's large LGBTQ+ community, concentrated on the West End and Yaletown areas. Vancouver hosts one of the country's largest annual gay pride parades. British Columbia was the second Canadian province (after Ontario) to legalize same-sex marriage.
Things you will notice about living in Vancouver
READ: Finding film jobs in Vancouver.
Dining out in Vancouver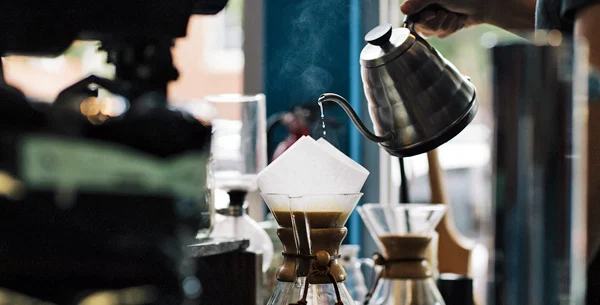 Restaurants in the city offer a wide range of tastes, so food enthusiasts will be in their element living in Vancouver.
"The number of truly outstanding restaurants in Vancouver is astonishing, and the prices are ridiculously low when compared to other food capitals…" — The New York Times.
"Fusion is the operative word in restaurant-rich Vancouver, where Northwest meets Japanese meets Indian meets Chinese." — National Geographic Traveler.
Vancouver is a food lover's paradise. It is perennially voted as one of the best dining cities in North America. Also, Vancouver is always competing for foodie accolades against other major international cities such as London, Paris and New York.
There are many restaurants opening up every week, and the range of international cuisine on offer is amazing. Locals in Vancouver tend to dine out more than those in other Canadian cities. There is a wide range of menus to suit every type of budget, with some restaurants boasting tasty $5 main courses.
Tourists love to visit the city and sample tasty cuisine from some of the world's best chefs. Yaletown is always changing, with new restaurants popping up every month. Robson Street is filled with so many restaurants— it's hard to choose just one. Visitors, and those living in Vancouver, might just restaurant-hop throughout their entire stay in the city.
Formal or informal, there is a place to match everyone's style and tastes.
Sushi fanatics always enjoy a taste of Vancouver life. There are sushi places on almost every block, especially around Robson Street. Visitors must try the Pacific Coast seafood in restaurants, as BC has some of the freshest and most creative dishes found anywhere. Try fresh oysters, mussels, salmon and crab at Joe Fortes Seafood and Chop House.
BC wine is also very popular and most of the best restaurants have it on their wine lists. BC wines are becoming popular all over the world. They now compete favourably against major league vintages from Australia and California.
Vancouverites are coffee drinkers, and you might just pick up on this because there is a Starbucks or Blenz on every corner. The coffee craze may have begun in Seattle, but it has definitely crossed over into Vancouver. Starbucks even hands out espresso samples on the street. So you're never too far from a caffeine buzz! (Courtesy of VancouverBC.com Blog).
Our recommended picks:
Street carts
The days of hotdogs and roasted chestnuts are long gone. In the wake of a new initiative launched by the city, Vancouver's street food scene has exploded. On sidewalks around the city you can now find everything from Korean-style tacos to wild salmon.
An updated list of the city's offerings is available, courtesy of the Vancouver Street Food App. If you need further convincing, check out this article about Vancouver's street carts in the Guardian.
1. Tacofino ● Location: Burrard & Dunsmuir Streets. ● A portmanteau of 'Taco' and 'Tofino', their blend of Baja-inspired tacos proved such a hit on Vancouver Island, that Vancouver itself was their natural expansion. Expect queues at lunchtime.
2. Arturo's Mexico to Go ● Location: Howe & Cordova Streets (Gastown neighbourhood). ● Authentic Mexican cuisine made from scratch in their mobile kitchen – burritos, quesadillas, tacotinos and tortilla soup. They make fresh salsa daily.
3. Dim Sum Express ● Location: Howe & West Cordova Streets (near the Vancouver Convention Centre). ● Chinese dim sum.
4. Japadog ● Twitter: @japadog. ● Location: Various downtown Vancouver locations.  ● Vancouver's famous Japanese hotdog stand.
5. Ragazzi Pizza Co. ● Location: Burrard Street & West Pender Streets (Downtown). ● Italian hand-stretched and stone-baked pizza.
6. Re-Up BBQ ● Location: West Georgia & Hornby Streets (by the Vancouver Art Gallery).● Southern BBQ – simple menu with pulled pork sandwiches and drinks.
7. Roaming Dragon ● Twitter: @dragontruck. ● Location: West Georgia & Burrard Streets (Downtown). ● Roaming Dragon brings Pan-Asian favourites to Vancouver's streets – fried rice, short ribs, steamed pork buns, etc.
Living in Vancouver: Nightlife
Nightlife in Vancouver is typically pretty quiet as the city has very strict licensing and health & safety laws. Regulations against standing in bars and capacity limitations severely hinder the social life of the city.
Dreaded 'line-ups' tend to take the fun out of the evening for most newcomers. 15-minute waits at most busy bars and clubs on weekends are an aspect of Vancouver life that nobody enjoys.
Many find that "ninja" drinking on the beach or a BBQ with friends is often the easier option in the summer months. Vancouver life certainly doesn't revolve around parties, but nightlife is slowly improving.
While the Entertainment District on Granville street downtown is the epicentre, this area mainly attracts teenagers and people in their early twenties living in Vancouver. The nightlife seeps into Gastown which has a good mix of cafés, bars, disco bars, cocktail bars, and trendy clubs, and over to Davie Street (the gay scene).
Commercial Drive, with its political and Latin cultures, is lively well into the early hours. A youngish, fashionable crowd hangs out on Yew Street in Kitsilano.
Main Street has a number of small, funky music venues with both a young hipster scene and young couples atmosphere. Yaletown offers a more trendy, pretentious alternative with many expensive cafés, restaurants and clubs.
Want more help getting settled in Vancouver?
Visit these resources for more insights into Vancouver life. Moving2Canada is here to help all those living in Vancouver.
Canada Abroad

Canada Abroad is a transparent Canadian immigration consultancy with advice you can trust. Led by Deanne Acres-Lans (RCIC #508363), the team delivers professional, regulated, and efficient service.

Doherty Fultz Immigration

Led by Anthony Doherty (RCIC #510956) and Cassandra Fultz (#514356), the Doherty Fultz team uses their 40+ years of experience to empower you towards settling in Canada.

Perez McKenzie Immigration

Led by Jenny Perez (RCIC #423103), Perez McKenzie Immigration is a Canadian immigration consultancy based in British Columbia, with offices in Vancouver and Whistler.
Our Partners
Get your immigration questions answered by an expert
Speak with a regulated Canadian immigration consultant to help plan your immigration. Moving2Canada is happy to recommend a handful of exceptional consultants.
Find the best immigration program for you

Take our free immigration quiz and we'll tell you the best immigration programs for you!

Get matched to job opportunities

Get matched to job opportunities from Canadian employers who are seeking to hire people with your skills.

Access our immigration roadmaps

Our immigration roadmaps will teach you the basics of Express Entry, study permits, and more! Take control of your own immigration process.
Exclusive
Unlock exclusive resources with a free account.
Create a Moving2Canada account to get the resources you need, tailored to your profile. Get matched with the best immigration programs & job offers, and access exclusive events & resources.