Be Prepared
Do you have health insurance for Canada?
Our partner, Cigna, offers international health insurance plans that give newcomers peace of mind.
Get a free quote
Be Prepared
Do you have health insurance for Canada?
Our partner, Cigna, offers international health insurance plans that give newcomers peace of mind.
Get a free quote
You will never be short of things to do in Vancouver. This is a part of the world where the great outdoors beckons you each and every day.
You will never be short of things to do in Vancouver. This is a part of the world where the great outdoors beckons you each and every day.
Just when you think you've seen and done it all, Vancouver finds something new, something fresh to suck you in. It was difficult to come up with just 11 things to do in Vancouver, but here we go. This is the definitive list of things to do in Vancouver.
1. Become a beach bum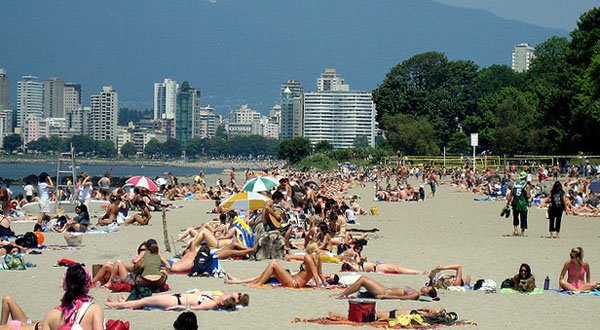 Vancouver is famed for its picture perfect cityscapes set to the back drop of the natural beauty of Pacific Northwest. The city also hosts some wonderful beaches. Here are five of the best oceanside beaches in Vancouver.
Kitsilano Beach is a popular beach for volleyball and buff bronzed bods, and it's also home to the world's largest heated salt water pool.
Jericho Beach, west of Kitsilano, is slightly more chilled and a great barbecue hang out for large groups. It is home to the Folk Fest in July.
Locarno Beach and the Spanish Banks are quieter and less crowded.
Wreck Beach is a famous 'clothing optional' beach — wear as much or as little as you like. There's a nice vibe, with the best panoramic views of the ocean. Plus you get great exercise down and back up the long flight of steep stairs to reach the beach.
2. Get Artistic
Explore the neo-classical grandeur of the main downtown museum, the Vancouver Art Gallery. The VAG is the fifth largest art gallery in Canada, the largest in Western Canada. It's home to more than 200 major works by Emily Carr, the Group of Seven, Jeff Wall and Marc Chagall.
The gallery terrace cafe is also a great escape from the city hustle and bustle. Grab a drink and watch the action on Robson Square in the heart of downtown Vancouver. You may spot some local flash mobs, critical mass meet ups, or even a Zombie walk. It's one of the most popular things to do in Vancouver on Tuesday evenings, as entry to the Gallery is by donation.
3. Get fit on two wheels
With a population that's obsessed with clean living, there's an abundance of healthy things to do in Vancouver.
Cycling the Seawall is one of the best ways to view Stanley Park, which crowns the tip of the downtown peninsula in Vancouver. With stunning views of the ocean, the Seawall Promenade that traces its perimeter is a worthy, easy and scenic cycle trip of 8.8km.
Cycling in general in the city is really easy, safe and enjoyable. There are designated cycle routes all over Vancouver and the network is being expanded all the time.
It's a city that fosters a cycling culture. And who knows? You may even spot some extra things to do in Vancouver on your travels.
Note: It's illegal to not wear a helmet in British Columbia.
4. Island Life
It's really easy to head to one of the neighbouring islands near Vancouver. Your trip can vary from a day to a week, depending on how much free time you have.
Vancouver Island is less than a two-hour ferry ride from Vancouver, while Bowen Island can be reached from Downtown in under an hour. There are seven major islands scattered throughout the Georgia Straight, and numerous smaller ones.
Salt Spring Island, Galiano Island, Pender Island, and Saturna Island are some of the most popular. See BC Ferries for schedules, or our Day Trips from Vancouver article for more.
5. Find a Java high
If exploring all the things to do in Vancouver has left you with the need for an energy boost, then you're spoiled for choice. Vancouver was recently voted as one of the top ten cities in the world for coffee, and it's easy to see why. They love their java.
Outside of the obvious franchise coffee shops such as Tim Hortons, Starbucks, Blendz and JJ Bean, there are a host of original, fair trade, organic brew coffee spots.
Special mentions go out to Nelson the Seagull in Gastown, Agro Cafe on Granville Island, Musette Caffe in Chinatown, Prado Cafe on Commercial Drive, Coco et Olive on Main and 49th Parallel Roasters in Kitsilano.
6. Parks and Rec
Vancouverites are spoiled with their selection of world-class parks. It's one of the major bonuses of the city: things to do in Vancouver are often free and healthy!
There are close to 300 city-run parks, beaches, and gardens in total. Stanley Park, covering 1,000 acres, is one of North America's largest urban parks.
Pacific Spirit Regional Park has 55 km of walking, cycling, jogging and equestrian trails.
Queen Elizabeth Park, Vancouver's third largest green space at 136 acres, is situated in the heart of the city and offers great views of the downtown skyline.
The Dr. Sun Yat Sen Chinese Garden in Chinatown and the VanDusen Botanical Garden, close to downtown, are two more stunning examples of Vancouver's natural beauty. They are both worth a visit, especially in summer.
There are also a wealth of dog-friendly parks, community centres, art sculptures, skate parks, ice rinks and ponds to be found in the public parks all over the city.
7. Eat like the locals
With such a rich multi-ethnic mix, Vancouver has a wondrous selection of delicious and diverse food on offer for all budgets. You'll have to eat anyway, so why not add it to your list of things to do in Vancouver?
It is home to some of the best and cheapest sushi in North America. With its huge Chinese community, it has some of the finest Chinese food in the world. Spend an afternoon in Chinatown or the Vancouver Chinatown Night Market to unearth some hidden foodie gems.
Vietnamese and Thai are relatively recent arrivals, along with a selection of Korean restaurants but still boast some amazing dining options at competitive prices.
Another food movement that is gaining momentum is the food cart movement. There are almost 100 carts dotted over the city, serving seriously delicious inventive dishes. Read our Living in Vancouver article for recommendations.
8. Immerse yourself in Hollywood North
Vancouver, known as the film capital of Canada, is regularly dubbed 'Hollywood North'.
Over 300 major productions have been shot here during the last three decades. If you spend enough time strolling about the city you are guaranteed to come across a movie set.
Aside from the multiplexes in Vancouver, there are a handful of specialist first-run cinemas as well as repertory movie houses.
The Rio Theatre in East Vancouver (pictured) is the most unique of these and is a much-loved Vancouver venue. Check out their late night cult classic program, dress up in a film-related costume, and get a reduced ticket price. You can enjoy a beer in the theatre and they have the best butter popcorn in the city.
The Cinematheque and the Vancity Theatre are also well worth a visit to watch classic and festival films. The Vancity Theatre in particular is home to the Vancouver International Film Festival, which runs every October.
9. Be a true tourist on Granville Island
With 10.5 million visitors annually, Granville Island is one of Vancouver's most popular tourist destinations.
It is located across False Creek from downtown Vancouver, under the south end of the Granville Street Bridge.
It's the perfect place to spend a carefree afternoon in its huge food market, craft stalls and varied galleries. Theatre spaces, artist studios and bars are dotted all over the island, as well as the Granville Island Brewery.
From Downtown, it's fun to jump on the ferry in False Creek and arrive to the island by water. Grab a coffee, kick back and enjoy life. This deserves to be on any bucket list of things to do in Vancouver.
10. Get North Shore Active
Even if you're not the active type, the breadth of the city's beauty will leave you longing for outdoor things to do in Vancouver.
The North Shore and its mountains provide the backdrop to Vancouver's picture postcard image. They really are a local treasure, hosting great hiking, skiing and snowboarding, snowshoeing and kayaking.
There are three ski resorts, on three of the peaks, visible from anywhere in Vancouver in winter when their nightlights are on.
You can snowshoe at many places on the North Shore, but Dog Mountain with a headlight, under the cover of darkness, is a highlight. Capilano Suspension Bridge is great to explore year-round, and in winter the park is decorated with 500,000 Christmas lights. The neighbouring Capilano River Regional Park is a joy to explore in summer. A free alternative to the Capilano Suspension Bridge is the nearby Lynn Canyon Suspension Bridge.
Overlooking Vancouver, Grouse Mountain offers winter sports (skiing, snowboarding, snow-shoeing and ice skating) by winter and many attractions including two live grizzly bears and a lumberjack show by summer.
You can choose to take the gondola or else take the Grouse Grind to reach the summit. Locals are particularly proud of 'the Grind', which is a 2.9-kilometre trail up the face of Grouse Mountain (850m elevation), and is commonly referred to as "Mother Nature's Stairmaster". You can follow your hike with a well-earned hot chocolate, and a spectacular view of Vancouver.
The Baden Powell stretches all across the North Shore, starting (or ending) in Deep Cove, where kayaking is a great way to spends a summer's day.
11. Get your skates on!
Robson Square's free ice rink opens up to the public each winter. Ice skaters can enjoy the rink from 9am to 9pm, Sunday to Thursday, and from 9am to 11pm on Fridays and Saturdays. Be prepared to queue at busy times though, as this is one of the most popular public things to do in Vancouver in the winter.
Though the rink is open-air, it's covered by a clear dome so you can enjoy the downtown lights while still being protected from the rain. Skating is free, but there is a small rental fee for skates and helmets.
Vancouver also has many other ice rinks that have public skate time. Take a look at skate times near you. Lessons are also available, so don't be shy!
12. Become a Canucks fan!
If the idea of skating on ice by yourself is a little too daunting then why not simply watch instead. The Vancouver Canucks are the city's prized major league ice hockey team and participate in the NHL. The past couple of years haven't been too kind to the Canucks in terms of on-ice success but in the 2010/2011 season the team made it all the way to the Stanley Cup final before losing in heartbreaking fashion to the Boston Bruins.
The team plays at the centrally-located Rogers Arena in downtown Vancouver and the team is presently captained by Bo Harvat. As is to be expected, the price of tickets to see the Canucks varies depending on the opposition, day of the game, and where your seat is located. That said, on average, a ticket for a game this season should set you back anywhere between $70 and $80 CAD.
Finally, the 2020/2021 season will represent the Canucks' 50th in the league so expect some real special events to mark this occasion.
Siobhán likes the simple pleasures in life: coffee, a good film and a leisurely bike ride. She currently works for Rainmaker Ent. in Vancouver.
Looking for more things to do in Vancouver?
For more inspiration, and information on other things to do in Vancouver and surrounding areas, read these guides.
Want more help getting settled in Vancouver?
Moving2Canada is here to help all those living in Vancouver.