Be Prepared
Do you have health insurance for Canada?
Our partner, Cigna, offers international health insurance plans that give newcomers peace of mind.
Get a free quote
Be Prepared
Do you have health insurance for Canada?
Our partner, Cigna, offers international health insurance plans that give newcomers peace of mind.
Get a free quote
Montreal is a city of neighbourhoods, each one characterised by a unique charm. But what are the best Montreal neighbourhoods for newcomers and young families?
Where to live in Montreal depends on your preferences and particular needs, so we outline which Montreal neighbourhoods may be the right choice for newcomers.
This page offers a description of the different neighbourhoods of Montreal. Deciding where to live in Montreal may take a while, so try not to commit to a location long term until you have arrived and seen more of the city. There is a steady flow of rented accommodation in Montreal.
You can also learn about planning a move to Montreal in our video guide:
As a general rule, the Island of Montreal is more anglophone on the western side and far more francophone toward the east. The Montreal neighbourhoods listed include neighbourhoods close to downtown Montreal, as well as more suburban neighbourhoods that lie within the commuter belt of the Greater Montreal Area.
Montreal has an extensive public transit system that includes North America's third-busiest metro (subway) system, as well as a wide network of bus routes. Many neighbourhoods of Montreal are well served by this system. However, newcomers thinking of living in a suburb of Montreal west of Trudeau International Airport or off the Island of Montreal to the north or south may note that transit to and from the city is more difficult without access to a vehicle. As a result, more urban and suburban residents of Montreal are turning to car-sharing as a solution to their transport needs.
Montreal neighbourhoods and renting
You may find that many apartment buildings in Montreal neighbourhoods do not use media to advertise. Instead, they will post notices outside the buildings to advertise vacancies. It's worth walking around different neighbourhoods of Montreal you may want to live in to see if there are any "For rent/à louer" signs, or try calling the property management companies to check if there are any vacancies.
A curious oddity with Quebec is that apartments and houses are described not by how many bedrooms they have, but by adding up the total number of rooms, with the bathroom counting as half a room. Thus, a studio is a 1½, an apartment with one bedroom, a living room, a kitchen and a bathroom is a 3½, while one with three bedrooms, a living room, a kitchen and a bathroom is a 5½.
Ville Marie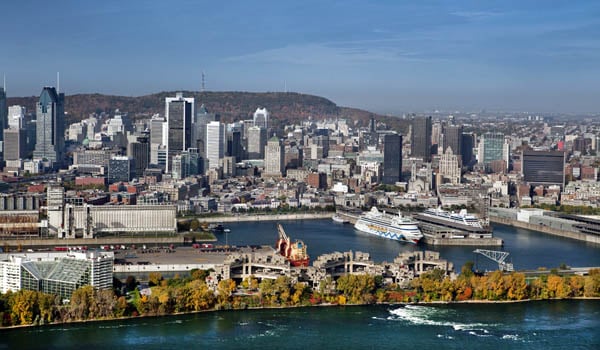 Ville Marie is effectively downtown Montreal, including the central business district and main commercial streets. The extensive Ville Marie neighbourhood also includes Mount Royal Park, as well as two islands located between the Island of Montreal and the South Shore, namely Saint Helen's Island and Île Notre Dame.
As the centre of Canada's second-largest city, Ville Marie is a bustling, cosmopolitan area with internationally-renowned universities and corporate headquarters. Consequently, the population swells by day. The western half of Ville Marie is lined with skyscrapers, while the eastern portion, which technically includes the Latin Quarter, the Village, and Old Montreal (neighbourhoods in their own right, in reality), has more of a community vibe.
Metro: Berri-UQAM, Saint-Laurent, Place-des-Arts, McGill, Peel, Guy-Concordia, Bonaventure, Square Victoria, Place d'Armes, Champ-de-Mars, Jean-Drapeau
Old Montreal
The Old Port of Montreal was the site of the original city of Montreal, which dates to the 17th century. Today it makes up the historic district of Old Montreal (Vieux Montréal). The picturesque, pedestrianized streets and river banks teem with tourists, especially in summer, as they amble between souvenir shops and the many beautiful old buildings, including the almost 200 year-old Notre-Dame Basilica. With all this history, beauty, culture, and architecture, rent can be expensive and family amenities few and far between. Of all the Montreal neighbourhoods, Old Montreal is more suited to young professionals than families.
The city centre is only a short walk away, and the orange Metro line runs through Old Montreal, making anywhere in Montreal easily accessible.
Metro: Square Victoria, Place d'Armes, Champ-de-Mars
Griffintown
Griffintown has long been associated with Montreal's Irish community. The peak period of immigration and settlement was during and after the famine, when unskilled labourers arrived by the boatload. This neighbourhood of Montreal is located just a few minutes' walk to St-Catherine Street and the commercial areas surrounding it. Griffintown has become a haven for foodies, with some of the world's top international chefs having established restaurants in and around Notre-Dame Street.
Relatively cheap accommodation in older buildings can be found the closer you go to the Lachine Canal. Shiny new condos abound closer to the city centre — with prices to match.
Metro: Georges-Vanier, Lucien-L'Allier
Plateau-Mont-Royal
This large Montreal neighbourhood, located directly northeast of downtown, is home to the largest number of artists per capita in Canada, creating a unique living environment. Two of the city's main arteries — Rue St-Denis and Boulevard St-Laurent — have their busiest sections as they cut through the Plateau. Plenty of boutique shops, BYOB ("apportez votre vin") restaurants, bars, and cafes line many streets in the Plateau.
The heart of the Plateau is Parc Lafontaine — by summer a magnet for lakeside walks and afternoon picnics, with skating taking over in winter. One of the advantages of living in the Plateau is that downtown is easily accessible, either by foot, bike, bus, or Metro. Rent prices have been increasing more rapidly than the city average as the Plateau is seen as the place to live. However, the Plateau is still affordable, particularly for those sharing accommodation.
Metro: Sherbrooke, Mont Royal, Laurier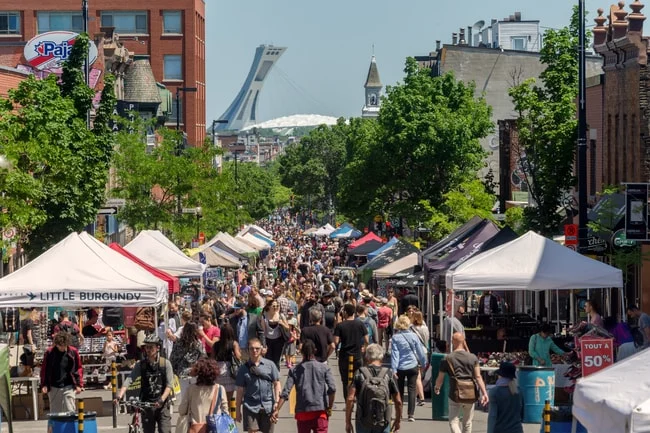 The Village
The Village, also known as The Gay Village, is home to Montreal's active LGBT communities. Originally identified as one of the more working-class Montreal neighbourhoods, the Village became increasingly gentrified as more gay-friendly businesses moved into the area. Village residents come from all walks of life and an array of sexual orientations.
Each summer, the section of St-Catherine Street that goes through the Village closes to traffic and decorative bunting stretches across the street, which becomes an outdoor mall. This is when the Village truly takes on a life all of its own.
Metro: Berri-UQAM, Beaudry, Papineau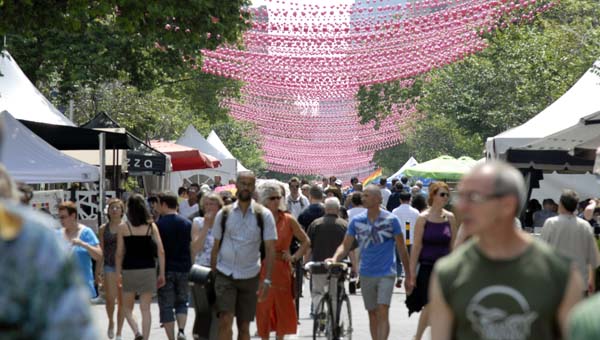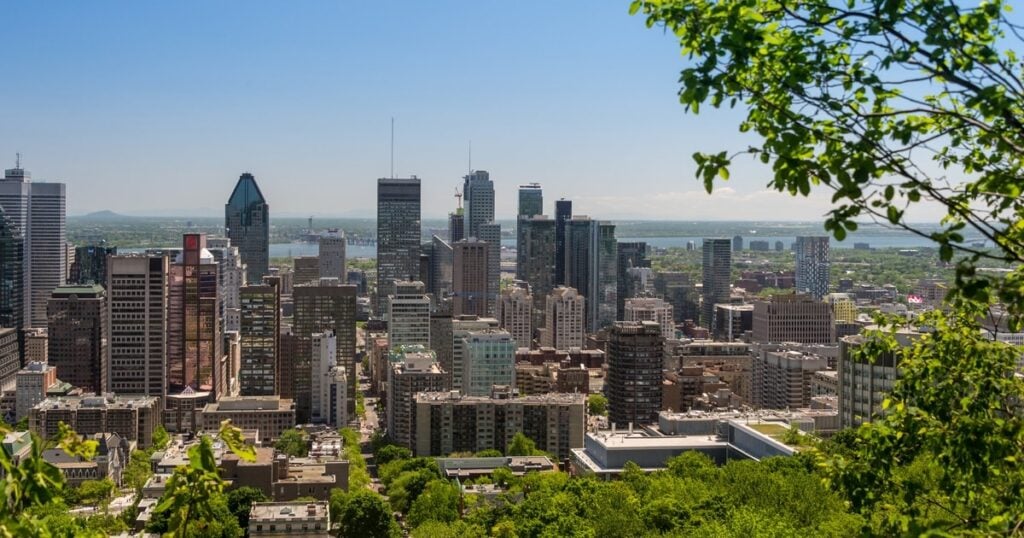 Free
Make your Montreal move with confidence
Job matching, a personalized checklist, exclusive events — it's all there with a free Moving2Canada account!
Register now
McGill Ghetto
Sometimes known as Milton Park, after two streets that form part of the neighbourhood, the McGill Ghetto is not a ghetto in the popular sense of the term. Rather, this small area between the Plateau and McGill university is the habitat of choice for students of McGill University.
A wonderful location means that within 15 minutes' walk residents could be hanging out on St-Laurent, at an outdoor show at Place des Spectacles, in a bar downtown, up the mountain or, of course, in class. There is fierce competition for housing in the McGill Ghetto, as students try to get a place before classes start in September. Those renters, however, often disappear for the summer and sublet their rooms at knock-down rates, so if you're coming to Montreal just for a summer, you would be well advised to look for a place around here.
Metro: Place-des-Arts, McGill
Mile End
Technically within the Plateau-Mont-Royal borough, Mile End is nonetheless viewed as a distinct neighbourhood of Montreal. Stylish yet casual, tight-knit and multilingual, Mile End was the setting for many of writer Mordecai Richler's novels. William Shatner and Arcade Fire also enjoyed their formative years here. You will hear a bit more English and Hebrew spoken than eastern parts of the Plateau, with the Hassidic community having established a visible presence in the area.
Some of the best food on the continent is found in Mile End, with the best bagels and countless restaurants dotted around the neighbourhood. The area became wealthier and more popular in the 1990s, and gentrification has led to increased rents. That having been said, the area remains good value for money.
If you're looking at Montreal neighbourhoods and want an eclectic, multicultural fix, Mile End is the way to go.
Metro: Laurier, Rosemont
Outremont
French expatriates and members of the Hasidic community join upper middle-class francophone Montrealers to make up a disparate collection of well-heeled communities in Outremont, located on the north side of Mount Royal and to the west of Mile End. With an abundance of quality shops, cafes, restaurants, and parks, Outremont is often followed by the phrase "quality of life". While downtown is largely hidden from view behind the mountain, good public transport links makes the area feel more urban than suburban. Real estate prices are high, but a month-to-month rental in the area, particularly on the Mile End border, can be quite reasonable.
Metro: Outremont, Edouard-Montpetit
Little Italy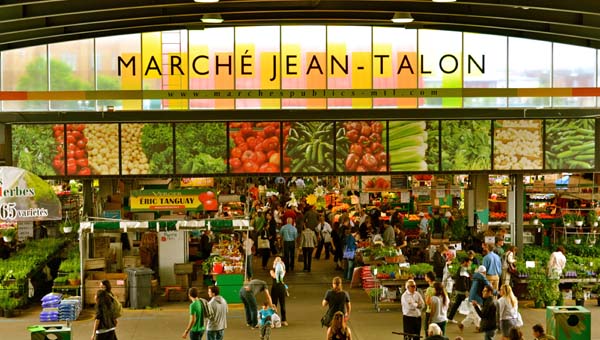 Montreal's Little Italy is a small neighbourhood packed with all the best sounds, tastes, and culture from the old country. The centrepiece is the Jean-Talon Market, a bustling farmer's market open year-round. Some of the best fresh food in Canada can be bought here.
Rent in Little Italy can often be more affordable than in other areas along the Montreal Metro system. Newcomers who want to live alone may consider this Montreal neighbourhood, as it is possible to rent an apartment for less than in neighbouring areas.
Metro: Rosemont, Beaubien, Jean-Talon, De Castelnau
Mercier—Hochelaga-Maisonneuve
A cluster of urban Montreal neighbourhoods make up the traditionally francophone working-class borough of Mercier—Hochelaga-Maisonneuve. Montreal's Olympic Stadium dominates the skyline, and the surrounding area includes Saputo Stadium (home of the Montreal Impact soccer club), the Botanical Garden, Maisonneuve Market, and the Biodome. The latter is an attraction that allows visitors to wander through four ecosystems found in the Americas.
The Hochelaga-Maisonneuve district towards the west end of the borough has witnessed a steady increase in population over recent years, as Québécois, students, and immigrants mix to create a vibrant community. The average age of residents here is among the lowest in Montreal. Rent is affordable, and the green Metro line is accessible on foot from anywhere in the area.
Metro: Préfontaine, Joliette, Pie-IX, Viau, Assomption, Cadillac, Langelier, Radisson, Honoré-Beaugrand
Rosemont—La-Petite-Patrie
Stretching from the meeting point of Mile End and Parc-EX ("Mile-Ex") to Maisonneuve Park and beyond, Rosemont—La-Petite-Patrie is a sizeable and mostly francophone borough in the centre-east of Montreal Island. The area is more like a series of urban villages than a single community. People here live for the outdoors; there are 55 parks, 10 community gardens, and 11 outdoor skating rinks.
The orange and blue lines are accessible from the western and northern ends of Rosemont—La-Petite-Patrie, providing access to downtown and other Montreal neighbourhoods.
Metro: Rosemont, Beaubien, Jean-Talon, Fabre, D'Iberville, St-Michel
Villeray—Saint-Michel—Parc-Extension
These three Montreal neighbourhoods together make up one borough, extending roughly from Boulevard Pie-IX in the east to beautiful Jarry Park further west in "Parc-Ex", where the world's best tennis athletes compete in the Rogers Cup each summer.
Slightly further from downtown Montreal than Mile End, Outremont, and the Plateau, rent in Villeray, Saint-Michel, or Parc-Ex can be more affordable.
Metro: Parc, De Castelnau, Jean-Talon, Jarry, Crémazie, Fabre, D'Iberville, St-Michel
Saint-Leonard
As Little Italy rapidly gentrifies, some would say that Saint-Leonard is the true home of Montreal's Italian community. Italian-Canadian cultural institutions and businesses serve the city's second-most populous cultural community. Many Saint-Leonard residents are trilingual. It is common for people growing up here to be educated in French, speak Italian at home, and socialise mostly in English.
Saint-Leonard is characterized by its spacious, wide-set semi-detached brick apartments and houses, backyard vegetable gardens, and Italian bars, cafes, and pastry shops. Given the Italian influence, soccer is particularly popular in this Montreal neighbourhood. The many parks dotted around Saint-Leonard contain numerous public soccer fields, as well as bocce courts.
Anjou
The predominantly francophone neighbourhood of Anjou is located towards the east of the Island of Montreal. The final stations on the Montreal Metro green line are located just south of Anjou, which has a suburban feel. This is a place where people shop at Costco and head to the shopping mall on weekends.
Metro: Radisson, Honoré-Beaugrand
Ahuntsic-Cartierville
Along the north end of the Island of Montreal on the banks of the Rivières-des-Prairies facing Laval lies the borough of Ahuntsic-Cartierville, which comprises of two main neighbourhoods: Ahuntsic and Cartierville. This was one of the first areas in the Greater Montreal Area to be inhabited by Europeans.
Fabulous properties line the river bank, with some of the most peaceful locations in the entire Montreal area found in Ahuntsic-Cartierville. This area is particularly popular among families with children.
Metro: Crémazie, Sauvé, Henri-Bourassa
Mount Royal
Officially the Town of Mount Royal, or TMR, this affluent on-island Montreal neighbourhood is an independently-run municipality. TMR was designated a National Historic Site of Canada in 2008 because, 'from a design perspective, its remarkable synthesis of urban renewal movements of the early 20th century, reflecting the influence of the City Beautiful, Garden City and Garden Suburb movements, the quality of its construction, and its high level of integrity make it an outstanding example of a planned community in Canada.'
Traditionally anglophone until the 1960's, more francophones have since moved into the area, with more than three-quarters of TMR residents now being bilingual. Median incomes among residents are high. The centrepiece of the neighbourhood is Connaught Park, with four planned boulevards leading to this green space from the outskirts of the town. As well as having a couple of Metro stations within walking distance, a commuter train on the RTM Deux-Montagnes line also makes a stop in TMR.
Metro: Acadie, De la Savane
Côte-des-Neiges
With over 100 ethnic communities from all over the world, Côte-des-Neiges is one of the few Montreal neighbourhoods where neither French nor English is the majority language. Saint Joseph's Oratory, situated on the western side of Mount Royal, dominates the skyline and is the main tourist attraction. A large number of students live in the area, mainly due to the presence of the francophone Université de Montréal. The size and density of Côte-des-Neiges means that rent prices can vary widely.
Metro: Snowdon, Côte-Saint-Catherine, Plamondon, Côte-des-Neiges, Universitê-de-Montrêal, Edouard-Montpetit
Notre-Dame-de-Grâce (NDG)
Almost always referred to as "NDG", this neighbourhood west of downtown Montreal offers good value within close proximity of the city centre. Old brick houses and tree-lined avenues give the area a unique character, and, like many Montreal neighbourhoods, NDG has become more gentrified in recent years. Bisected by the Decarie Expressway, NDG's western half is more English-speaking, while the eastern side is more francophone. The social centre of NDG is Monkland Avenue, with an array of pubs, restaurants, cafes, and shopping to suite all tastes. The western side of NDG is quite far from the Metro, but the 105 bus route, beginning at Vendôme Metro station before moving down Sherbrooke Street, serves the entire neighbourhood, which sits between Montreal Ouest and Westmount.
Métro: Villa Maria, Vendôme
Hampstead
Hampstead's status as an independent municipality, governed separately from the city of Montreal, gives it a different feel from nearby neighbourhoods. This is an affluent area, with median incomes around 40 percent higher than the Montreal average. Hampstead is one of the most anglophone Montreal neighbourhoods, with English the preferred language of nearly 90 percent of residents.
Metro: Snowdon
Montreal-Ouest
Montreal Ouest (or Montreal West) is a predominantly English-speaking neighbourhood that has Westminster Avenue as a vibrant focal point. Here you will find an array of non-franchised local businesses, giving the area a certain charm and community spirit.
Though no Montreal Metro stations are located in Montreal Ouest, six bus routes running through the neighbourhood connect to Metro stations. A commuter train station also brings passengers to and from downtown Montreal, as well as locations further west on the island and beyond.
Côte Saint-Luc
Côte Saint-Luc is a predominantly English-speaking neighbourhood, where around 40 percent of residents are from the Jewish community. This is where actor William Shatner grew up. With generations of immigrants having settled here, there are plentiful restaurants to suit every taste. Rent in Côte-Saint-Luc can be more affordable than in nearby neighbourhoods.
Westmount
Wealthy anglophones have dominated Westmount, located on the western slopes of Mount Royal, since the nineteenth century, and the borough retains a fiercely independent (some say snobby) streak. Away from Summit Circle, however, life becomes a bit more normal toward St-Catherine Street. Spacious parks, chic boutiques, and some of the city's most prestigious private schools attract immigrants who have the means to sustain the traditional Westmount lifestyle, but accommodation is more affordable closer to the Ville-Marie Expressway at the southern edge, closer to Vendôme Metro station.
Métro: Vendôme, Atwater
Saint-Henri
Historically known as a French-Canadian, Irish and black working-class neighbourhood of Montreal, Saint-Henri was seen as the opposite of neighbouring Westmount before gentrification took hold. The Atwater Market, a large farmers' market, is in the vicinity, and access to downtown is simple.
Metro: Saint-Henri, Lionel-Groulx
Verdun
Previously devoid of nightlife but now considered up-and-coming as more restaurants and bars appear, Verdun is a safe, affordable neighbourhood of Montreal located on the green Metro line. Verdun's reach extends from a plot of land southwest of downtown to Nun's Island (Isle des sœurs), just off the main island.
Verdun was once predominantly English-speaking, but now has about a two-thirds French-speaking majority, with allophones (those for whom English nor French is their mother tongue) making up a sizable minority. Verdun is rapidly shaking off a former reputation for crime, with gentrification allowing people to move here from other parts of the city in search of space, as well as relative peace and quiet. Rooms and apartments can go at a low rate, so if you're moving on a tight budget or want to live among other young families but don't want to live in the outer suburbs, Verdun is a good option to consider.
Metro: Lasalle, De L'église, Verdun, Jolicoeur
LaSalle
LaSalle is a large neighbourhood, home to around 75,000 Montreal residents. Language demographics in LaSalle are fairly evenly divided between French, English, and other languages, though most LaSallians are bilingual.
Situated between LaSalle and neighbouring Verdun is Angrignon Park, a large urban park inspired by 19th century English gardens, with winding paths and more than 20,000 trees. Other local attractions include the Lachine Canal and Angrignon Mall. The southern parts of LaSalle follow the shore of the Saint Lawrence River, with some stunning vistas across to the south shore.
Metro: Angrignon
Lachine
At the inlet of the Lachine Canal, between LaSalle and Dorval, lies Lachine, a Montreal neighbourhood bisected by Autoroute 20. A commuter train also passes through, which somewhat makes up for Lachine's lack of a Metro station.
Lachine is home to many young families, with plenty of public schools serving the French- and English-speaking communities. Property and rent in Lachine is more affordable than many other Montreal neighbourhoods, though the area is largely bereft of bars, cafes, and restaurants, so newcomers hoping for such amenities may be better off looking elsewhere.
Pointe-Saint-Charles
Nestled between the Saint-Lawrence River and the Lachine Canal, Pointe-Saint-Charles attracts new residents who want to live near scenic open spaces without sacrificing proximity to the downtown core.
Recent creation of many new housing units, the recycling of industrial buildings into business incubators, lofts, and condos, the 2002 re-opening of the Lachine Canal as a recreation and tourism area have all made Pointe-Saint-Charles one of the most attractive Montreal neighbourhoods.
Metro: Charlevoix, LaSalle
West Island
Beginning in Dorval and stretching over the western part of the Island of Montreal are a cluster of neighbourhoods that together make up what is known as the West Island. These neighbourhoods include the rather pretty villages of Point-Claire and St-Anne-de-Bellevue, which lie either side of Beaconsfield. Other neighbourhoods include Kirkland, Pierrefonds, and Dollard-des-Ormeaux.
The West Island includes neighbourhoods with some of the highest concentrations of English-speaking residents not only in Montreal, but in the whole of Quebec. While in days gone by many West Islanders would have been unilingual, today far more are bilingual.
Two major highways, the 20 and the 40, pass through the West Island and its neighbourhoods. It should be noted, however, that the Montreal metro system does not go near the West Island, and therefore it may be difficult to settle into a work-life balance without access to a vehicle.
Laval
Situated north of the Island of Montreal is Laval, which is technically a city in its own right but is part of the Greater Montreal Area. Laval includes 14 municipalities, with around 423,000 inhabitants in total. Of these, more than one quarter are immigrants.
Laval is well served by transport links, including highways and two stations on the Montreal Metro system. While long seen as a collection of commuter towns, Laval has diversified its economy over recent years, with a local economy centred around the technology, pharmaceutical, industrial, and retail sectors. Laval has many pharmaceutical laboratories, but also stone quarries and a strong agricultural sector. Laval also has four different industrial parks. Laval residents have slightly higher median incomes than residents of the official city of Montreal.
Metro: Cartier, de la Concorde, Montmorency
South Shore
The South Shore is a general term for a collection of suburbs of Montreal situated close to the southern shore of the Saint Lawrence River opposite the Island of Montreal. More than 750,000 people live in this large area, with nearly 250,000 of them residing in Longueuil, just opposite downtown Montreal. A particularly popular South Shore neighbourhood among newcomers is Brossard, where more than 23 different ethnicities each represent at least one percent of the population.
The South Shore is well served by transport links to and from the Island of Montreal and the downtown area, with four bridges and a tunnel bringing car traffic across the Saint Lawrence. The Montreal Metro system also extends into Longueuil. Another commuter train takes passengers from downtown Montreal to Saint-Lambert in less than 15 minutes.
Metro: Longueuil—Université-de-Sherbrooke
Where is the best place to live in Montreal?
If we could provide a single, straightforward answer to this question, we would; but the fact of the matter is that the wide variety of Montreal neighbourhoods means there is something, and somewhere, for every individual and every family here.
Depending on your goals, the main factor in your decision of where to live in Montreal may be budget, proximity to downtown or your workplace, open spaces, or some other variable. Younger adults, couples, and students tend to gravitate towards Montreal neighbourhoods such as NDG or the Plateau, whereas families find the less densely populated West Island and South Shore more attractive. Of course, these are generalities, and exceptions occur all the time.
Getting to know the various Montreal neighbourhoods is just one aspect of preparing your move to Montreal. Explore our Living in Montreal article, and the rest of our New to Montreal City Guide for more advice.