Be Prepared
Do you have health insurance for Canada?
Our partner, Cigna, offers international health insurance plans that give newcomers peace of mind.
Get a free quote
Be Prepared
Do you have health insurance for Canada?
Our partner, Cigna, offers international health insurance plans that give newcomers peace of mind.
Get a free quote
What is it like living in Montreal? How do living costs in Montreal compare with other Canadian cities? We help you address some of the questions about living in Montreal as you prepare to move to this unique city.
You can also learn about living in Montreal in our video guide:
Haven't quite made up your mind on where to live? Hear what our experts have to say about Montreal vs. Toronto vs. Vancouver.
Where is Montreal?
Montreal is located in the southwest of the province of Quebec, just 70km (43 miles) from the US border. The city itself is situated on the Island of Montreal at the confluence of the Saint Lawrence and Ottawa rivers.

About Montreal
Montreal is the second-largest city in Canada and the second-largest predominantly French-speaking city in the western world, after Paris. Language is the most conspicuous difference between this city and province and the rest of Canada, but more on that later.
The city's reputation for lively nightlife and hedonism began during the period of prohibition when revellers would head north in search of a good time. Montreal remains a bustling, cosmopolitan city to this today. It has a more European feel than a standard North American city, but many of the hallmarks of a large North American city — skyscrapers and streets laid out in a grid being among the more obvious examples — are present. Moreover, the cost of living in Montreal is generally more affordable than in other large Canadian cities.
Montreal takes its name from the three-peaked hill, Mount Royal, which sits immediately northwest of downtown.
Cost of living in Montreal
The biggest financial bonus for anyone living in Montreal is that property and rent prices is typically more affordable than many other Canadian cities. A decent room in a shared apartment in a safe Montreal neighbourhood can be rented for as little as $500 per month, with some one-bedroom apartments starting at $700-900. These are base figures, and depending on taste and expectations you can expect to pay more.
Household utilities are quite reasonably priced and generally charged per month. Groceries and eating out, however, are at or above the national average. A pint of local beer should cost about $7, but imports are more expensive, as much as $9.50 in the more touristy areas around Crescent St and the Old Port. Tipping is standard practice, typically a dollar per drink or 15-20 percent of the bill for good service.
Overall, the cost of living in Montreal is affordable, but this can be offset by slightly lower wages and higher taxes than the national average.
Need the latest immigration info? Join our mailing list!
Montreal with kids
Montreal is one of the best places in Canada, if not the world, to raise children. Around half a million children are fortunate to call Montreal home, with many parents having moved to the city in part because family life in Montreal allows for choice, convenience, and affordability.
Consider the following advantages:
Kids in Montreal are highly likely to grow up learning and speaking two languages, if not more.
Quebec offers a subsidized public daycare program, with placement costing as little as $8.50 per day. Not only are the kids happy and safe, but parents and guardians find it easier to enter the labour market or continue their studies. Heavily subsidized daycare contributes to the relatively affordable livings costs in Montreal for families.
Montreal's neighbourhoods are scattered with public parks and playgrounds.
Montreal's changing seasons means there is always a good reason to be outdoors.
University and college tuition fees in Quebec are the lowest in Canada.
Montreal is safe. The crime rate is among the lowest in Canada.
The cost of living in Montreal is much lower than other Canadian cities, and there is an impressive selection of affordable properties, for sale and for rent, well-suited to family life.
Overall, being in Montreal with kids is a joy.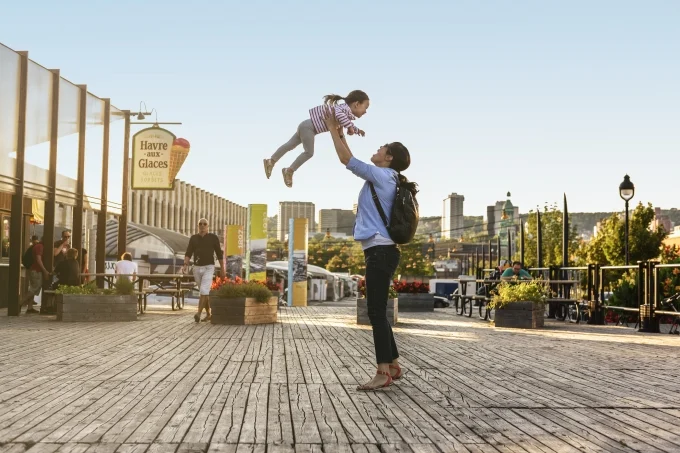 Weather in Montreal
Montreal experiences four distinct seasons, with winter being rather different to what most immigrants would be accustomed to in their native country. Snow cover can be expected from early December until late March, though this is changeable year to year. January and February are bitterly cold, with temperatures often hitting -20°C or below. You will need a sturdy pair of boots and thick socks when living in Montreal through winter, as well as a warm winter coat and hat, scarf, and gloves.
Spring tends to be short, with a warm May leading into hot, humid summers where you can expect daily temperatures well above 20°C, and sometimes above 30°C. Autumn explodes in colour, with orange and brown leaves covering Mount Royal and the large parks dotted around the island.
Things you will notice while living in Montreal
Swearing: While the standard French swear words such as merde are used, stronger profanities are those borrowed from Catholicism and its liturgy. When a Montrealer stubs her toe or wants to admonish someone, she'll probably scream tabarnak! This comes from the church tabernacle. Other choice profanities include sacrament ("sacrament"), ostie ("host", as in communion bread), and maudit ("damn"). Changing and mixing swearwords is a sort of verbal art, and a quickfire "ostie de tabarnak de calisse!" signifies a very angry person and not a priest speaking in tongues.
Mount Royal: The "mountain" is more like a hill at 233m/764ft (but don't say that too loudly as locals take great pride in it). Mount Royal's three peaks are conspicuous from nearly anywhere in Montreal, and few cities in the world have such a wonderful natural amenity right in the heart of the city. Winter means cross-country skiing, tobogganing, and snowball fights, with the other three seasons providing lush parkland, an artificial lake, and paths where joggers and cyclists compete with pedestrians for space. A chalet with a lookout point overlooks downtown and beyond.
The "Underground City": Officially known as RÉSO and sometimes referred to as la ville souterraine, this series of interconnected passages provides refuge from extreme weather during the winter, as well as often being a pleasant getaway from particularly hot summer afternoons. With more than 120 exterior access points and around 32 kilometre of tunnels, it connects Metro stations, commuter stations, shopping malls, offices, apartments, banks, universities, the main bus station, and the Bell Centre arena, home to the Montreal Canadiens hockey team, which competes in the NHL.
Cycling: This is one of the most bike-friendly cities in the world, with hundreds of kilometres of paths. The BIXI system is rated among the best public bike systems in the world, with more than 600 stations dotted around the city.
Politics and identity: Many Quebecers have a fiercely nationalist streak. The dream is to one day break away from Canada and form their own country, a feat they almost managed in a 1995 referendum. On the other hand, many Montreal residents are proud Canadians, many of whom live in fear of an independent Quebec state. In the middle are those whose primary identity is neither Quebecer nor Canadian, but Montrealer. Before launching into a debate, be sure to know what you're talking about. It's practically impossible to avoid politics when living in Montreal.
Dining out in Montreal
In any list of the best dining cities in North America, Montreal is usually in the top three or four. Some even rate it the best, and its only real rival in Canada is Vancouver. It is said that Montreal has more restaurants per capita than any other city on the continent.
Nearly every country is represented in Montreal cuisine. You will find numerous restaurants of the sort that are popular in any western city — Italian, Asian, American-style diners — but living in Montreal would not be the same without poutine.
What is poutine? The three basic ingredients are well-done French fries, cheese curds and brown, meaty gravy. Like other local delicacies across the world — consider pizza or stew — poutine was established by using a mixture of seemingly unappetizing leftover foods and throwing them together, with surprisingly delicious consequences.
Other ingredients such as beef, pork, chicken, seafood, or vegetables are often added to the basic ingredients. A variation called poutine italienne substitutes bolognaise sauce for the gravy. The 24-hour La Banquise on Rachel Street in the Plateau serves more than 28 variations of poutine.
The sizable Jewish community has left its mark on local cuisine, with smoked meat (viande fumée) a particular favourite. Schwartz's on St-Laurent is the centre of the smoked meat world, or so it would appear from the seemingly permanent line of people around the block waiting to get in.
Many restaurants allow you to bring your own wine and beer, and there is usually a SAQ liquor store or dépanneur (corner store) nearby. Look out for "apportez votre vin" signs in windows. The quality of wine in the SAQ stores is much better than in dépanneurs. The highest concentration of "apportez votre vin" restaurants is in the Plateau.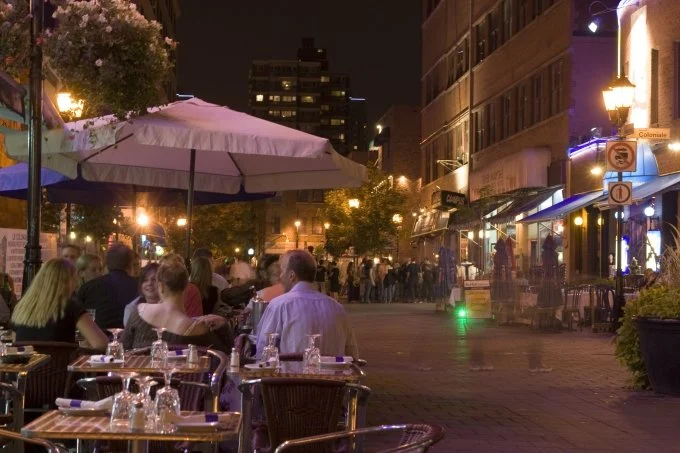 Montreal nightlife
Montreal is world famous for its nightlife, and rightly so. Whatever your budget or music taste, Montreal provides a seemingly endless range of options, from small bars to upscale nightclubs. It is truly the entertainment capital of Canada. Retail alcohol sales stop at 11 p.m. and bars may serve until 3 a.m. The legal drinking age in Quebec is 18, a year earlier than most of Canada.
There are three main strips for bar-hopping:
Crescent St on the western side of downtown caters mostly to anglophones and tourists, though the adjacent Bishop St has more of a local clientele.
Boulevard St-Laurent on the edge of the Plateau — particularly the stretch from Sherbrooke Street to Avenue des Pins, where you'll find stylish bars and clubs with a more francophone clientele — gets extremely busy when Concordia and McGill students are back for a new session.
The Latin Quarter on St-Denis comes into its own during the summer, when large outdoor patios (terrasses) line the stretch between de Maisonneuve and Sherbrooke.
More local scenes can be found in the Village, Mont-Royal Avenue in the Plateau, Monkland Avenue in NDG, and Hochelaga-Maisonneuve.
Festivals in Montreal
Every month of the year contains some sort of festival in Montreal. Things really get going when the sun comes out in summer and the area around Place des Arts hosts free shows all afternoon and evening.
The largest jazz festival in the world occurs from late June into July, with some of the most renowned acts on the planet entertaining locals and tourists. Montreal is also home to the world's largest comedy festival, Just for Laughs (Juste pour rire), which occurs just after the jazz festival. The Osheaga music festival is a weekend-long summer jamboree on Île Sainte-Hélène, with multiple stages hosting some of the most recognizable artists in the world.
Transit in Montreal
If you plan on living relatively close to Montreal and don't plan on owning a car, it is likely that you will regularly be using the city's Metro system. The Montreal Metro was first launched in time for the 1967 Expo.
The Metro has four lines, 68 stations, and is the busiest subway system in Canada in terms of daily usage. The Metro is operated by the Société de transport de Montréal (STM). The green line runs east-west, as does the horseshoe-shaped orange line at its busiest section. Both the green and orange lines run through downtown. The blue line runs east-west to the north of Mount Royal, and the short yellow line serves Longueuil and the South Shore.
The Metro runs until approximately 12.30 a.m. on weekdays and 1.30 a.m. on Friday and Saturday nights.
STM tickets are also valid on the extensive bus network serving the various neighbourhoods of Montreal.
Montreal Metro/STM prices
Fares
Regular Price
Age 6-17 and 65+
Students 18-25
Condition
Validity for 747 Airport bus
1 trip
$3.50
$2.50
Regular price
Valid the same day as purchase.
No
2 trips
$6.50
$4.25
Regular price
One single user. Valid the same day as purchase.
No
10 trips
$30
$19
Regular price
No
1-day pass
$10
Regular price
Regular price
Unlimited travel for 24 hours consecutive.
Yes
Group fare
$17.50
Regular price
Regular price
One adult and up to 10 children aged 6-13, valid for two hours
No
Unlimited evening
$5.75
Regular price
Regular price
Unlimited travel between 6 p.m. and 5 a.m. the next morning.
No
Unlimited weekend
$14.50
Regular price
Regular price
From Friday 4 p.m. to Monday 5 a.m.
Yes
3-day pass
$20.50
Regular price
Regular price
Consecutive, until 11.59 p.m. the third day.
Yes
Weekly pass
$28
$16.75
Regular price
From Monday to Sunday until 11.59 p.m.
Yes
Monthly
$90.50
$54
$52
From first to last day of the month, plus the first day of the next month.
Yes
4-month pass
N/A
$212 for 6-17 year olds
$106 for 65+
$212
Yes
Group (1 adult + 10 children aged 6-13)
N/A
$19
N/A
No
Airport Mtl-Trudeau
$10
Regular price
Regular price
Purchase at airport / outside Berri-Uqam station / on board (coins only, exact fare)
Yes
Compared with similar systems in other large cities, Montreal's public transit is comparatively cheap. Your costs of living in Montreal are unlikely to be too affected if you plan your commute and work/life balance appropriately.
Other commuter trains serving the outer suburbs are run by the Agence métropolitane de transport (AMT) and are priced distinctly from STM services.
Newcomers living in Montreal from abroad who plan on driving around the city should take time getting used to driving on the right before tackling the downtown area where drivers often take daring risks. Driving in winter can be hazardous, particularly after a huge dump of snow, so make sure that your vehicle is properly kitted out with the appropriate tyres (pneus) and heating system.
Montreal provides hundreds of kilometres of designated bike paths. The BIXI system is a public bicycle sharing system that is available for three seasons of the year from April to November. With thousands of bikes and more than 600 docking stations throughout the city, signing up for a BIXI subscription is a good investment for the year.
Carsharing is another popular option for getting around Montreal. You can learn more about carsharing in our carsharing in Montreal page.