Be Prepared
Do you have health insurance for Canada?
Our partner, Cigna, offers international health insurance plans that give newcomers peace of mind.
Get a free quote
Be Prepared
Do you have health insurance for Canada?
Our partner, Cigna, offers international health insurance plans that give newcomers peace of mind.
Get a free quote
The quality and range of options for grocery shopping in Montreal is exceptional. This is no surprise, given the cosmopolitan make-up of the city.
Montreal is full of foodies who want to show off their skills, so be prepared to be invited around for dinner regularly (and don't be afraid to return the invitation). The quality of food available is certainly one of the benefits of moving to Montreal.
Most Local dépanneurs (corner stores) sell basic items such and tinned and frozen food, but very few sell any fresh groceries. Most Montreal neighbourhoods offer small specialty ethnic food stores. Below is a concise summary of options for grocery shopping in Montreal.
Grocery shopping in Montreal: Public markets
Jean-Talon Market: This superb farmers' market in Little Italy is arguably the best in town. It's open year-round, even during Montreal's severe winters. During the peak summer period the open-air arcades of Jean-Talon Market are occupied by about 300 vendors, mostly farmers from the countryside around Montreal. Even if you don't live near the area, a trip to Jean-Talon Market is definitely worth the effort.
The market is surrounded by other food businesses: meat, fish, and cheese stores, bulk food emporiums, dealers in spices and imported goods, bakeries, and restaurants. (Metro: Jean-Talon)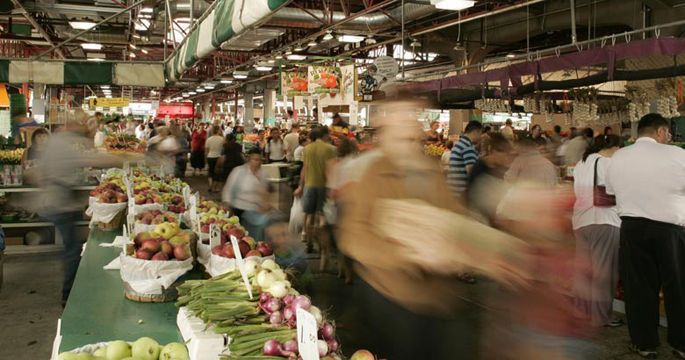 Atwater Market: Located in the Saint-Henri area and eight decades in operation, this farmers' market, housed in a long Art Deco building, is home to an array of quality butchers and the Première Moisson bakery and restaurant. The outside market has many stalls selling local and imported produce at good value. There are alsotwo cheese stores, a wine store specialising in local spirits, and a fish store. (Metro: Lionel-Groulx)
Lachine Market: The recently-renovated Public Market of Lachine is accessible by bike from the cycle path of the Lachine Canal and by car from the 20 highway. However, it is not within walking distance of a Metro station. It is the oldest public market in Montreal. Apart from the regular products typically found in public markets, you will find a buthcer, a fish shop, a fine product store, and a cafe. Lachine Market is open year-round.
Maisonneuve Market: Exterior stalls and 10 indoor food stalls are open year-round at this market in the Hochelaga-Maisonneuve neighbourhood. Offering a variety of products found at large markets, including flowers, fruits, vegetables, meats, cheese, fish, and baked goods, Maisonneuve Market is surrounded by some stunning buildings. The Beaux-Arts style building is the former site of the old market, built before World War I. (Metro: Pie-XI, Viau)
Grocery shopping in Montreal: Supermarket chains
Which Montreal supermarket chain is best for you? Explore the various options in your neighbourhood and get a sense of which supermarket offers the right balance of convenience, variety, and affordability to suit your needs.
IGA : A full-service province-wide chain, IGA has opened in multiple Montreal locations in recent years. IGA is one of the best choices available for grocery shopping in Montreal. You can get excellent cheese, bread and fresh meats here, with a huge frozen section usually found somewhere down the back.
Provigo: A chain of large supermarkets, often selling higher-end brands. A weekly shop here can often come to more than $100 at the till, but the quality is often worth the outlay.
Metro: With ample locations across the city, you could find yourself living close to Metro supermarket. That's good news is you enjoy a broad selection of local and imported beers, but bad news if getting absolutely everything on your shopping list, as Metro is often out of some goods you would expect to find in an urban supermarket. Late opening hours are a bonus, however.
PA: The hectic atmosphere found in most PA supermarket underlines a simple reality: affordability. When searching for accommodation in Montreal, find out if there is a PA nearby. You'll be glad you checked, because as well as being good value, PA offers quality meat, produce, and breads.
L'intermarché: This urban supermarket has a range of locations east of Boulevard St-Laurent and towards the north of the Island of Montreal. L'intermarché offers most items you may need for a weekly shopping trip. Keep an eye out for daily deals.
Super C: Selling a range of cheaper brands, Super C is particularly popular among young families in the suburbs of Montreal. Super C does not have much of a presence closer to downtown Montreal, though there is one location in Saint-Henri.
Adonis: Founded by Lebanese immigrants in the 1970's, Adonis has multiple locations across Montreal. The highlight is the Adonis deli counter, a favourite among students and workers in search of a large, affordable lunch. Adonis also functions as a full-scale supermarket.
Grocery shopping in Montreal: independent supermarkets
Segal's: Grocery stores in Montreal come in all varieties, but Segal's is a Montreal institution. It's easy to miss, as the name is not written outside. What Segal's may lack in sophistication and aesthetics, it more than makes up for in charm and affordability. There is a solid selection of fresh produce, with aisles of frozen food, dairy, and more. The haphazard layout makes shopping at Segal's an experience not to be missed. You can find Segal's on Boulevard St-Laurent, near the corner of Avenue Duluth.
Intermarché Akhavan: This large supermarket in NDG specialises in Iranian, Middle-Eastern & Mediterranean products, including bulk items.
Grocery shopping in Montreal: other options
Couche-Tard: Not quite a supermarket, but definitely more than a regular dépanneur, Couche-Tard locations can be found across Montreal. Don't expect fresh products, but rather the kinds of things you would see in 7-eleven in the US: pre-made sandwiches, coffee, salty snacks, dairy, and alcohol.
Costco: You'll need a Costco membership, but it pays itself off very quickly. A massive warehouse that houses a lot of the key day-to-day items you buy at the grocery store, insiders know to go for their very high quality meats and produce, as well as for buying toiletries in bulk. It's also a good place to go if you're looking to buy any household items or electrical goods. You'll likely be buying in large quantities, so make sure you have ample freezer and fridge space and a car (or a willing friend with one). The trip to Costco is often worth the time and effort if you're buying for more than a couple of people.
Learn more about living in Montreal.