Free help
Unlock exclusive resources.
Get the resources you need, tailored to your profile. Get matched with the right immigration program & job offers, and access exclusive events & resources.
Create your account
Free help
Unlock exclusive resources.
Get the resources you need, tailored to your profile. Get matched with the right immigration program & job offers, and access exclusive events & resources.
Create your account
Archived content
Please note that this article has been archived. The information contained may be out of date.
This piece of content is sponsored by Simplii Financial.
When you are moving to Canada, there are tons of things to do, including finding a place to live, figuring out how you will get around, and deciding on where to bank.
We have looked at the banking offers across Canadian banks to find the best 'New to Canada' offer. It may be  surprising to discover that most Canadian banks charge regular fees just for the privilege of having an account. The most popular "Big Five" banks provide no-fee accounts, but with conditions and an expiry date, usually one year from when your account is opened.
We're joining Simplii Financial for a special livestream on Thursday, August 26 at 11:30am EST, where we'll cover what you need to know when planning a move to Canada. Sign up for the free livestream here.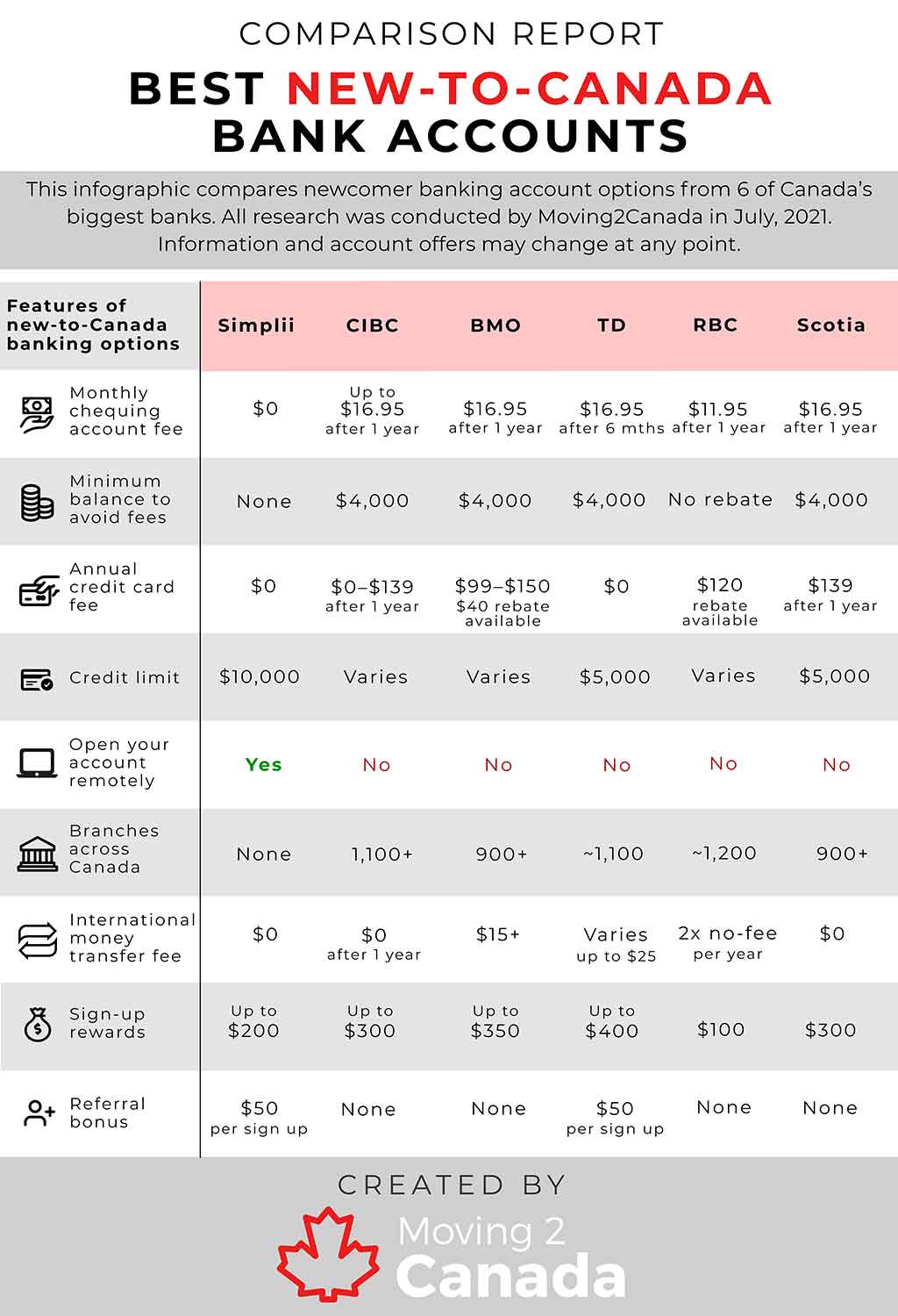 Easy banking for new Canadians with Simplii Financial
Simplii Financial opened in 2017 as the digital banking hub of the Canadian Imperial Bank of Commerce (CIBC), a Tier 1 bank with over 150 years of history. Within two years, Simplii was voted one of Forbes' World's Best Banks in Canada. Simplii has been proud to hold that distinction for the last two years.
Right now, Simplii has a strong offer for those New to Canada that not only provides an easy and digital account open process, but also services that will help make it cheaper and easier to get set up in Canada. This includes:
Digital account open process. Clients can start their application  while still overseas.
No need to go into any banking centre or Canada Post; with the digital solution, the application is completed entirely online, and the bank card is couriered out to the client.
A no-annual-fee cashback credit card with up to a $10,000 credit limit with no Canadian credit history required
A Global Money Transfer program that allows clients to easily send money to family and friends overseas without any pricy transfer fees
Get up to CAD $1,300 in value every year
Let's dig into these offerings in depth.
Simplii Financial no-fee chequing account
Simplii's no-fee chequing account is an ideal bank account. You can open a Canadian bank account before you arrive, and they can offer a seamless digital application process so you can speak with a knowledgeable expert before you even set foot in Canada.
To get started, you'll need to provide a selfie, your passport, and your Government document (Port of Entry letter, Study Permit, or Permanent Residence card).
Once you've submitted your application and your account is opened, you can send funds in any currency from any bank account in your name to your account. Once you move to Canada, Simplii will send your new bank card via courier. Then, it's easy to pick a PIN and set up your card over the phone.
All of Simplii's no-fee chequing accounts for newcomers feature:
No-fee daily banking
No minimum balance requirements
Unlimited e-transfers
Unlimited transactions
You'll also get the chance to earn CAD$200 if you register your payroll or direct deposit  within three months. Plus, all newcomers who enroll before October 31, 2021 will get the chance to win CAD$10,000. Contest rules apply.
How to get a credit card as a temporary resident in Canada
Ever been told that you need Canadian credit history to get a credit card in Canada? That's no longer true with the Simplii Financial Cash Back Visa Card. With this offer, clients with no Canadian credit history can get a credit limit of up to CAD $10,000, plus 4% cash back on all purchases made at restaurants and takeout.
To help welcome you to Canada, Simplii will offer you 10% cash back at restaurants and takeout for the first four months, up to a CAD $500 spend.
Simplii Global Money Transfer
One of the most complex financial situations for newcomers in Canada is sending money across borders. With the Simplii money transfer system, there are no service fees!
Simplii has also made it easier to send money to friends and family back home with Global Money Transfer. When you use your Simplii Financial chequing account, credit card, or line of credit to send money back home!
How to save hundreds on banking in Canada
When you join Simplii Financial, you can get up to CAD $1,300 in value every year when you sign up for multiple products and take advantage of the various offers in place. Plus, clients can win up to CAD $10,000 when they activate an account before October 31.
Want to get your friends and family in on the action? Simplii is the only bank that pays both the referrer and referee CAD $50. You don't even have to be a Simplii client to refer people. Imagine helping your family and friends moving to Canada get such a great banking offer — all they need is your email address when they apply. Simplii will send you $50 once they fund and activate their account. The more people you refer, the more you can earn!
Start your new opportunity in Canada off on the right foot by taking advantage of Simplii Financial's easy no-fee digital banking with no minimum balance requirements. Apply now to get started today.