Be Prepared
Do you have health insurance for Canada?
Our partner, Cigna, offers international health insurance plans that give newcomers peace of mind.
Get a free quote
Be Prepared
Do you have health insurance for Canada?
Our partner, Cigna, offers international health insurance plans that give newcomers peace of mind.
Get a free quote
As one might imagine for such a diverse city, Toronto is a mosaic of different neighbourhoods, most of them with their own identities and charms.
Typically the west end of the city has been the hip part of town, but as rents rise and gentrification takes a firmer grip, it's the east end where the up-and-coming Toronto neighbourhoods are located.
Where to live in Toronto depends on your preferences and lifestyle. This section offers a brief description of the different Toronto neighbourhoods, aimed at giving you an idea as to where to live in Toronto. These neighbourhoods are constantly evolving, and boundaries can become blurred and disputed, but this will serve as a guide to some of the main characteristics of each locality within the city of Toronto and some of the surrounding Toronto suburbs.
You can also learn about planning a move to Toronto in our video guide:
Finding a good place to live can be one of the most daunting tasks when moving to Toronto. It's worth investing time and effort in preparation and research on the various accommodation types and which of the Toronto neighbourhoods is right for you.
To live alone, a single bachelor condo may set you back around $1,500-1,600+ a month in rent, and you can expect to have to compete with others just to get the lease. The rental market in Toronto is competitive, with demand continuing to outpace supply. You may be subject to a credit check and may require a reference from a previous landlord in order to take out a lease alone.  As those can be difficult for new arrivals, you might consider renting shared accommodation when you first move to Toronto; that way you can get a reference from that landlord if you subsequently choose to move out on your own. It will also give you some time to figure out which Toronto neighbourhood you feel is best for you and your family, if applicable, before committing to a longer and more expensive lease.
Rents tend to be more dependent on the size of the house or apartment, and the amenities that come with it, rather than which Toronto neighbourhood you live in. That being said, if you want to live in King West, the downtown core, or Rosedale/Summerhill, expect to dig deeper into your pockets than anywhere else.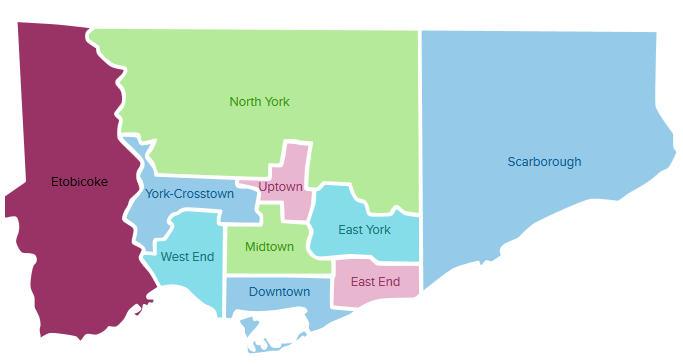 Jump To
What you'll find on this page
Toronto neighbourhoods: West End
The Annex
Much like many other neighbourhoods in the West End of Toronto, The Annex is a hub for young professionals and creative young adults. Historically home to students and staff of the University of Toronto, this neighbourhood begins at the north-west boundary of what would be considered downtown. The main U of T campus is at the south east end of the neighbourhood, while The Annex itself is a combination of leafy streets with old houses, and pubs and eateries that are friendly to the student budget. It's by no means a students-only area though — the strip on Bloor has seen a host of new businesses move in over the last few years to make this an attractive area for residents of any age group or background. That change has seen the area lose some of its character, however. Famous Toronto landmarks Honest Ed's and the Brunswick House bar have both closed their doors in recent years, but with Christie Pits Park just to the west and Casa Loma to the north, The Annex still possesses plenty beyond its bars, restaurants, and book stores. It also has the benefit of being close to three subway stations on Line 2: Bathurst, Spadina, and St George.
Roncesvalles
Historically this is the Polish neighbourhood of Toronto, but within the last decade Roncesvalles has become something of a haven for creative and hipster types. "Roncy," as the locals call it, refers to the areas surrounding Roncesvalles Avenue running south from Bloor to King Street West in the west end of Toronto. Roncesvalles is one of the prettier Toronto neighbourhoods, with various independent shops, bars, restaurants, and coffee shops offering plenty of character. As one might imagine, rents have risen in line with Roncy's popularity, but remains cheaper than Toronto neighbourhoods closer to downtown. One drawback is that it requires a bit of a commute to downtown. Unless you are at the north end of the neighbourhood and can easily get to Dundas West subway station, you are most likely going to have to trundle downtown on a streetcar, which can be somewhat frustrating as streetcars tend to very busy, very quickly at peak times.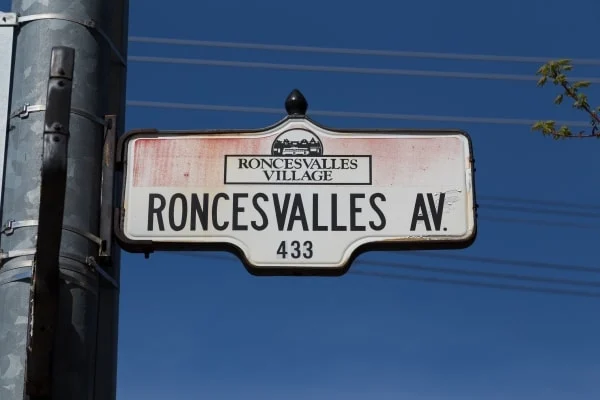 Kensington
There's a fiercely independent spirit to Kensington, which sets it apart as one of Toronto's most unique and iconic neighbourhoods. The web of streets that make up Kensington Market are home to all manner of thrift stores, book shops, cafes, quirky bars, and fresh food outlets. Its status as a sanctuary for bohemians makes it attractive for some, but may be a reason to avoid as a living destination for others. Located on the western side of Chinatown between College Street to the north and Dundas Street to the south, Kensington is easily accessible to the downtown core as well as to two frequent streetcar routes: the 505 Dundas to the south, and the 506 College to the north. College Street is also home to an impressive selection of records stores and indie bars for cheap eats, cheap drinks, and late nights out.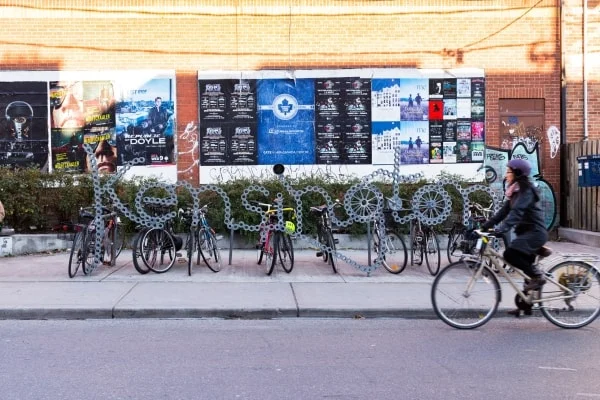 Little Italy
Little Italy is just past Kensington Market along College Street. While it has much of the charm of its neighbour, it feels a little less rough around the edges. As you might expect in a traditionally Italian neighbourhood, there are lots of great places to eat, but it's also one of the best areas in Toronto for a night out as well. The Taste of Little Italy festival, considered one of the best of the city's many summer street carnivals, takes over the area for a weekend every June. Little Italy is also a great location to go watch the football (soccer) World Cup or European Championships when they come around every other year. All this combines to make it one of the most exciting Toronto neighbourhoods to call home. The 506 College/Carlton streetcar runs east to west through Little Italy, while Line 2 of the subway is about a 15-minute walk north. Only a block north of College is Dundas West, where you will find Little Portugal. Vegetarians will love this strip as there are so many restaurants catering for their needs — even non-vegetarians love the food.
Dovercourt
There's always plenty happening in Dovercourt, another desirable west end Toronto neighbourhood. The south end of the 'village' along Bloor between Ossington and Dufferin is home to indie bars, record stores, and the famous Long & McQuade guitar store. Dufferin Mall will satisfy most of your shopping needs, and for a night out you can jump in a taxi or take the 63 Ossington bus south to the area around Ossington & Dundas to Ossington & Queen, which has one of the best concentrations of nightlife in the city. Two subway stops service the area; both Ossington station and Dufferin station are on Line 2.
Bloordale Village
A family-friendly Toronto neighbourhood based around Bloor Street between Dufferin Street and Lansdowne Street, and one that boasts plenty of amenities. Dufferin Mall has a large Walmart, as well as a number of other clothes stores, and will satisfy most of your weekly shopping needs without having to go too far. There are subway stations at both Dufferin and Lansdowne, so travelling to other parts of the city can be done quickly and conveniently. There's also a church right next door to a strip club — a quirky symbol of Toronto's easy-going and tolerant nature.
West Queen West
Vogue magazine placed West Queen West second in its list of the coolest neighbourhoods in the world just a few years ago, and it's got enough boutiques, vintage clothes shops, record stores, and art galleries to back that up. Stretching along Queen Street from Bathurst Street to Gladstone Avenue, the area is also home to Trinity Bellwoods Park, one of Toronto's most popular hangout spots in the summer months. The area is served by the 501 Queen streetcar, which runs east to west every few minutes during rush hour.
King West
One of the busiest and most energetic parts of Toronto, King West is for those who truly want to embrace city life. If you want to live here, expect it to be in a condo, and expect to pay upwards of $1,600 for a one-bedroom place. The area is lined with high-rise apartment blocks, most of which are quite new and impressive, and generally will come with a gym and parking available. What you get for your money is prime location downtown. Just about everything is convenient, and you will be spoiled for choice in terms of nightlife, restaurants, yoga studios, and gyms, with easy access to events at the Rogers Centre, where the Toronto Blue Jays baseball team play, the Air Canada Centre, and Echo Beach concert venue.
In terms of transit on King Street, the 504 King route has traditionally been one of the city's most problematic, but a recent decision by the city to restrict traffic has greatly improved journey times. With the TTC adding extra streetcars in 2018, that trend should continue to improve.
Liberty Village
Liberty Village is basically a gathering of high rise condos that has emerged as a little village of its own at the end of King West, mainly populated mainly by young professionals. Liberty Village has really emerged as a popular location in recent years, but is somewhat lacking in independent character as franchises move in to the demand for amenities by the growing population. It's very convenient to the BMO Field where Toronto FC and the Toronto Argonauts play, so expect crowds on game days. It is also well located for a quick commute to the downtown core on the 514 Cherry streetcar, which starts from Dufferin Gate Loop in Liberty Village.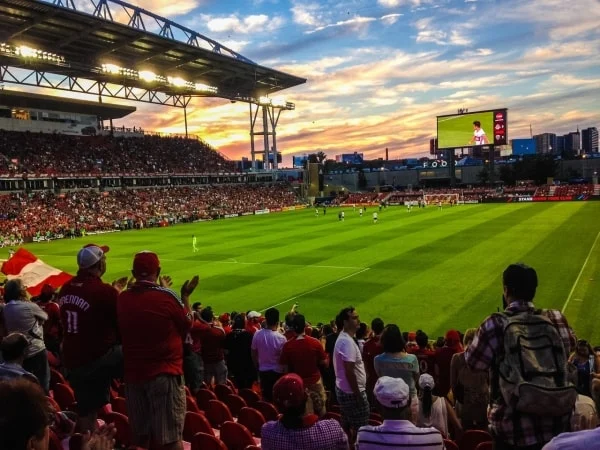 High Park North
High Park North is a village-type neighbourhood. Locals recognize the region as being a welcome haven away from the hustle and bustle of downtown. This spot is principally residential, made up of high-rise apartments and houses. High Park itself, to the south of the neighbourhood, is one of the biggest parks in North America at 400 acres. Toronto calls itself 'a city within a park'; its more than 1,600 public parks make up about 13 percent of the city's land area, a total of 8,000 hectares, and High Park is the largest of them all.
Many have found themselves lost in the expanses of the park, which is home to countless ducks, birds, chipmunks, swans, and squirrels. Tennis courts, baseball diamonds, soccer fields, monuments, Chinese gardens, a labyrinth, a zoo, a cafe, and a pool can all be found here too.
High Park North is served by the Dundas West, Keele, and High Park stations of the Bloor-Danforth TTC subway line, and it won't take you longer than 20 minutes to reach downtown Toronto. The TTC also operates local buses out of each station. A downside is that you would have to pay around $30 to get a cab from the downtown core to High Park. Night owls may be doing this more often than planned, as the TTC stops at 2 a.m.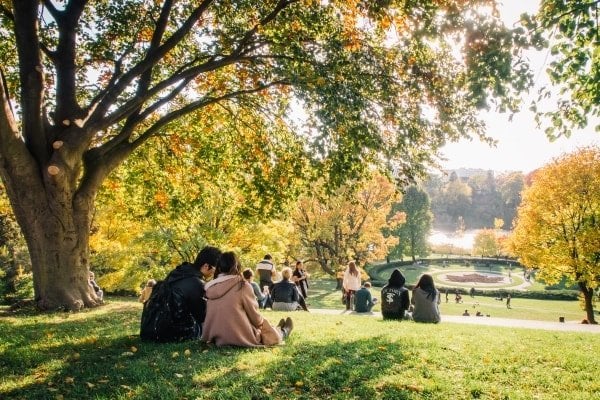 Parkdale
Now considered one of the west end's trendy spots, Parkdale has developed into a desirable neighbourhood having shaken off a bad reputation, which it had until relatively recently. This diverse community is home to Tibetan, North African, and West Indian enclaves mixed in with some great bars, vintage fashion, and comic book stores. Parkdale is just west of Liberty Village and south of Roncesvalles, and you can get downtown and to the subway lines using the frequent 501 and 504 streetcar lines.
The Junction
Another fashionable part of the west end, The Junction is fighting the tide of gentrification in recent years as its reputation grows. Home to an excellent bar scene (especially if you like craft beers), but not too lively as to be off putting, The Junction is popular as both a neighbourhood to call home and as a place to visit and hang out for outsiders. The Junction is similar in vibe to many of the nearby Toronto neighbourhoods, such as Queen West and Roncesvalles, which it borders to the south. Trendy independent food stores and galleries are its calling card, while transit options are another selling point; Keele Station and Dundas West Station to the south will have you downtown in 20 minutes.
Bloor West Village
Bloor West Village is a stretch of road with colorful shops and the ambiance of a local village. There's a tangible sense of community in Bloor West Village, which is relatively quiet at night compared to some of the surrounding areas. You will find everything you might need and more here. It has schools, bars (both sophisticated and casual), cafes, supermarkets, and restaurants.
Chinatown
Home to the Toronto's thriving and extensive Chinese community, Chinatown is also a more affordable location to find a house close to downtown. An excellent place to buy your fresh fruit and vegetables, your dollar will stretch further in Chinatown than most other places. Spadina Avenue is the main thoroughfare through Chinatown, which serviced by the 510 Spadina streetcar running north/south, while the 505 and 506 streetcars run east/west. If you're working downtown, you may even choose to walk from Chinatown and make some savings on transit, while enjoying the sights and scents of the neighbourhood along the way.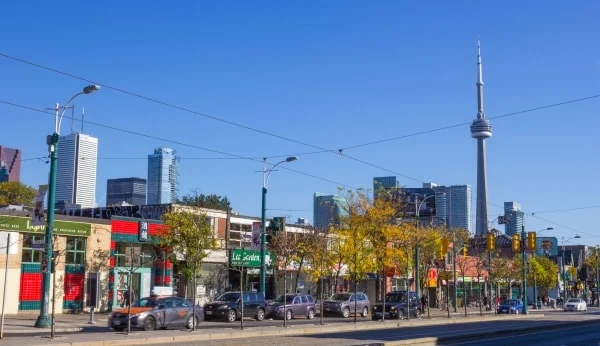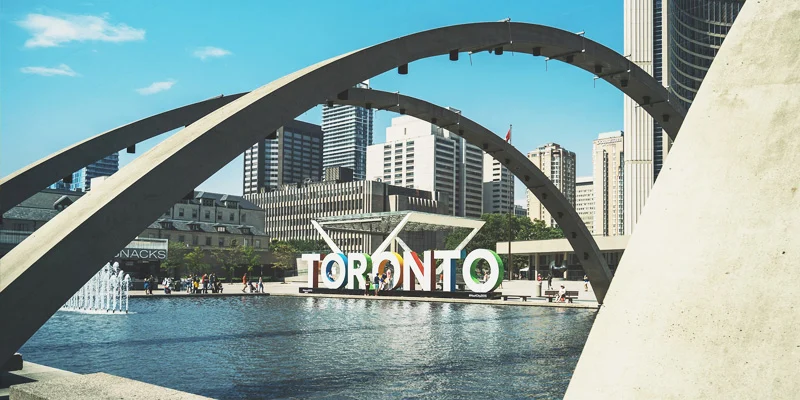 Free
Take on Toronto with confidence
Job matching, a personalized checklist, exclusive events — it's all there with a free Moving2Canada account!
Register now
Toronto neighbourhoods: Downtown
Yorkville
Yorkville is one of the wealthiest parts of Toronto, though there are still some condo buildings in and around Yorkville which may prove to be affordable to the middle classes. This is where the rich and famous come to shop at the high end fashion stores such as Gucci, Prada and Louis Vuitton, or sip cocktails at the many high-end hotel bars. Yorkville is also a prime location for celebrity spotting during the Toronto International Film Festival, which takes place every September.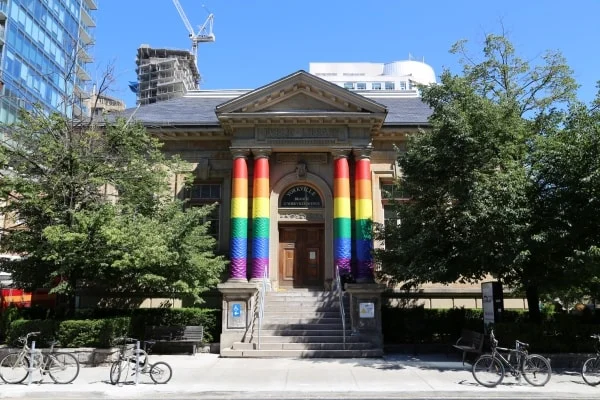 Downtown Core
More known for banks, office blocks, and shopping outlets than living quarters, there is still a sizable population that calls the downtown core home. Living right in the very centre of downtown will leave you with convenient access to just about everything you could want, but the living expenses are likely to leave a sizable hole in your wallet. The downtown core hosts an array of flash restaurants and cocktail bars, the Eaton Centre shopping mall, the Air Canada Centre, St Lawrence Market, Yonge & Dundas Square, the Art Gallery of Ontario, and a wealth of transit options.
Fashion District/Entertainment District
A vibrant district of downtown, this Toronto neighbourhood can be very busy, day and night. Workers in many of Toronto's creative industries, agencies, and media companies pack the cafes and streets by day, while after dark the nightclubs, bars, and restaurants make sure this part of Toronto never sleeps.
Queens Quay & Spadina/Cityplace
Overlooking Lake Ontario, this is quite a picturesque area, ideal for joggers or walking the dog. There are many condo buildings along Queen's Quay, so it is densely populated. The 509 and 510 streetcars both run frequently and connect to the subway system and the Go Trains just a few stops east at Union Station.
Toronto neighbourhoods: Midtown
Yonge & Eglinton
This midtown Toronto neighbourhood, based around the intersection of Yonge Street and Eglinton Avenue, is well located to quickly travel downtown — you can jump on Line 1 of the subway and be there in 20 minutes. You may not even need to travel too far too often, however, as Yonge & Eglinton has plenty to offer in its own right. While much of the surrounding areas are home to the affluent, there is still affordable accommodation to be found, and the neighbourhood has become quite popular among young Irish and British workers in particular. There are lots of amenities, including the Eglinton Mall and Cineplex, while the area also boasts a wide selection of boutiques and restaurants. It's possible to have a good night out in this neighbourhood without having to go downtown, which makes it one of the most popular parts of midtown for those in their twenties and thirties.
In terms of transit, the Line 1 subway is convenient for getting downtown or further uptown. The Eglinton Avenue buses (the 32 and the 34) going east and west run very regularly, and the city is currently in the process of building the Crosstown LRT — a new light rail transit line that is expected to greatly improve east/west transit along Eglinton Avenue. That won't be finished until 2021, however, so expect traffic headaches in the area for the next few years.
Davisville Village/St Clair & Yonge/Mount Pleasant
This relaxed area of midtown is popular among both downtown professionals and families. It's less pricey than Rosedale and Summerhill to the south, and less busy than Yonge & Eglinton to the north. The sprawling Mount Pleasant cemetery, full of squirrels, cyclists, and joggers, divides Davisville and St Clair to the south. The streets of Davisville are filled with residents of Toronto neighbourhoods walking their dogs or relaxing in the small parks dotted around the area. The Kay Gardner Beltline, a disused railway line, is now transformed into a walking and running path. Locals flock to the path in the summer evenings to exercise.
Line 1 of the subway will also take you uptown or downtown, with stops in both Davisville and St Clair, while the 512 St Clair street runs westbound from St Clair Station.
Rosedale/Summerhill
These areas are considered among the most affluent areas of the city. Beautiful large houses fill the streets intersecting Yonge Street and beyond. One of the biggest liquor stores in Toronto is situated beside the Summerhill station. Rosedale and Summerhill are Toronto neighbourhoods with plenty of quiet bars, boutique shops, and restaurants interspersed with thriving tennis clubs and parks. One of the best sandwiches in the city is served at Black Camel, next to Rosedale station.
Eglinton West
Also known as Little Jamaica, Eglinton West is a mainly residential neighbourhood, but the businesses that line the Eglinton West thoroughfare have a strong Caribbean character, though locals believe this is fading. Like Yonge & Eglinton, the Crosstown LRT construction work along the avenue is the cause of much frustration, but will be a big asset when completed.
Toronto neighbourhoods: East End
Danforth-Greektown
Again, like many other neighbourhoods in the East End, Danforth-Greektown is one of the safest and most family-friendly neighbourhoods in Toronto. Starting from the east side of the Don Valley Parkway, most of the Danforth as far as Victoria Park is often considered Greektown. The neighbourhood is best known for the annual Taste of Danforth festival, Canada's largest street festival which takes over Danforth Avenue from Broadview to Pape for a weekend every August. The area is home to plenty of restaurants, while the bar scene is somewhat more low-key that the west end or downtown, with lots of locals rather than a destination for party-goers.
One big advantage is that Line 2 of the TTC's subway system runs right through the neighbourhood underneath Danforth Avenue, so transit couldn't be more convenient. That convenience has made it more popular with young professionals and newcomers to Toronto, but the area retains its Greektown identity nonetheless. The fact that Greektown borders the Don Valley River Park is a huge plus for nature lovers and those who want some respite from the concrete jungle. A short walk south to Riverdale Park will also give you arguably the best vista of Toronto's skyline.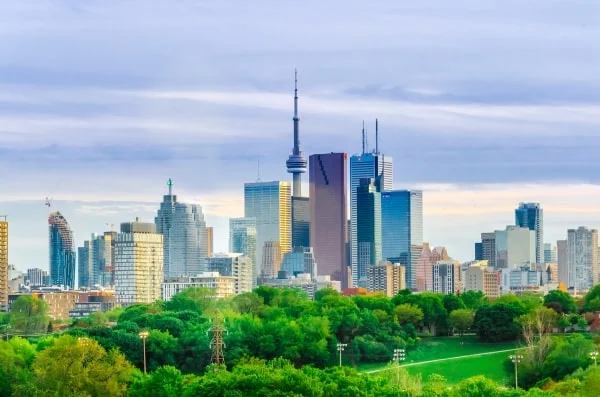 Leslieville
The 'cool' part of the east end. Leslieville, like West Queen West, is a haven for creative types and is filled with independent shops, bars, and restaurants to cater to all manner of niche interests. Centred around Queen Street East, its main transit line is the 501 Queen streetcar. If you're driving or taking a cab, then you can get downtown quickly on the Lake Shore Boulevard and the Gardiner Expressway. Leslieville is also a very family-friendly neighbourhood.
Little India
Located at the east end of Leslieville, Little India has held on to its authenticity better than most of Toronto's ethnic neighbourhoods. Naturally, Little India offers top quality Indian food, and the Gerrard India Bazaar is worth a visit. Accessible by the 506 Carlton/College streetcar to go east or west, the area is also just a short walk away from Woodbine Park and Woodbine Beach.
Moss Park
Located close to the downtown core, the area surrounding Queen and Sherbourne has traditionally had a bad reputation, notorious for drug use and street prostitution. However, things are getting better, and Moss Park's profile has noticeably improved over recent years. Rents tend to be lower than many other Toronto neighbourhoods, so don't rule it out completely (it's probably not one for young families, though). The 501 Queen Street and 505 Dundas Street streetcar routes operate east-west through Moss Park.
The Village
Based around the Church & Wellesley junction, The Village is the heart of Toronto's LGBT community. Lots of bars and nightclubs line the streets, so it is a lively place to live, particularly for the annual Pride festival in June. The TTC doesn't have a bus route down Church Street, but it's just a quick walk over to Yonge Street where you can get on the subway at either Wellesley or College station.
East Chinatown
Another of Toronto's emerging neighbourhoods, the second Chinatown is located on Gerrard Street East between Riverdale and Riverside. Rents will be cheaper than nearby Leslieville, but you will still be close enough to take in its charms. The 506 streetcar will be your best bet for travelling downtown from East Chinatown.
Cabbagetown
The name dates to the 19th century when struggling Irish immigrants would grow vegetables in the patches in front of the homes that fill this area. Things have moved on somewhat since those days, and some of the tree-lined streets of Cabbagetown are among the prettiest in the city. The area around Parliament & Carlton has the feel of a small village, and there are some good restaurant choices as well. The 506 streetcar takes you east and west, while the 65 Parliament bus goes northbound to Castle Frank subway station.
Riverdale
Riverdale is a relaxed residential part of the east end that overlaps somewhat with the western boundaries of Danforth-Greektown. It also borders East Chinatown and Leslieville so you get easy access to all those Toronto neighbourhoods have to offer as well. Riverdale is lined with Victorian and Edwardian style homes, and Riverdale Park is a hive of activity in the summer months. The park hosts with softball games, with running clubs also making use of the area. For those with relaxation in mind, Riverdale Park is a great spot to sit on a grassy banks and take in the amazing views. The 504 and 505 streetcars go north and south through Broadview Avenue to Broadview Station where you can connect to the subway.
Corktown
A quiet residential neighbourhood to the east of downtown core, there's not much happening in Corktown. This may be a plus, depending on your outlook. Like Cabbagetown, it was an Irish enclave in years gone by. The frequent 504 King streetcar will have you downtown in less than 10 minutes, while the picturesque Distillery District with its many craft shops is just a few minutes walk away.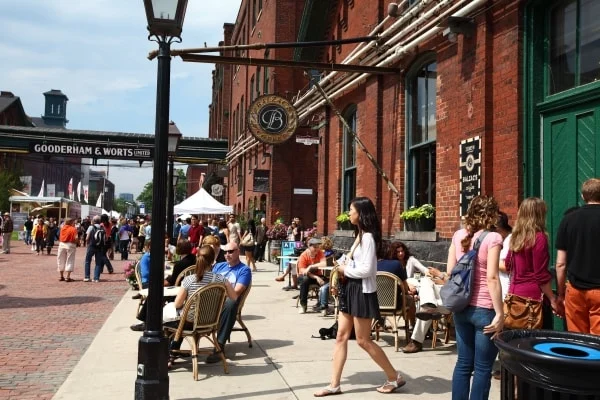 The Beaches
A chilled-out neighbourhood home to many middle-class families, you can forget you're living in one of North America's largest cities when you're here. The beachfront is home to 3 kilometres of boardwalk, which gets rather busy in summertime. Public transit is by way of the 501 Queen streetcar.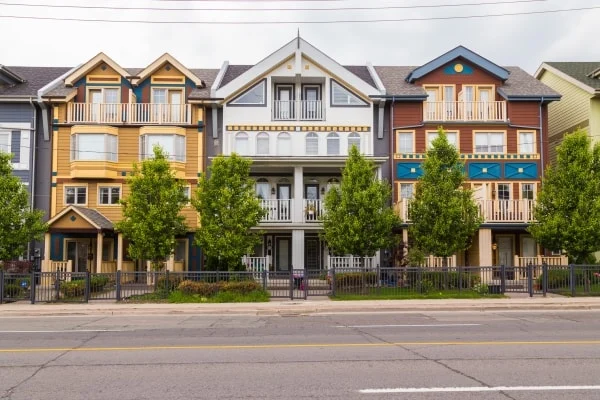 Toronto suburban neighbourhoods
Some of the surrounding cities lie outside Toronto's official city boundaries, but are part of the metropolis that is the Greater Toronto Area (GTA). These surrounding cities are more like Toronto suburbs or large commuter towns rather than Toronto neighbourhoods per se. That said, many of these communities are easily commutable from Toronto and as a result are extremely popular for families in Toronto and those working in the city.
Vaughan
A relatively low-key suburb to the north of Toronto's city limit, Vaughan's population is quickly growing and with the extension of the Toronto subway line into Vaughan Metropolitan Center as of December, 2017. This growth is expected to continue. The new subway extension makes a commute to downtown Toronto much more convenient, and is one of the main attractions to living in the area compared to other Toronto suburbs in this list. Other attractions in Vaughan include the Canada's Wonderland Theme Park, Vaughan Mills Shopping Centre, and an IKEA store.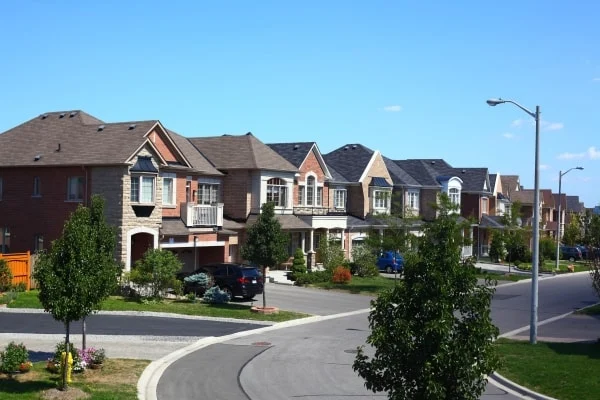 Scarborough
With some of the cheapest rents among Toronto suburbs, Scarborough tends to be a popular location for new immigrants to settle. As a result, it has tonnes of character and is one of the most diverse and colourful places in the GTA. It is sometimes known as "Scar-beria" by locals (a reference to Siberia) as it feels somewhat disconnected from Toronto and forgotten about by City Hall; however, there is still plenty of public transit in the area to enable a commute to other parts of Toronto for work, should you choose to settle here. The TTC's Line 3 train operates as far as Kennedy Station, where you can switch on to the subway system to travel downtown or to the west end. Some popular attractions in Scarborough include Toronto Zoo and the beautiful Scarborough Bluffs.
North York
Encompassing most of uptown Toronto, North York is largely residential and has many micro-neighbourhoods of its own. Access to downtown is convenient via Line 1 of the subway system on either the Yonge side or the University side.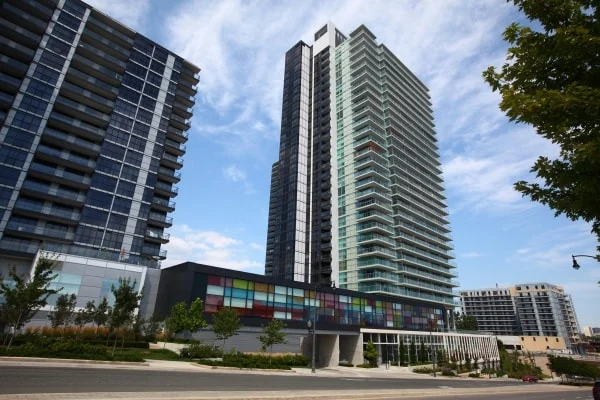 Etobicoke
To the west end of Toronto before you enter Mississauga, Etobicoke (the 'ke' at the end is silent) is easily accessible to downtown as the subway Line 2 runs quite well into the neighbourhood — Royal York, Islington, and Kipling stations are all considered to lie within Etobicoke. Generally considered a middle class and quite affluent area, it's also very convenient to Toronto Pearson International Airport.
Want to know more about life in 'the six' than just Toronto neighbourhoods?
We offer much more than just a guide showcasing the various Toronto neighbourhoods. Moving2Canada is here to help all people living in Toronto.
Find more help
Are you a newcomer to Canada? You can also save yourself time and money by getting your travel insurance (which is mandatory for IEC visas) and resume arranged early. See our guides for more:
We also highly recommend you keep up-to-date with latest immigration developments. As anyone will tell you, changes happen regularly that can affect your move.
You can do this by downloading our Getting Started Guide to get our free immigration and settlement guide. It will opt you in for free, relevant updates into your inbox.