Be Prepared
Do you have health insurance for Canada?
Our partner, Cigna, offers international health insurance plans that give newcomers peace of mind.
Get a free quote
Be Prepared
Do you have health insurance for Canada?
Our partner, Cigna, offers international health insurance plans that give newcomers peace of mind.
Get a free quote
Ottawa is a vibrant, safe and youthful city, containing  a diverse and eclectic mix of neighbourhoods.
While perhaps a bit sleepier than metropolises like Montreal, Toronto or Vancouver, life in Ottawa will still give you access to excellent restaurants, sporting events, plenty of green space, and a bumping nightlife.
Best of all, Ottawa offers all of this for a fraction of the costs seen in many other Canadian cities.
In this article we outline some of the most talked about Ottawa neighbourhoods for those thinking of moving to Canada's capital. Keep in mind that figuring out which part of Ottawa is right for you may take a while, so you might want to consider putting off a long-term commitment until you have arrived in Ottawa and seen more of the city.
You can see Ottawa's many sights by watching our video tour of Ottawa, filmed in September 2021:
Ottawa neighbourhoods guide
Find out which Ottawa neighbourhoods are more affordable, how far they are from the downtown core, and who you might find are new neighbours, plus a landmark and hidden gem for each profiled neighbourhood of Ottawa!
Click on any Ottawa neighbourhood name in the left column below to learn even more.
| Neighbourhood | Rent (out of three $$$) | Distance from Parliament Hill | Landmark | Hidden Gem | Typical residents |
| --- | --- | --- | --- | --- | --- |
| Downtown | $$$ | 0 km | Peace Tower | Sparks Street | Government workers, professionals |
| Centretown | $ | 1.54 km | Canadian Museum of Nature | Elgin Street Diner | Government workers, young professionals, students |
| ByWard Market | $$ | 1.05 km | ByWard Market Square | St Brigid's Centre for the Arts | Affluent young professionals |
| Lower Town | $$ | 1.59 km | Notre Dame Cathedral Basilica | MacDonald Gardens Park | Young singles |
| Sandy Hill | $ | 1.5 km | University of Ottawa | Strathcona Park | Students |
| Old Ottawa South | $$ | 3.5 km | Rideau Canal | Mayfair Theatre | Professors, hipsters |
| The Glebe | $$$ | 2.5 km | Lansdowne Park | Dow's Lake | Yuppies and progressives |
| Vanier | $ | 3.5 km | National Military Cemetery of the Canadian Forces | Sugar Festival | Young people on a budget |
| Somerset Street West | $ | 1.5 km | Chinatown Royal Gateway | Plant Recreation Centre | Bohemians, transients, students |
| Westboro | $$ | 4.9 km | Ottawa River Parkway | Westboro Beach | Quirky families and professionals |
| Hintonburg | $ | 2.8 km | Great Canadian Theatre Company | Remic Rapids | Artists, musicians, hipsters |
| New Edinburgh and Rockcliffe Park | $$$ | 2.7 km | 24 Sussex Drive | McKay Lake | Lawyers, doctors, politicians |
| Alta Vista | $$ | 5.1 km | Billings Bridge Shopping Centre | Billings Estate National Historic Site | Families of all ages |
| Orleans | $$ | 17 km | Place d'Orleans Mall | Princess Louise Falls | Bilingual suburbanites |
| South Keys and Gloucester | $$ | 8.3 km | South Keys Shopping Centre | Conroy Pit | Middle-aged parents with kids |
| Kanata | $$ | 19.8 km | Canadian Tire Centre | South March Highlands Conservation Forest | Tech workers, government workers |
| Barrhaven | $ | 16.7 km | Strandherd Crossing | Barrhaven Legion | Mature adults with cars |
| Nepean | $$ | 10.1 km | Algonquin College | Andrew Haydon Park | Hockey families, immigrants |
| Gatineau and Hull | $ | 1.2 km | Canadian Museum of History | Papa (sculpture) | Thrifty anglophones and French speakers |
Downtown Ottawa
One of the main advantages to living in Ottawa is the affordability of living downtown, giving residents easy access to the city's economic core, as well as to the places people go to socialize.
Ottawa's downtown is dominated by government buildings, and many of the buildings here are devoted to the civil service. Other business activity does take place in this area, and you will also find plenty of hotels, apartments, and condominiums.
 Downtown Ottawa offers almost every amenity in which an urban professional might be interested, including a plethora of decent restaurants and pubs. However, living in downtown Ottawa is not the same as living in the downtown of a larger city. By the end of the work day, the 100,000 people who work downtown will have headed home, leaving those in the mood for culture or excitement needing to look to other Ottawa neighbourhoods for a more vibrant scene.
Centretown
Immediately south of the downtown core is Centretown. One of the most important Ottawa neighbourhoods, Centretown contains a mix of commercial and residential properties, including low- and high-rises, condominiums, townhouse developments, and traditional single family homes.
Centretown is a historic neighbourhood and is home to many landmarks, including the famous Canadian Museum of Nature. It provides good access to the Rideau Canal, the CF Rideau Centre (Ottawa's biggest mall), and cross-town bus transit, and is walking distance from the Byward Market. Ottawa's Gay Village is also located in Centretown.
Here you'll find plenty of restaurants, bars and nightclubs, and unlike the downtown it doesn't feel like it completely shuts down at night. Centretown is a desirable location for both the young and the old, which is part of the reason why this neighbourhood can be a bit more expensive than many of the others you'll find in Ottawa.
ByWard Market and Lower Town
The centrepiece of downtown Ottawa is the ByWard Market, a historic bazaar where one will find many of the city's most famous bars and eateries. By day this is a fine area to take a stroll or pick up some fresh produce from a farmers' market, but by night the market takes on a different character, revealing itself to be the nucleus of Ottawa's nightlife.
A little north of the ByWard Market is Lower Town, where the confluence of French and English cultures is at its most prominent. In this incredibly diverse neighbourhood, both French and English are heard and spoken interchangeably.

If having the ability to maintain an active social life without regularly needing to take a taxi home is a priority, the ByWard Market or Lower Town might be the perfect Ottawa neighbourhood for you. However as both of these Ottawa neighbourhoods tend to be a bit rougher and noisier, it is far more common to find professionals, students, and couples living here than families.
Sandy Hill
Sandy Hill's proximity to the University of Ottawa has done a lot to define its character. Many of its former residents have moved out to the suburbs and leased their former homes to students, transforming Sandy Hill into a something of a student ghetto.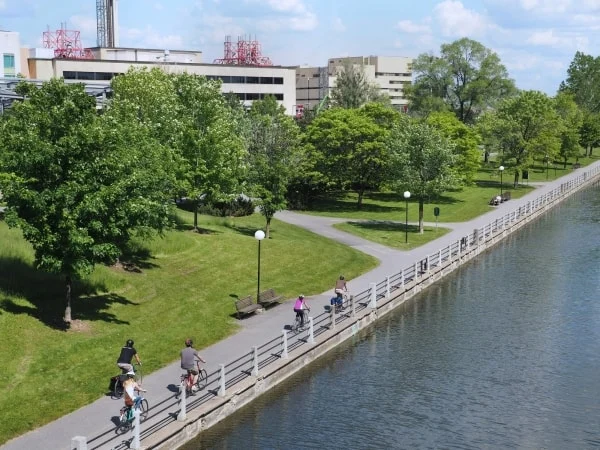 However, with numerous ethnic restaurants, bars offering student friendly prices, easy access to the amenities of downtown, and the presence of almost any activity any night of the week, Sandy Hill remains an excellent choice for young people looking to make Ottawa their home.
Old Ottawa South and The Glebe
The Glebe and Old Ottawa South are two of the more prosperous residential areas of Ottawa's downtown. Here you will find colonial-era buildings, extensive parks and gardens, and tree-lined streets, as well as chic cafes, brunch spots, and organic food shops. Both neighbourhoods enjoy excellent access to the Rideau Canal, which is great to run or cycle along in the warmer months before becoming one of the world's best places to ice skate in the winter.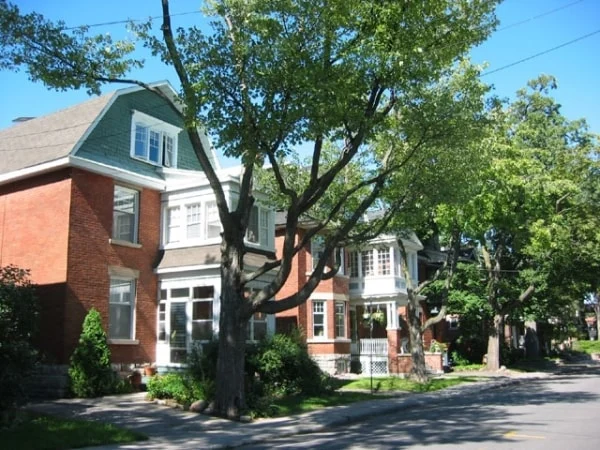 As you might expect, residents in these desirable Ottawa neighbourhoods tend to be rather affluent, and it may be difficult to find a place to live here if you're working with a small budget. That said, both of these Ottawa neighbourhoods are home to significant student populations, largely as a result of their proximity to both Carleton University and the University of Ottawa, and affordable accommodations can be found if you're persistent.
Vanier
Found on the east bank of the Rideau River, Vanier is another important Ottawa neighbourhood. Historically one of the more francophone areas in the city, the demographics have shifted in recent years and French speakers no longer comprise a majority of the population.
Vanier is one the least expensive Ottawa neighbourhood bordering the city's downtown. This is perhaps due to the Vanier's reputation for being a bit seedy, though recent developments and efforts at gentrification are starting to change this and prices are starting to go up. However, for those hoping to save on rent and still live near downtown Ottawa, Vanier is definitely worth consideration.
Somerset Street West
Somerset Street West is not as clearly established a neighbourhood as some of the others on this list, but it could still be a good fit for certain newcomers to Ottawa. More or less bordered by Bank Street to the east, Preston Street to west, Somerset to the north and Carling to the south, this area contains both Ottawa's Chinatown and its Little Italy. The result is a vibrant community with no shortage of excellent – and for the most part affordable – places to eat.
Somerset Street West is a densely populated part of Ottawa that contains a number of homeless shelters and less green space than you might find in other Ottawa neighbourhoods. You may also find that the many of the apartments here are less cared than those in adjoining neighbourhoods, such as the Glebe. While rents may be a bit cheaper, Somerset Street West might still be a better choice for young people than for those looking for a place to raise children.
Westboro and Hintonburg
Continuing west we come to Westboro and Hintonburg. Both of these Ottawa neighbourhoods date back to the 19th century and boast good proximity to the downtown. Even better, both of these Ottawa neighbourhoods have a reputation for being among the more quirky and interesting.
Westboro is the more established of the two. Here you'll find beautiful tree-lined streets, excellent schools, bars and restaurants, boutique shops, and spacious, eccentric homes. As Westboro is very safe, central, and extremely desirable, expect to pay a bit more to live here.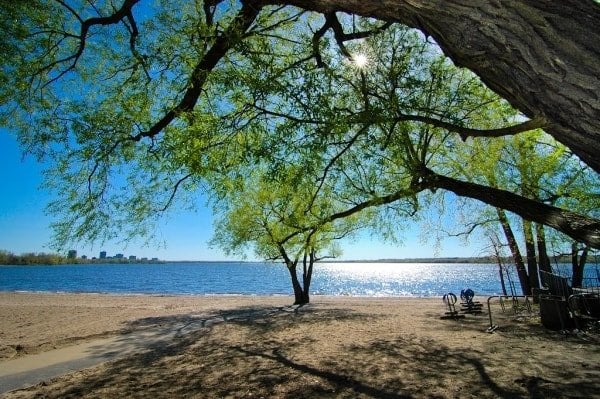 While Westboro primarily houses affluent families, Hintonburg is Ottawa's hub for hipsters. Once famed for its prostitutes and biker gangs, Hintonburg has, for better or for worse, gone through extensive gentrification over the past ten years or so. Today it is home to artists and musicians, as well as the Great Canadian Theatre Company. Rents in Hintonburg are cheaper but going up.
New Edinburgh and Rockcliffe Park
Heading back east across the Rideau River, we get to New Edinburgh and Rockcliffe Park. Located to the north of Vanier, these Ottawa neighbourhoods are extremely affluent and are home many embassies and consulates, as well as some of Ottawa's wealthiest and influential inhabitants, including the Prime Minister.
Characterized by picturesque mansions and extensive greenspace, these are quiet Ottawa neighbourhoods that will be well out of the price range for most. However, they are still nice to visit around Halloween or to drive through in December time when many houses are lavishly decorated with Christmas lights.
Alta Vista
For those looking for a sleepier, more residential experience, Alta Visa might be a good option. Houses here are a bitter cheaper than in the Glebe or Old Ottawa South, but there are still plenty of amenities, including schools and access to bicycle paths. Two of Ottawa's hospitals, including the Children's Hospital of Eastern Ontario, are located in Alta Vista.
While public transit lines running through Alta Vista help residents get around, those without cars may still find it a bit inconvenient to access the downtown. For this reason Alta Vista may be a better fit for those looking to set down roots than for those hoping to maintain a faster pace of life.
Orleans
Head even further east and you will get to Orleans, the first neighbourhood on this list that truly qualifies as a suburb. Orleans is a large and sprawling area of the city containing several subdivisions, residential developments, and high schools, as well as a major shopping mall. There is a significant francophone minority in Orleans.
Orleans residents will enjoy easy access to Petrie Island, a parkland containing a beach. However, keep in mind that life in Orleans is very suburban in nature, without much in the way of nightlife, and owning a car is practically a requirement.
South Keys and Gloucester
As we continue heading south, we reach the neighbourhood of South Keys and the former township of Gloucester. These areas are distinctly suburban in nature and contain many new residential developments, strip malls, and chain stores. While perhaps lacking the charm of older Ottawa neighbourhoods, they nonetheless remain options for those looking to get a lot of house for their dollar.
Kanata, Barrhaven, and Nepean
In recent years Ottawa has expanded its city boundaries and amalgamated a number of towns that were once independent. Kanata, Barrhaven and Nepean are three examples of Ottawa neighbourhoods that are no longer considered towns in their own right and are now generally regarded as Ottawa suburbs.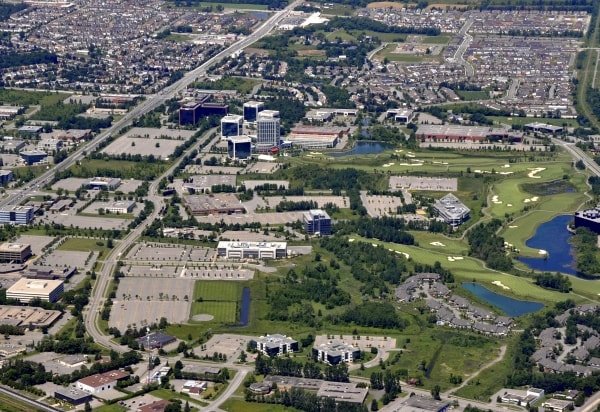 These areas are very safe and family friendly, with access to malls, schools, doctors, sports facilities, and other handy amenities and services. They are still generally cheaper than those closer to the downtown, and the lower price point means families are often able to acquire larger accommodations than they would be able to afford elsewhere. But despite the commute, which can be an hour or more down the Queensway at rush hour, some houses in these areas can still be quite expensive.
Gatineau and Hull
For a considerably more francophone experience, Gatineau, Quebec might be the place for you. Rent here will be considerably less than what it would be on the Ontario side of the Ottawa River. Knowledge of French, however, will be a definite asset, as many administrative facilities are available primarily in French. Nonetheless many anglophones do reside here. Access to Ottawa is fairly easy, with bus systems running regularly throughout the week.
Some tourist attractions on the Gatineau side include the Museum of History and Gatineau Park. Gatineau also offers some of the most scenic locales in the National Capital Region, including Le Nordique Spa in Chelsea and Wakefield, a beautiful rural area with impressive views of Gatineau's National Park. Rents are considerably cheaper than those you'll find on the Ontario side, but be warned: Quebec's taxes are higher than those in Ontario.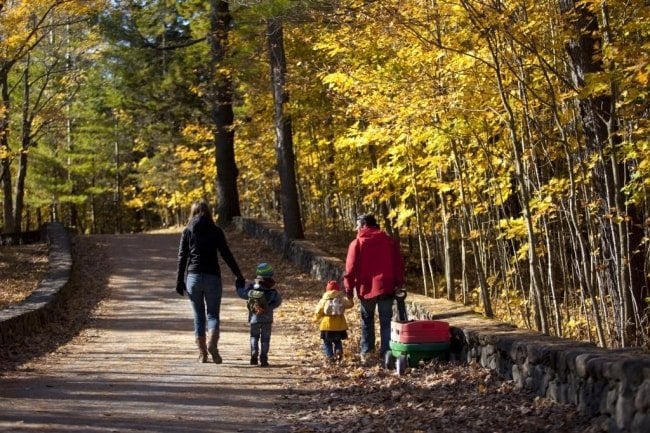 Are you wondering how to immigrate to Ontario? For a detailed overview of Ontario's most popular immigration options, check out this video we produced in partnership with Deanne Acres-Lans, founder of Canada Abroad, an immigration consultancy based in Ontario, and one of Moving2Canada's trusted partners:
Learn more about Ottawa neighbourhoods, culture, and settlement across our other guides and resources: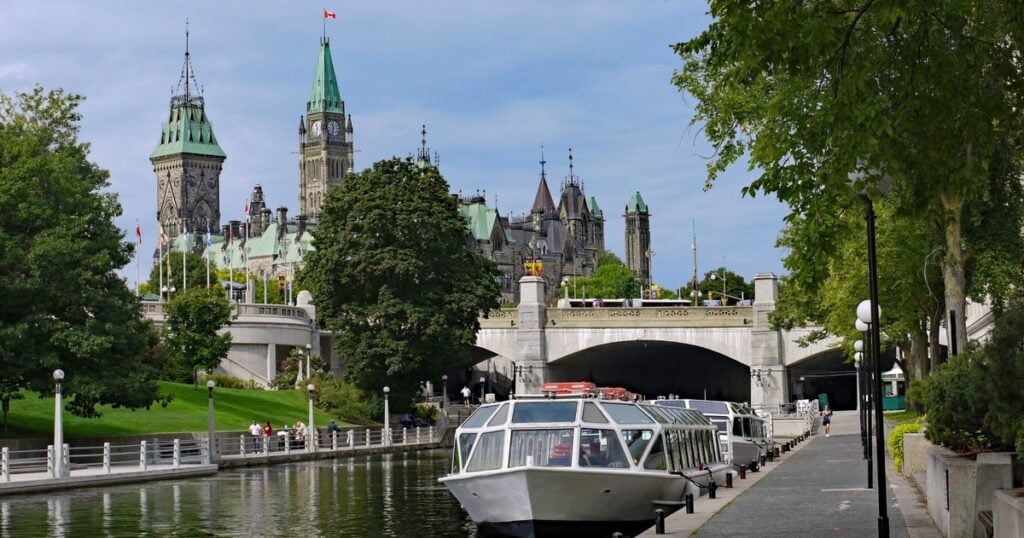 Free
Aim for success in Canada's capital
Job matching, a personalized checklist, exclusive events — it's all there with a free Moving2Canada account!
Register now