Be Prepared
Do you have health insurance for Canada?
Our partner, Cigna, offers international health insurance plans that give newcomers peace of mind.
Get a free quote
Be Prepared
Do you have health insurance for Canada?
Our partner, Cigna, offers international health insurance plans that give newcomers peace of mind.
Get a free quote
Want the perks of working in Toronto but without the hefty rental prices that come with living in the city?
Considering buying your first home but can't find anything bigger than a one-bedroom apartment for your current budget within the city's limits? Interested in living in a vibrant, diverse and multicultural city with great educational options and reliable transport links to downtown Toronto? If you answered yes to any of these questions, then we might have the perfect solution for you. Say hello to life in Brampton, Ontario.
Jump To
Learn more about Brampton
Where is Brampton, Ontario?
Brampton is located about 40 kilometres north-west of downtown Toronto, right by Toronto Pearson International Airport.
Population and immigrant communities
Life in Brampton is anything but ordinary. Brampton is one of the fastest growing cities in Canada. Since 2011, its population has grown about three times more quickly than that of Ontario, with around 600,000 people calling Brampton home today. Remarkably, according to the 2016 census over 52 percent of Brampton's population was born outside Canada Of these, 61,640 came from the Americas (North and South), 35,160 from Europe, and 16,065 from Africa. Most people come to Brampton from Asia with a total of 195,235 residents (with the most coming from India, Sri Lanka, Pakistan and the Philippines). In particular, there is a massive Indian population looking to make a life in Brampton, and that number continues to grow by the day.
These figures mean that Brampton ranks fifth nationally when it comes to the number of immigrants versus total population numbers. It is clear why life Brampton is regarded as so good by many, especially as it is one of the most diverse cities in the entire country. But what is attracting so many immigrants and other newcomers to the birthplace of Hollywood actor Michael Cera? Let's find out.
Housing in Brampton
If you choose to buy or rent a property in Brampton then you can expect to pay significantly less than you would in downtown Toronto or one of the city's outlying neighbourhoods. For instance, a one-bedroom apartment in Brampton city centre will set you back around $1,542 per month, though more affordable apartments are also on the market. For instance, if you plan on living independently or with a partner then you can find a one-bedroom apartment outside downtown Brampton for approximately $1,252 per month. If you are moving to Brampton as a family and are looking for a larger property then a three-bedroom apartment in Brampton's downtown core will set you back around $2,375 per month. However, if you are happy to live a little further outside the city then you should be able to find a place for around $2,050 per month. So, if you end up renting in Brampton, you can rest assured that you will be paying somewhere between 40 and 45 percent less per month than if you were living in downtown Toronto. Guess what? You can buy a lot of Maple Leafs or Raptors tickets with all that extra cash!
Or, you could save for a downpayment on your very own property in Brampton.
If your move to Brampton was in order to purchase a home that was out of your price range in Toronto then you'll be happy to know that the price per square metre to purchase a property was about $5,262 in Brampton city centre and about $3,822 outside the downtown core. These figures are approximately half of what you might expect to pay in Toronto. Despite the more affordable rental and property prices available in Brampton vis-a-vis Toronto, the reality is that you may still have to travel each day if you continue to work in Toronto (though more Bramptonians are working locally or benefiting from remote work environments). So, what does the commute from Brampton to Toronto look like?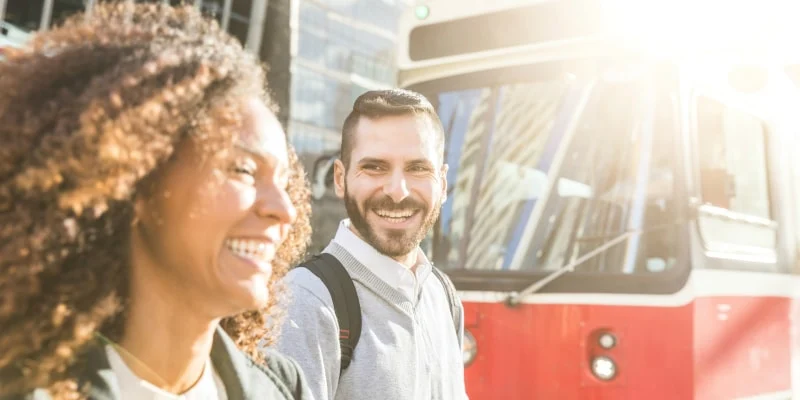 Free
Make the most of your move to the GTA
Job matching, a personalized checklist, exclusive events — it's all there with a free Moving2Canada account!
Register now
Transport in Brampton
Whether you work in Toronto, Brampton, or another part of the GTA, the chances are that you are going to either drive or take public transport to your place of work. As a resident of Brampton you can expect to pay approximately $124 for a monthly transport pass within the city limits.
If you are working in Toronto and want to travel from Brampton, then the GO train is probably your best option. Brampton is served by the GO train, which means that you can get from downtown Brampton to Union Station in the heart of Toronto's central business district (CBD) in about 45 minutes. You can expect to pay approximately $7.65 per fare for this journey with a presto card, but discounts kick in once you hit 36 fares per month.
If you choose a life in Brampton and wish to drive then you need to be aware that the city has some of the highest car insurance costs in all of Ontario. A report by online insurance quote service Kenetix.ca recently ranked Brampton as paying the highest insurance rates in Ontario, exceeding the provincial average by more than $1,000 per year in premiums, at an annual average of $2,494. These costs, allied with the potential traffic headaches that come from living in the GTA, mean that many Brampton residents opt for public transport such as the GO train network, especially when commuting to and from their place of work.
Education in Brampton
If you are moving to Brampton with children who are of a school-going age then you'll want to know about the education system in the city. The good news on this front is that Brampton is home to a wide range of quality public elementary and secondary schools. The Peel District School Board has 220 dynamic and innovative schools serving over 140,000 students in the region of Peel for the communities of Mississauga, Brampton, and Caledon.
In addition, there are a range of schools that incorporate education in the French language for those who wish to educate their children en français. Similarly, a number of private school boards in Brampton are dedicated to teaching with the aid of a specific religious doctrine.
Furthermore, the Sheridan Institute is Canada's Premier Polytechnic Institute and is located locally. Sheridan is known internationally for its classical and computer animation programs. While the Algoma University offers unique accelerated degree programs in Computer Science & Business Administration (Honors) that can be completed in one year. It also offers programs to help upgrade College Diplomas to University degrees. The programs are offered at Sheridan College Davis Campus.
Life in Brampton
So far, we have discussed the cost of accommodation, transport links, and schooling and colleges in Brampton, but what about free time and leisure activities? What can you expect to experience in Brampton?
First of all, Brampton's rich and culturally diverse population means that it is one of the best places in the GTA, if not all of Canada, to look for food that you may not find elsewhere. On top of that, the City of Brampton operates a seasonal outdoor market that runs from June to October, providing residents and visitors with an opportunity to purchase from a diverse array of fresh produce, baked goods, prepared foods, and artisan goods.
With more than 100 sports organizations and an active volunteer base, Brampton has a team or club dedicated to almost every sport under the sun. So, whether you're a cricket enthusiast or a basketball prodigy aspiring to be the next Pascal Siakam or Kyle Lowry, you'll be able to find a sport that suits you or yours.
When it comes to art and culture in Brampton, the city more than holds its own. World class shows, dynamic year-round entertainment and stunning multicultural performances held at the finest venues make the city a great place to enjoy and participate in a wide range of musical, theatrical and other cultural performances. The city is home to The Rose, an iconic performing arts theatre in downtown Brampton, as well as the 470-seat Lester B. Pearson Theatre.
Finally, in 2018, Brampton City Council also launched the ambitious Brampton 2040 project. Comprising free transit that loops around the whole city, a unified green network connecting every ravine and park, as well as a vibrant, developed "Uptown", Brampton 2040 showcases a city with great potential, and one that will become even more connected and inclusive in the years to come.
Brampton in a nutshell
So, there you have it – Brampton, Ontario in a nutshell. If you are looking for a city that is multicultural, affordable and within touching distance of Toronto then you really need to consider this once overlooked location closely. Of course, there are other locations in the GTA where you might decide to call home. Information on living in Toronto is currently available while we will be adding other destinations in the GTA and further afield in the coming months. Stay tuned for that!
Finally, for the most up to date information on life in Brampton or elsewhere in the GTA and how to make the most of your move, register your very own Moving2Canada account and avail of newsletters and regular updates.
Are you wondering how to immigrate to Ontario? For a detailed overview of Ontario's most popular immigration options, check out this video we produced in partnership with Deanne Acres-Lans, founder of Canada Abroad, an immigration consultancy based in Ontario, and one of Moving2Canada's trusted partners:
If you have a suggestion for a great place to live and work in the GTA or elsewhere in Canada, send an email to [email protected]. Thank you!