October 8, 2019
By Cormac Noonan
I reached the top of the mountain.
After 31 days on the road, I finally made it to Cape Spear, Newfoundland in time to watch the sun go down on the last day of the Canadian summer, and the end of my Canadian cycle adventure. An immense feeling of pride swept over me as I cycled around the last bend. My bike had been through the wars. The back wheel was tubeless and was being held together with Gorilla Tape. The shaft had also broken which was causing the wheel to wobble furiously from side to side. I sounded more like a train coming over the final hills as the wheel battered into the frame of the bike with each rotation. I had been to the bike shop that day and I was warned that the wheel could fall off at any moment. But without any money left to buy a new one, and with only 20 km to go to reach Cape Spear, I decided to take the risk. I saw it as my final test.
Putting myself in physically dangerous situations is not something I do often. Yet it calls to my sense of manliness somehow, stemming from an old warrior mindset. Putting myself at risk also makes me feel alive. My senses are heightened and a new level of focus kicks in. Going up the final hills with the flat tire was physically tough. But going down the hills was the scary part. I tried to hang tight to the right edge of the road as I barreled my way down. As cars whizzed passed me on the left, I made sure my emergency plan was in place for when the back wheel inevitably decided to go on a journey of its own. This "plan" consisted of throwing myself to the right and into the ditch to avoid any cars on the left. What could go wrong?
Another factor that made the descent a bit more intense was that my brakes hadn't been tightened properly. This caused them to have a reaction time similar to the one Irish people have to fire alarms. It felt as if they were waiting to feel the heat of the fire before they thought it was necessary to kick into action. Now I'm not suggesting that this was a huge life-threatening situation. The chances of getting seriously hurt were probably slim, but they were still present enough to push my mind and body into survival mode. For those few moments, all of my everyday concerns fell away and the bigger questions became relevant. In my mind's eye, I saw a glimpse of myself falling off the bike and getting slammed by an oncoming car. "What if I actually died? My mam would kill me for cycling like this."
I start to contemplate my own mortality and how short my life can be cut in an instant. One mistake and it could be all over. And it may not even be my own mistake. A driver could be blinded by the sun as it sits low in the sky. They may not even see the bike in front of them.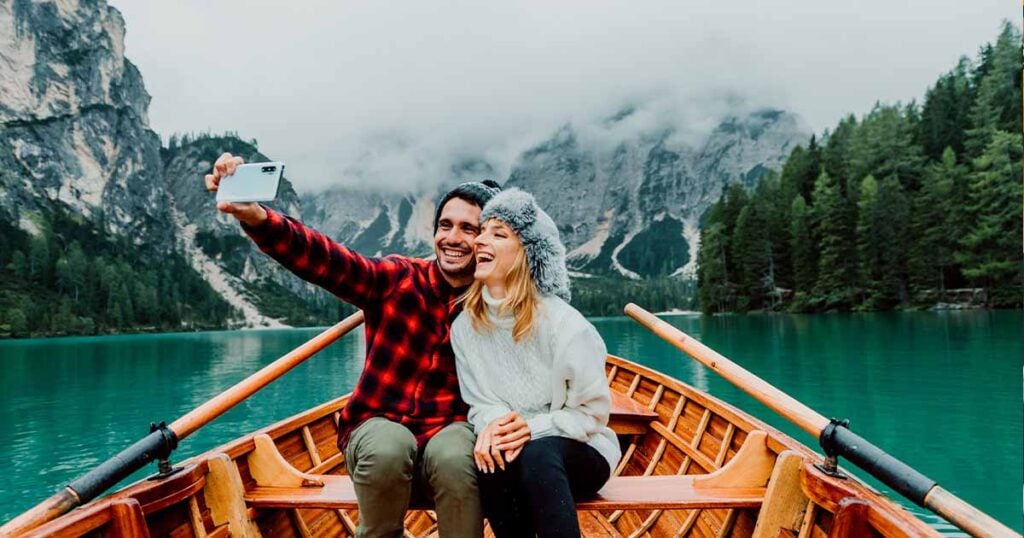 Free
Make the most of your move to Canada
Preparing for success in your new home is easier with a Moving2Canada account!
Create your account
Ironically, death also seemed to be the theme on the first day of my journey. As I sat on a bench overlooking the water in Granby, Quebec, I was not alone in basking in the beautiful new August sun. On the bench opposite sat a bald-headed man wearing sunglasses and a wide grin. I was tired after my first 80 kilometers and I laid across the bench and had a weird type of meditative nap. Forty minutes had passed by the time I sat back up and to my surprise, the bald man was still on the bench opposite. I made to leave and decided I must stop and talk to this man as I passed him. We'd shared common space in silence for such a long period that it only felt right to interact at this point. This led to one of the most memorable conversations of my trip.
The man didn't speak perfect English but the conversation was full and the connection was lasting. He was delighted to hear about my journey. How I dropped everything to pursue a dream and trusted that it would all work out. He spoke about he always had dreams to travel but was held back because he had to look after his sick mother. It was only when she died, that he decided to pursue his dreams to travel. However, he was 45 at this stage and he had a family of his own. As a result, he didn't get to travel to as many places as he wanted. Now he was close to 70 and he still had many places he wanted to see. But this time he had another problem. He was undergoing "chimio" (as he said it in French) which I soon realized was chemo and the reason for his baldness. Despite having cancer, he talked about how happy and appreciative he was for his life. He found great joy basking alone in the sun for an hour. He no longer had the energy to fly to new places but he could travel the world in his mind.
Part of me couldn't help but feel guilty as I set out on my Canadian cycle adventure. Here I was, a picture of health and youth with no sick mother to look after and nothing but time on my side. He didn't look at me with envy though. He looked at me with excitement. He was happy to meet someone so young who was pursuing his dream and living for the moment. I felt a sense that I was doing this journey for him and all the other people who never had the chance.
I've realized the power and freedom of my youth and the privileged position I'm in. And I refuse to waste it by living a mediocre life of comfort and conformity. Fuck that. I want to stretch myself and push to each corner of the globe. I want to see what other wonders this life has to offer and also see what good I can offer it.
As the conversation with the old man came to a close, I thought of asking his name. But something stopped me. It seemed irrelevant. We would surely never meet again and enough had been said. Instead, I shook his hand. It was a firm grip. I felt a wave of energy flow through his hand and hit me in the chest. It was a flash of the life he had left and I could see it wasn't much. I felt a profound feeling of shared pain sitting in my stomach as I turned and walked away. As if he had shown me what it was like to be running out of time. I'll just have to run faster I thought.
Read the rest of Cormac's journey: 
October 8, 2019
By Cormac Noonan