May 5, 2020
By Dan & Taya
This post is all about our experiences of moving from the UK to Canada to live and work! We both participated in what is known as the International Experience Canada (IEC) Program. It is essentially an opportunity for young people around the world to try living and working anywhere in Canada for a maximum of two years. Read on to find out how our first year unfolded.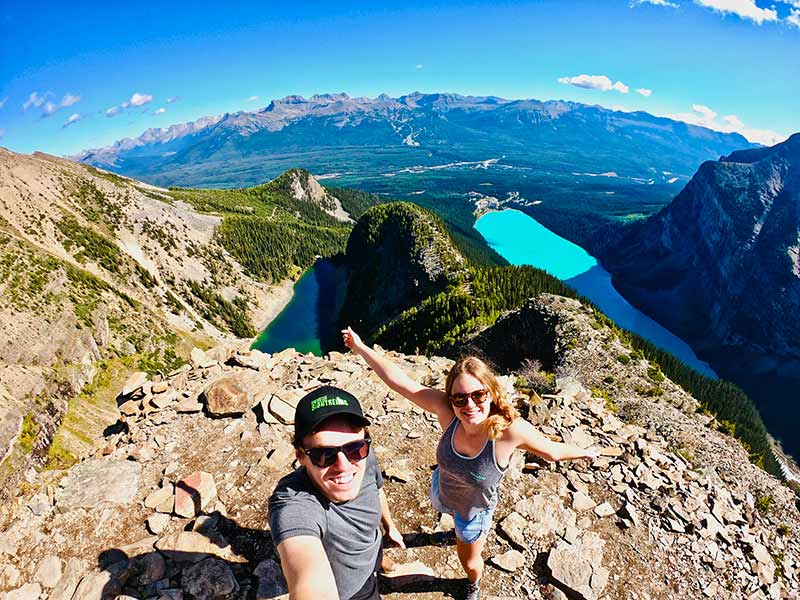 To be completely honest, the prospect of giving up everything about our UK life to live and work abroad was daunting to say the least! Although we knew people who had left to go travelling, no-one we knew had moved to Canada and we had no idea what to expect from the experience.
Luckily, the resources available to us online such as Moving2Canada.com made it very easy to learn about the application process for IEC and fortunately for us, the process ran smoothly from start to finish. Each year there are only around 2,500 invitations available for the UK pool of applicants. As a couple we had to apply separately and hope that we were both drawn from the pool in a similar timeframe. There were only 4 weeks or so where Taya was considering leaving Dan behind.
Once our applications for working holiday permits were approved, we began the extensive task of sorting, selling and storing our belongings for the foreseeable future and began saying goodbye to family and friends. Although the overall timeline from making the decision to apply for the IEC to leaving the country was around 12 months, it felt like it all happened very quickly.
The initial feeling after leaving the UK was definitely trepidation of the unknown. We had left secure professional careers in busy cities in the UK and didn't yet have an idea yet of what we wanted our life in Canada to look like. Upon leaving the UK, we still hadn't fully decided where in Canada we wanted to live or the type of job we were hoping to get!
To distract ourselves from making any serious decisions, we embarked on a whirlwind 4 month round-the-world adventure taking in parts of South-East Asia, Australia, New Zealand and Fiji, before landing in Vancouver, BC in March 2019. Acclimatising from 30 degrees in Fiji to what felt like -10 degrees in Vancouver, BC was quite the shock to the system!
We found the initial setting-up process of obtaining a Social Insurance Number (SIN) and setting up bank and mobile phone accounts to be straightforward in a city the size of Vancouver and we were soon on the job hunt. During this settling in period, we found there to be so many useful resources in big cities like public libraries and a range of accommodation options to suit all needs.
After spending an exciting three weeks in Vancouver, we decided to head east to Banff National Park, Alberta where we currently live and work. We both work for Pursuit Banff Jasper Collection here in Banff which is a collection of adventure tourism-based experiences and attractions.
The company is well-versed in receiving, employing and accommodating IEC participants from various different countries around the world and we were made to feel very welcome by the company and town itself.
Dan (29) now spends his time being a shuttle driver around the town and the national park, whilst previously being responsible for coordinating and dispatching all of the Brewster Sightseeing tours around the Rockies each day. Taya (28) is in a customer-facing role speaking to visitors to the park and helping them out with ideas and activities to make the most of their holiday, alongside also being a tour guide during the winter taking guests out snow-shoeing!
Every day we are lucky enough to live out our life in such dramatic natural scenery. Banff National Park is a world class tourist destination with a rich history, spectacular beauty and majestic wildlife. We regularly welcome deer and elk into our back garden, where they end up eating the plants!
The Canadian Rockies is simply a photographers' dream, with colossal snow-capped mountain peaks in abundance framing valleys which play host to some quite magnificent glacial lakes, rivers and waterfalls.
One thing we feel that truly sets Banff apart though is the community. The people here truly value and enthuse over the landscape within which they live. We would say the community completely welcomes the working holiday population making us feel right at home. They acknowledge the contribution it makes to the town. We know people who came like us and are now staying forever.
Our one piece of advice for future IEC participants would be to carry out plenty of research into the type of environment you want to live in during your time in Canada. We didn't do this research and were leaning towards city jobs in Vancouver once we had arrived.
We feel so grateful to have struck lucky with our spur-of-the-moment decision to move to Banff as we have experienced so much that we may not have otherwise. Living in a National Park has made us realise that we thrive in the outdoors and we would love to be able to live alongside the natural environment, wherever we end up in the world. If there is one thing we are thankful for to the IEC program, it would be helping us with this realisation.
Many people participate in the IEC with the intention of pursuing Permanent Residency (PR) and others will discover that they want to stay during their two years in Canada. For us, our two years is just enough.  It is certainly no reflection on Canada as we have had the time of our lives here but emigrating permanently is a big decision that we're not ready to make. Besides, we are definitely turning into nomads and we must keep exploring!
We have been creating videos of our travels for the In Our Place YouTube channel since leaving the UK in 2018 but one of our favourites by far is the one we pulled together of our first year in Canada – which you can watch at the bottom of this post. We saw and experienced so much in this short time and are so happy to be able to share it with everyone!
During our time in Canada, we have taken in Vancouver, Vancouver Island, the British Columbia, Banff and Jasper National Parks, Calgary and Toronto. We would love to see so much more and we were in the middle of planning our adventures for 2020 which was going to see us heading to the east coast of Canada. Unfortunately due to the ongoing global health crisis and restrictions on travel, these plans are on hold for the time being. Banff is currently a lot quieter than usual with many businesses closing down. It is now more than ever that we are witnessing the support of this wonderful local community and country.
May 5, 2020
By Dan & Taya