Be Prepared
Do you have health insurance for Canada?
Our partner, Cigna, offers international health insurance plans that give newcomers peace of mind.
Get a free quote
Be Prepared
Do you have health insurance for Canada?
Our partner, Cigna, offers international health insurance plans that give newcomers peace of mind.
Get a free quote
So, you've decided on the job in Whistler that you really want and you've got a cunning plan to snap-up some cool mountain accommodation? Well done, soon you'll be calling yourself a bona-fide Whistlerite, you lucky devil!
Don't get me wrong, there are many drawbacks to living in such close proximity to one of North America's premier ski resorts with housing affordability and low wages being right up there as two of the main ones, but as we have covered these issues elsewhere on Moving2Canada.com, you should be fully prepared for what lies ahead.
Whether the perks of living in Whistler are enough to outweigh these drawbacks is always a personal decision. For me, they most definitely are. The bottom line is if you're the outdoors type who loves mountains and nature, you'll never want to leave.
So, what's so great about living and working in Whistler?
1. You'll feel like you're on vacation EVERY single day
When you are living in Whistler you effectively call a place that looks like the front of an Evian bottle, home, and you'd be forgiven for thinking that you're on vacation every single day. This is especially true if you have a tourism job and are lucky enough to be working with some of the 2.1 million who people visit Whistler each year for a mountain holiday of a lifetime. The cool vibe is pretty contagious, some might even say, an occupational hazard. And even if you never saw yourself in a customer-facing role before, you may be pleasantly surprised in Whistler.
And if you're so fortunate (or well prepared) to have clinched a job that, let's be honest, is so cool you'd probably do it for free —yes, I'm looking at you Ski Patrol and Mountain Guides — work will never even feel like work.
Lastly, and certainly not least, is the commute! Whether you zip past Green Lake on your way to work or come from further afield like Squamish or Pemberton, prepare to have your senses assaulted with jaw-dropping beauty at every turn. Now, take a deep breath and fill your lungs with that crisp mountain air.
2. The mountains are your new backyard
They don't call the area around Whistler and Squamish the "Sea-to-Sky Corridor" for nothing. Glacier ski in the morning, have a kite-surf back in Squamish in the afternoon when the wind picks up.
It's magic to be able to meet mates for a spot of Sunday lunch and suddenly decide to go for a quick Snowboard before last chairlift, in the same way that anywhere else in Canada, you might go for a quick pint before last orders. And, no need to take two weeks off work for this privilege – anyone from the UK or Ireland will know exactly what I mean!
Even if you're not a certifiable powder hound (yet), Whistler has this uncanny ability to catapult you from couch potato to IRONMAN in just a short season (or two), with beautiful hikes, lakes and activities abound. Whistler is an outdoorsy place, and it's catchy! Before you know it you'll be a mountain biking or hiking fiend with buns of steel and will have dropped a few jean sizes too. Go you!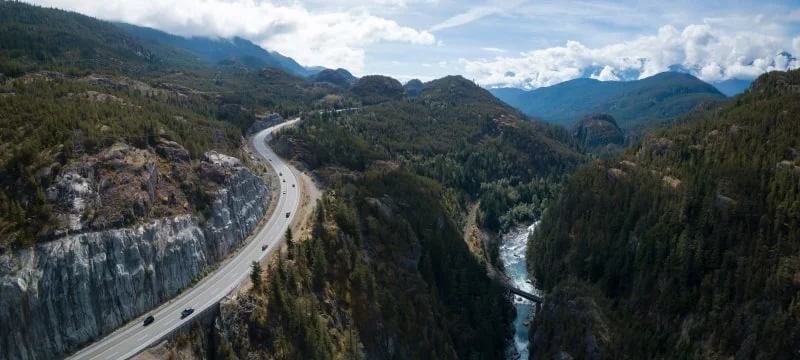 3. Whistlerites rock!
I've lived in major cities for most of my adult life and was apprehensive about living somewhere a lot smaller. However, after a while you realise that Whistler has everything you really need or want, and it's really the people that make the place. It's the best of both worlds, the small town vibe with the big town excitement. What really makes it is that Whistlerites are a friendly bunch that pull together. Everyone is in the same boat, away from home making the mountain dream work. It's easy to make friends, and people really do go out of their way to help out. You just have to peruse any number of the Facebook groups that have been set up to help people out with housing and jobs and the buy-sell sites. If you holler, Whistler will answer!
Anecdotally, I knew a lady at my old job that got by living in Whistler without owning a car. I asked how on earth she gets around as she lived in a part of town that wasn't that well connected by transit. She said "oh it's fine, I just pop into the local cafe by my house and ask people if anyone's heading into town after they've finished their coffee, and that's how I usually get around." I know what you're thinking; in any other place, city or country, that would be weird, right? Well, not in Whistler. Imagine a community where people are just that, a community.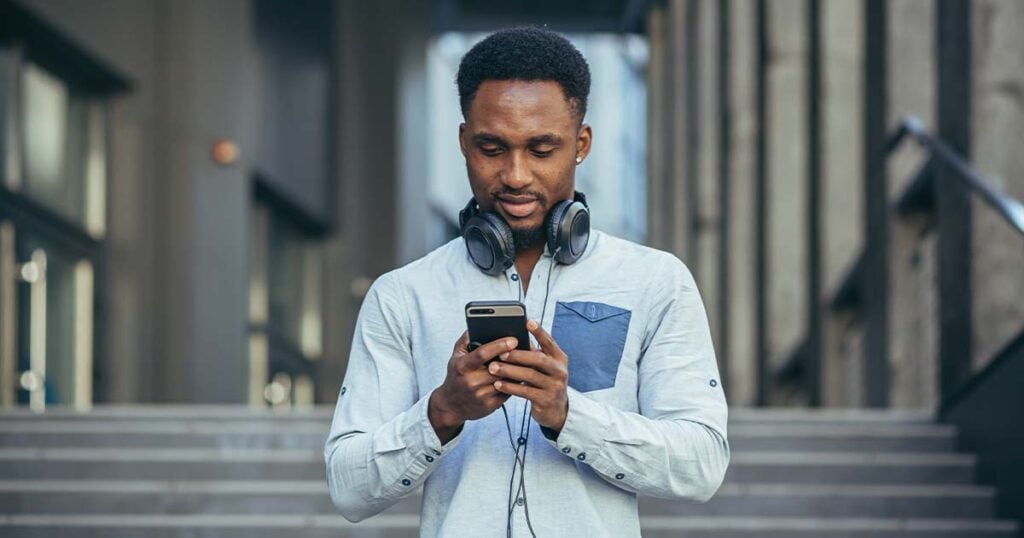 Free
Get the latest immigration news — when it happens!
Create a free Moving2Canada account to get immigration news and program updates delivered to your inbox when it happens. Find out before your friends — sign up today!
Create a free account
4. Garbage bins require opposable thumbs to operate.
OK, so bear-proof garbage bins are not really a perk of mountain life, but what's really cool is the variety of CRAZY wildlife around the place.
People in Whistler have a real connection with nature, and it really is the smartphone-antidote that the doctor ordered. You'll know you've really unplugged from the matrix when conversations with friends are less about that latest viral video and more about how you nonchalantly handled your latest bear encounter. And, yes, these DO happen! Don't worry kids, just be Bear Smart!
I used to also work on a mountain called Cougar Mountain as a guide. After my first week, a friend asked if I had spotted any Cougars (or Snow Leopards). I explained I hadn't seen any yet and wasn't expecting to. He replied "Oh yes, but they've seen you!"
He explained that they like to stalk their prey for around two hours before pouncing, so by they time you see them, it's because they want you to see them, and well…you're just one giant kitty supper. Moral of the story: um, er, be Cougar Smart?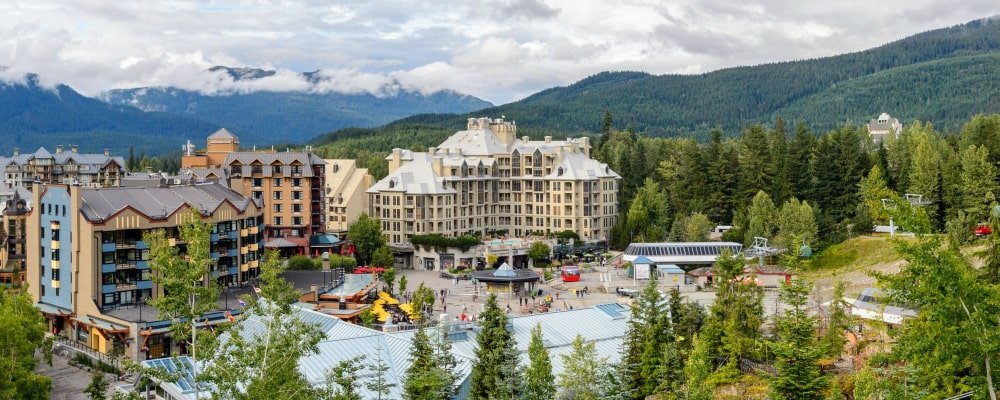 Make the most of your Whistler adventure
Create a Moving2Canada account to get regular updates, expert advice, and our FREE Getting Started Guide!
Find out more
5. Whistler is an event and festival magnet
While it's a small town with a relatively low population, Whistler is also a big ski town with a huge, albeit transient, tourist and seasonaire populations. Plus, it was the host Mountain Resort of the Vancouver 2010 Winter Olympic Games, so it carries all the infrastructure benefits and amenities of any former Olympic destination.
For many people, Whistler is the go-to destination for winter sports, and the terrain is unrivaled by anything in North America. Whistler is also upping its summer game too. As a result, Whistler has its fair share of world class events and festivals. It's got one of the largest beer festivals in BC, the Whistler Village Beer Festival and one of North America's biggest mountain biking events called Crankworx, attracting some rad mountain biking professionals. In addition, Whistler hosts a slew of fitness events that are not for the faint of heart, from IRONMAN to competitive hiking and trail running competitions, triathlons and marathons.
All of these events attract competitors and talent from far and wide due to the quality of the terrain, the dizzying elevation and the gravitas of Whistler itself.  If you live here, it's not unheard of to be sharing a ski run with Canada's Prime Minister one season and seeing one of the world's top professional mountain bikers pop into your gondola the next.
6. Vancouver isn't that far away
If you are living in Whistler, you are never too far away from big city action. There aren't many ski resorts situated so close to a pretty major urban centre. Other ski towns in the BC interior for example can be as much as a five-hour drive from a major city. If you need your city fix, you can be in Vancouver within two hours.
7. Thirty centimetres of fresh snow last night? It's OK to be late for work.
Fun fact: a common rule among businesses and high schools in Whistler is that if you've had a fresh dump of overnight snow, over 30 centimetres to be precise, you get a free pass to go into work late, or even have the day off school. It's called the "30cm rule" and common in many ski resorts in North America, with employers famously giving their employees extra leeway. One local business even boasts that they're rule is 20cm rather than 30cm!
Overall, living in Whistler is a whole lot of fun and something truly very different, you should try it!
Tony Gilmore worked as a Zipline Guide at Superfly Ziplines and as a Lift Operator at Whistler Blackcomb in the 2017 Winter and Summer seasons before joining the Moving2Canada team.