Be Prepared
Do you have health insurance for Canada?
Our partner, Cigna, offers international health insurance plans that give newcomers peace of mind.
Get a free quote
Be Prepared
Do you have health insurance for Canada?
Our partner, Cigna, offers international health insurance plans that give newcomers peace of mind.
Get a free quote
While there is a lot to discover in downtown Hamilton and the surrounding towns, don't forget about everything on offer further afield. If you want to get out of the city for a day, try these easy day trips from Hamilton.
Niagara Falls
You've seen it on postcards and promotional videos, now it's time to see (and hear) Niagara Falls for real.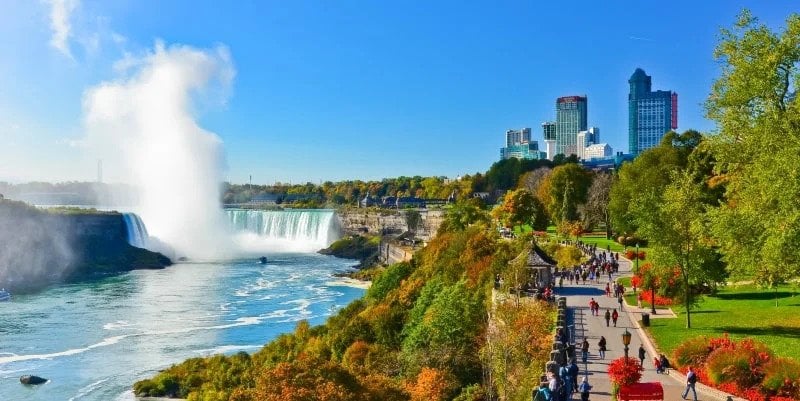 This massive horseshoe waterfall spans the Canada–US border, but everyone agrees that the Canadian side is more stunning. Infamously popular with honeymooners and tourists, the town of Niagara Falls itself may seem a bit tacky – but you go for the waterfall, not for the town. At just under an hour away by car, and otherwise easily accessible by public transit, there is no reason not to visit Niagara Falls from Hamilton. Consider taking your passport and travel documents if you want to hop over to the American side, but the best views can be had from outside the Fallsview Casino Resort in good old Canada.
Getting from Hamilton to Niagara Falls takes about an hour by car, though the Falls are also reachable direct by bus.
Niagara-on-the-Lake
Not to be confused with Niagara Falls, this quaint little town on Lake Ontario is instead home to picturesque colonial houses, wineries, and a major theatre festival, the Shaw Festival, which is worth discovering. It rather pompously nicknames itself 'The Loveliest Town in Canada,' and many people probably agree.
Westfield Heritage Centre
This pioneer living museum is sure to be fascinating to any newcomer to Canada. In the 1960s, some teachers collected donations of heritage buildings at risk of demolition and reconstructed a village from them that now features 45 buildings, including workshops, shops, homes, and chapels showing a slice of life from 1775 to 1925. The immersive experience is supported by the staff, most whom are volunteers and dress up for their roles. Easily one of the most educational day trips from Hamilton.
Day drinking
The local countryside of southern Ontario is host to dozens of vineyards and microbreweries offering wine and beer tours. If you're expecting heavy drinking, you'll be disappointed – these tours focus on tasting small samples and learning about the making and brewing processes. Ridge Road Estate and Leaning Post are popular wineries near downtown Hamilton, but if you want to get further afield try Peninsula Ridge, Stratus, or Pearl Morissette.
If beer is more your thing, Fairweather Brewing Company is a major player on the local scene, while relative newcomers Grain & Grit Beer Co. and Shawn & Ed Brewing Co. (in Dundas) have gained a loyal following in their early days.
Taste of nature
Seasonal activities – like apple picking and pumpkin picking in fall or sugar shacks in the spring when the maple harvest comes in – are also not to be missed.
Orchards are a dime a dozen across southern Ontario, and it is hard to say which are the best. Some, like Frootogo Orchards and Puddicombe Farms, go all-out on the family attractions, offering play areas, cart rides, apple-themed stores and more. Others, like Carluke Orchards, focus just on the apples. Myers Apple Farm is a popular day trip for families, as it has a small farm and market alongside the orchard.
Sugar shacks are less common, but one of the most popular is at Westfield, where the heritage atmosphere of their annual maple syrup festival is completed by horse-drawn carriage rides. 'What's a sugar shack?' I hear you say; essentially, in early spring when the snow finally thaws away, sugar shacks are places that serve mapleized (yep, I just made up this word) all-you-can-eat meals for all the family, usually with grounds on the property where you can explore afterwards and burn off a few of the calories you've just taken on board. Bronte Creek Provincial Park and Crawford Lake Conservation Area also hold maple syrup festivals.
This is just a taste of a few day trips from Hamilton – the exciting part is discovering more for yourself! Check out the Moving2Canada Hamilton City Guide for more activities and information on life in the city. And if you've got an insider tip of your own, please feel free to contact [email protected]. We'll add it to this page, if appropriate.