Be Prepared
Do you have health insurance for Canada?
Our partner, Cigna, offers international health insurance plans that give newcomers peace of mind.
Get a free quote
Free
Find the best immigration programs for you
Take our 2-minute immigration quiz and we'll tell you the best immigration programs for you!
Take the quiz now
Time to get excited about moving to Edmonton!
If you have other fun, interesting ideas for things to do in Edmonton, please contact us  and we will add them to the list. Help others learn more about the vast selection of things to do in Edmonton.
Things to do in Edmonton: Whyte Avenue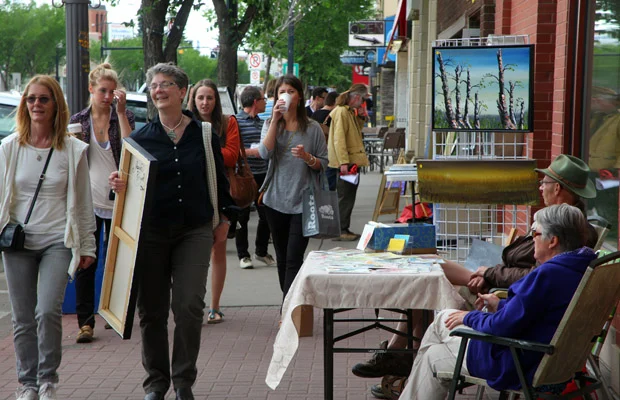 Crammed with trendy shops, great eateries and quirky cafes, Whyte Avenue has something for everyone. Rated as one of the Top 10 Coolest Neighbourhoods in Canada, Whyte Avenue is Edmonton at its most vibrant.
Things to do in Edmonton: West Edmonton Mall
It may be the largest shopping mall in North America, but it's not all about the shops at WEM. In fact , it provides locals and tourists alike with some of the most interesting things to do in Edmonton.
You can bungee jump, play miniature golf or ride a wave. There's also year-round skating at the Ice Palace, amusement rides at Galaxyland, and bowling and billiards at Ed's Rec Room; three of the best things to do in Edmonton.
Things to do in Edmonton: Muttart Conservatory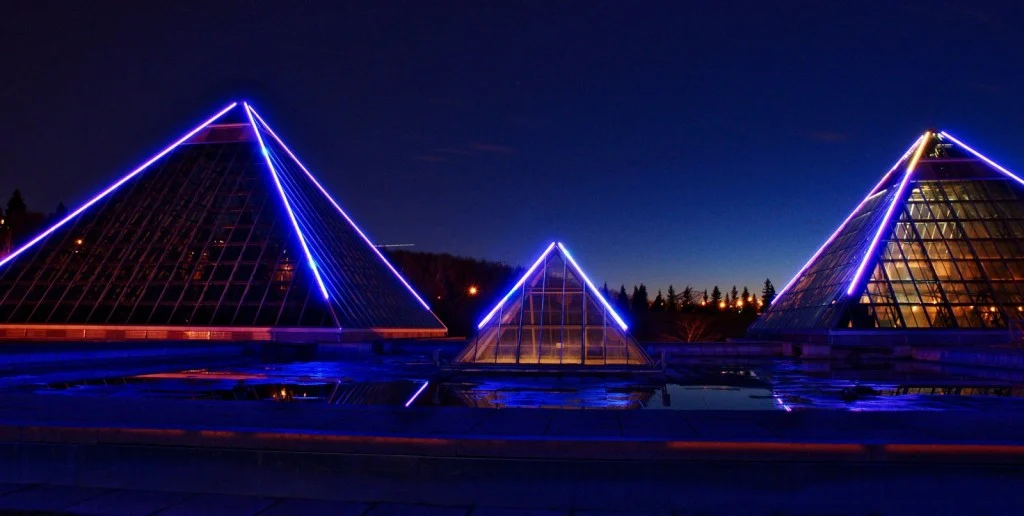 These four glass pyramids may be the most standout buildings in the city and provide those who visit with some of the amazing things to do in Edmonton.
Inside, the pyramids showcase plants from arid, tropical and temperate climates, with the fourth 'Feature Pyramid' offering a changing seasonal display. When it's cold outside, there's nothing quite like spending an afternoon under a canopy of palms or getting close to some cacti.
Things to do in Edmonton: William Hawrelak Park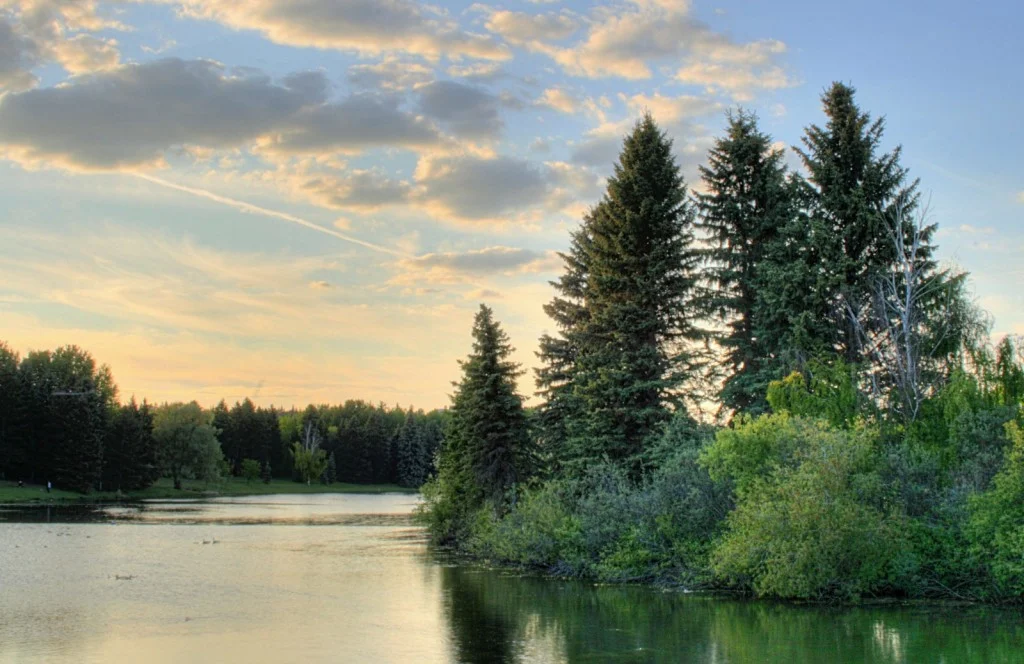 Need a break from it all? William Hawrelak Park (better known as Hawrelak Park) spans 68 hectares and is located in the river valley.
In the summer, the park hosts major festivals, including the Heritage Festival, the River City Shakespeare Festival, and Symphony under the Sky.
In the winter, the five-hectare lake is open for skating, and the many hiking and biking trails are more widely used for cross-country skiing.
Things to do in Edmonton: River Valley
As the largest stretch of urban parkland in North America, Edmonton's River Valley is an iconic part of what makes the city what it is.
It is home to 22 of the city's major parks and over 150 kilometres of trails used for walking, biking, cross-country skiing and more.
Things to do in Edmonton: Ice skating
Get the most out of your winter and take part in some of the most exciting things to do in Edmonton!
Community leagues citywide often boast a neighborhood arena, but parks like Hawrelak are especially nice for skating. If you want to take it indoors, there's no shortage of recreation centers such as the YMCA, or take your skates to WEM for year-round fun.
Things to do in Edmonton: TELUS World of Science
Watch an IMAX film, get interactive in Discoveryland or visit Canada's largest planetarium dome theatre – just to start. All in the name of science.
Things to do in Edmonton: Festivals, lots and lots of festivals
There's a reason Edmonton is called "The Festival City."
The Edmonton International Street Performer's Festival, K-Days, the Canadian Finals Rodeo, and the Edmonton Heritage Festival are just a few. Of special acclaim is the Edmonton International Fringe Festival, second only to the Edinburgh Fringe Festival worldwide, and the Edmonton Folk Music Festival, one of the most successful and popular folk music festivals in North America.
Arts/Museums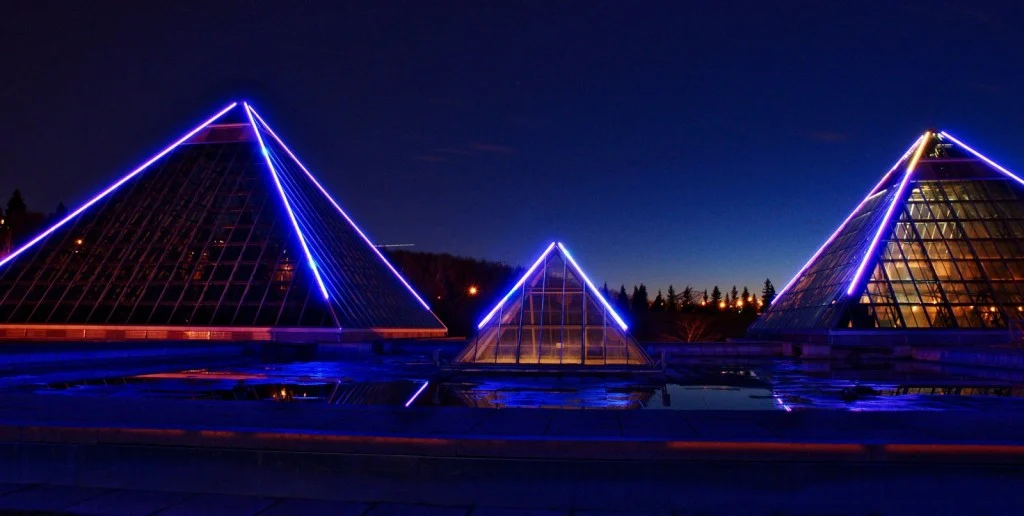 Lovers of art will find plenty of things to do in Edmonton, with it's vibrant culture scene. It was named the cultural capital of Canada in 2007,  and if you are ever unsure what to do in Edmonton then the multitude of galleries and museums will help guide you along the way.
The Art Gallery of Alberta (pictured) is a work of art itself. The newly renovated building was unveiled in 2010 and is home to a collection of over 6,000 works.
Gallery Walk – 124th Street was the first of its kind in Canada and features some of the best art that the city has to offer with a special focus on Canadian artists.
The Royal Alberta Museum is a natural and human history museum. It features a natural history exhibit, a wildlife exhibit, an entomology exhibit, and a Native Culture exhibit, among others.
Fort Edmonton Park is Canada's largest living history museum. The park covers Edmonton's heritage from 1795 to 1929 through original and rebuilt buildings and historical artifacts. Ride a steam train to the fort and then explore your way back through the eras.
Skiing
Not sure what to do in Edmonton? Well if the art, festivals and shopping aren't enough for you, how about skiing? When "Edmonton things to do" is typed into Google, skiing is always a top performer and it's easy to see why.
Snow Valley – 119th Street just off the Whitemud Freeway, Edmonton Alberta, Canada Tel: 1 780 434 3991
Rabbit Hill – 20 Minutes SW of Edmonton, just off Highway 19 between Nisku and Devon, Alberta, Canada Tel: 1 780 955 2440
Sunridge Ski Area – Four blocks south of the Yellowhead Trail on 17th Street, Edmonton, Alberta, Canada Tel: + 1 780 449 6555
Edmonton Ski Club – 9613-96 Avenue, Edmonton, Alberta, Canada Tel: + 1 780 465 0852
Jasper
When it comes to things to do in Edmonton, you really can't look outside Jasper National Park. Yes, it is outside the city it really is worth taking a day or weekend to explore all that this amazing location has to offer. From elk and moose to some of the most incredible hikes and views you will find anywhere in Canada, a trip from Edmonton to Jasper is certainly worth it.
If you are only in Jasper for the day, it's an almost four hour drive each way, then you really need to try the Jasper SkyTram to get the most bang for your buck.
Get more from Moving2Canada