November 20, 2019
By Hugo O'Doherty
Marco Mendicino, the son of Italian immigrants to Canada, has been named by Prime Minister Justin Trudeau as the country's new Minister of Immigration.
Mendicino will take over the department of Immigration, Refugees and Citizenship (IRCC) from Ahmed Hussen, who has been assigned a new role in families, children and social development. Mendicino is now in charge of nearly 8,000 IRCC employees, and he'll have big shoes to fill — his predecessor mastered an extensive brief in what is viewed by many as an increasingly important government department.
IRCC processes immigration applications from people who want to immigrate to Canada permanently, as well as those who want to work in Canada temporarily, study in Canada, or visit.
Here's what is likely to be on Mendicino's desk over the coming weeks, months, and years:
Delivering modest and responsible increases to immigration, with a focus on welcoming highly skilled people. This was a core commitment in the Liberal Party 2019 election platform. Canada's current immigration levels plan calls for 341,000 new permanent residents to be admitted in 2020, with a further 350,000 in 2021. A new immigration plan may be published before long.
Making good on another campaign commitment to make Canadian citizenship applications free for permanent residents of Canada.
Rolling out a proposed new Canadian immigration program, the Municipal Nominee Program, which would enable selected towns and cities in Canada to nominate individuals and families for settlement locally.
Making the Atlantic Immigration Pilot permanent, another campaign commitment.
Handling a potentially tricky and lengthy discussion with the government of Quebec about that province's ability to select its own immigrants. Quebec currently selects its own economic immigrants under an agreement that has been in place for nearly three decades. Now, the province wants to have more power over family reunification and refugee settlement. This may affect people who want to settle in Montreal, Canada's second-largest city, or anywhere else in Quebec.
Ensuring that Canada's key immigration initiatives, such as the Express Entry system, continue to be the vehicle for welcoming a broad range of talented, ambitious international workers.
Continuing to welcome hundreds of thousands of international students annually to campuses across Canada.
Continuing to offer a safe haven to recognized refugees through government and private sponsorship programs.
Who is Marco Mendicino?
Marco Mendicino, now 46 years old, was first elected to represent the riding of Eglinton—Lawrence in the House of Commons of Canada in the 2015 federal election, a feat he repeated in 2019. The lawyer-turned-politician was born and raised in the Toronto area, where he continues to live.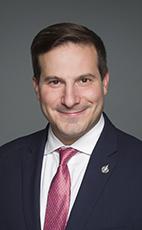 Prior to his IRCC appointment, he served as Parliamentary Secretary to the Minister of Infrastructure and Communities and then Parliamentary Secretary to the Minister of Justice and Attorney General of Canada, where he helped to advance important government priorities such as Criminal Justice Reform, Reconciliation with Indigenous peoples and Restorative Justice.
His own website states that "on weekends, you'll see Marco cheering on his girls at the Eglinton Park soccer field."
Best of luck, Marco!
November 20, 2019
By Hugo O'Doherty
Tags