Top tips for making the most of your Rocky Mountains experience
The Rockies are one of the biggest attractions of living in Calgary, and they have so much to offer outdoor enthusiasts or people who simply want to explore hiking or snowsports for the first time.
Drive west from Calgary for less than thirty minutes and the magnificent mountain range will begin to emerge from the horizon. While it's most famous for its fabulous ski slopes, the Rockies are a playground for all seasons and it is something that every Calgarian should make the absolute most of. There is so much to see and do here that even the most ardent explorers have usually only scratched the proverbial surface of this vast mountain range.
Dealing with the snow is, of course, a new challenge for many new Calgary residents. Figuring out how to approach the first trip to the Rockies can be a daunting experience, so let's take a quick look at what you should know. A trip up the ski slopes, or a stay in the mountain's stunning towns, doesn't come cheap so it pays to plan ahead. Here's a beginner's guide to Alberta's gem – the Rocky Mountains.
Transport
There are many bus services which will get you to the Rockies, whether it's Canmore or Banff, from Calgary airport. Hopping on a bus from downtown Calgary is much more difficult however. A car is a much better way of exploring the mountains from the urban core, and it will work out pretty much the same price as a public transport offering.
Calgary is full of the usual big-name car rental companies, all of which help to keep prices fairly competitive. Alberta's oil and gas industry also means that fuel prices are relatively affordable, so you shouldn't have to spend too much at the pumps. Having a car makes it much easier to explore the Rockies at your own pace, not to mention you can follow your own schedule. Just make sure that the vehicle has suitable winter tires if you're heading for the slopes during the coldest months.
Beware that access to Banff National Park, which is home to many of Alberta's most popular ski resorts, isn't free. It's $9.80 per individual adult, and almost $20 for a family/group travelling together. Long-term passes are of course available and work out better value for more regular visitors.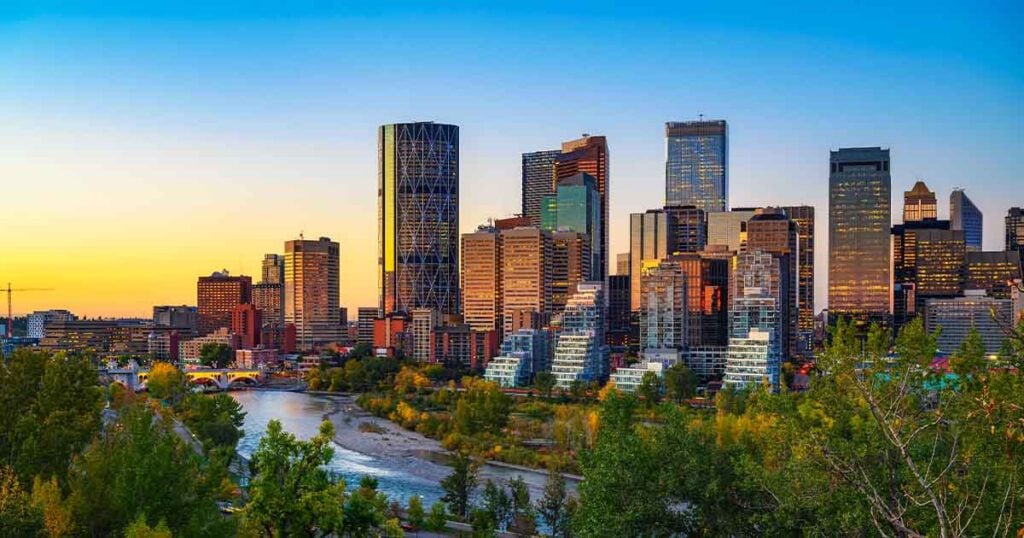 Free
Wait! Let us help you.
Aim for success in Calgary — access exclusive tools and resources with a Moving2Canada account.
Register now
Snowsports
The lure of skiing, snowboarding and other snow-related fun is the most obvious attraction in the Rockies. There's certainly no snobbery about snowsport ability in Calgary, and there's a lot of respect for complete novices who want to pick up the basics.
There are numerous popular slopes in Alberta, and Nakiska is probably the easiest to access. Located just an hour or so from Calgary, this is a very popular spot for casual skiers. It's also one of the best value options, but it'll still set you back almost $1,000 for a season pass. This price can fluctuate during sales however, so keep an eye out for potentially slashed prices. If you just want to give it a try for a single day, a full-day lift pass costs adults just under $90.
When you combine this with equipment costs, and training session (which can prove very useful), you'll find that snowsports can end up being an expensive past-time. Renting skis or a snowboard, as well as goggles and a helmet, could also cost an additional $100 per day trip. Keep an eye on Facebook, Marketplace or Kijiji however for great value second-hand equipment.
Calgary has a rich history in winter sports, culminating in its hosting of the 1988 Winter Olympics. The legacy of those Games can be seen at the ever popular Olympic Park in the northwest of the city, located conveniently en-route to the Rockies. This facility caters excellently for snowsport novices, with access to the gentle slopes available at relatively low prices. It's a good place to find your feet before taking to the more scenic ski spots in the Rockies.
Sunshine, Lake Louise and Mt Norquay are other very popular ski resorts, located within easy driving distance of Canmore (1hr 10mins from Calgary) and Banff (1hr 25mins), two towns where most visitors to the Rockies rest their heads at night. If you're not interested in potentially bruising your body and ego by taking to the skis, you can always try out snow tubing at many resorts. This involves sliding down a hill on what is essentially an inflatable doughnut, and it's great way to get involved in the snow fun.
Ski season varies from resort to resort, so keep a close eye on snow reports. In an ideal world, you'll be taking to the slopes on a perfectly clear morning after a few days of heavy snowfall. Some resorts stay open to skiers from early winter until May, so you'll have plenty of time to get full use of your snowsport equipment if you decide to make a few purchases.
Accommodation
Canmore and Banff are beautiful, busy towns in the foothills of the Rockies. They are both easily accessible from Calgary, and there are lots of great options if you also want to stay the night there. Skiing in the Rockies is as famous for its apres-ski as it is for the downhill maneuvering, and both towns have plenty of lively bars where you can relax after a day on the slopes.
Check out the regular accommodation websites, like Booking.com or AirBnB, for listings. A room in the Rockies doesn't always come cheap however, but you can get great value by booking a full apartment if you're travelling with a larger group.
Rockies in the summer
The fun doesn't stop in the Rockies when the snow bids a brief farewell during the summer months. There are lots of great hikes to keep you occupied on your days off, but there's also plenty to beware of during these trips.
The Rockies are famous for their diverse wildlife, not all of which is friendly. Bears, coyotes and elk are amazing to look at from a distance, but hikers have to be very careful. You certainly won't see these animals very often, but the authorities are always keen to ensure that people stay safe if such an encounter occurs. It's recommended that hikers carry special 'Bear Spray' to use in special circumstances, and it's even mandatory to carry this item in some parts of the Rockies.
These precautions shouldn't take away from the joy of wandering through the trees with the snow-capped peaks within view. Hikes such as Johnston Canyon, a short drive from Banff, have well-worn pathways and pedestrian bridges to allow visitors to walk for kilometre after kilometre.
If you're looking for a more leisurely activity, then you should also know that the Rockies have plenty of great golf courses and fishing destinations. The golf season isn't particularly long unfortunately given Alberta's climate, but sinking a putt within the Rockies is a memorable experience.