October 16, 2019
By Patrick Bourke
If you've decided to move to Canada on a Working Holiday work permit, then you'll likely have heard or read plenty of discussions that go something like 'Where should I go, Toronto, Vancouver, or maybe Calgary?'.
However, there are plenty of alternatives to the usual Working Holiday destinations, and if you're still unsure of where to go or looking for somewhere off the beaten track, this article covering 10 alternative Working Holiday destinations in Canada is for you.
To be clear, this isn't an anti-Toronto, Vancouver, Whistler or Calgary post – these amazing destinations offer a wealth of opportunities for newcomers to Canada. However, given the sheer size of this diverse country, it would be remiss not to shine a light on some of the lesser-known delights in the Great White North!
1 – Montreal, Quebec
As well as being one of the oldest and most beautiful cities in Canada, Montreal is also the country's second-biggest city. It's also often credited with being Canada's cultural and artistic hub with many musicians, artists, and writers calling the city home. Oh, and lots of people speak French here. Montreal is the largest city in Quebec – Canada's only predominantly French-speaking province – and some newcomers are surprised to see Arrêt rather than Stop on road signs here. That said, Montreal is very much a multilingual city that is home to multiple generations of immigrants from all over the world, and you'll hear plenty of English as well as French.
One of the biggest perks of living in Montreal is affordability. Unlike Toronto and Vancouver, rent and the general cost of living in Montreal is significantly lower. This, allied to the excellent standard of living enjoyed by many Montrealers, as well as a burgeoning visual effects and tech industry, and it is easy to see why it is such an attractive destination for many IEC working holidaymakers, especially those with a desire to improve or learn French.
Advantages: Affordable cost of living, very multicultural, feast of festivals and a diverse population. Need we say any more?
Potential disadvantages: Not speaking any French may make things a little challenging, and the winters are very cold!
Useful resource: Moving2Canada Montreal city guide
2 – Victoria, British Columbia
If you subscribe to the belief that the west coast is, in fact, the best coast, then Victoria may be the perfect Working Holiday destination for you. Located off the west coast of mainland Canada, and a short ferry ride from Vancouver, this relatively small city on the southern tip of Vancouver Island is undoubtedly one of the best places to visit and even live in all of Canada. From the quaint and subtle architecture in the provincial capital – to the wild and roaring surf of Tofino and Ucluelet, Victoria and all of Van Island, as it is known locally, has so much to offer. As a newcomer to Vancouver Island, you may find that your best bet in terms of finding work lies in the retail and tourism sectors. However, forestry, agriculture, and manufacturing are also popular careers and offer a range of employment opportunities for the right candidate. So, if you want an alternative to the hustle and bustle of Vancouver but would like to stay west, Victoria on Vancouver Island should be top of your list.
Advantages: A wide array of incredible landscapes, small-town living, relaxed way of life.
Potential disadvantages: Lots of rain (maybe even more than in Vancouver), potentially fewer job opportunities, and a more low-key nightlife.
Fun fact: With a total land mass of over 32,000sq kilometres, Vancouver Island is the biggest island off the west coast of North America.
3 – Halifax, Nova Scotia
Halifax is the capital of Nova Scotia, situated on Canada's Atlantic coast, ,is the biggest city in all of the Maritime provinces. Home to the prestigious Dalhousie University as well as some of the oldest and most important state buildings in Canada, Halifax is a medium-sized city that consistently punches above its weight. Newcomers to Halifax can expect to move to one of the most beautiful cities in Canada. While seafood lovers are in for a treat as Halifax is a culinary hub for lobster and fish of all varieties. In terms of employment, those looking for roles in agriculture, fishing, engineering, and mining are in luck, while Halifax is also home to three of the largest law firms in all of Canada. The cost of a one bedroom in Halifax city centre in 2019 was approximately $1225 per month, making it cheaper than Vancouver and Toronto but slightly pricier than cities in the Prairies and Montreal. All in all, the balance of work and play is pretty favourable in Canada's ocean playground.
Advantages: Medium-city living offers the best of both worlds for those who want to be in a city but not immersed in a rat-race.
Potential disadvantages: Considering it is much smaller than Toronto, Vancouver, and Montreal, the cost of living in Halifax is a little higher than many people expect.
Fun fact: NHL superstar Sidney Crosby was born in Halifax and grew up in nearby Cole Harbour, Nova Scotia.
4 – Ottawa, Ontario
Somewhat unfairly described by some as the "town that fun forgot", Canada's capital city is actually a lot more interesting than many people believe. As well as being home to the beautiful Parliament Hill, the Rideau Canal and nearby Gatineau Park make Ottawa one of the best places to visit in Canada.
But what about living in Ottawa? Well, if you're interested in great Vietnamese and Lebanese food, or like nothing more than a competitive quiz (they call it trivia in Canada) in a cosy pub then Ottawa is a great place to call home. What's more, the plethora of museums and political and historical artefacts make Ottawa a great place to wander on a crisp Autumn day (they call it Fall in Canada). In terms of work, Ottawa abounds with government and NGO jobs, but is also home to tech giants, such as Shopify. Ottawa isn't for everyone, there's no doubt about that. It doesn't have the same nightlife as Montreal or Toronto and can't offer the serenity or coastal fun of Halifax, Newfoundland, or Vancouver Island, but it is an interesting place to live and one that shouldn't be overlooked for those on a Working Holiday visa.
Advantages: Family-friendly city with lots of employment opportunities, but without the costs associated with Toronto.
Potential disadvantages: If you're looking for a cosmopolitan city filled with nightlife, then maybe you'd be better off trying Toronto or Montreal.
Useful resource: Moving2Canada's Ottawa city guide
5 – Squamish, British Columbia
Nestled conveniently as a centre point between Vancouver and Whistler, Squamish is a small town that thinks big when it comes to making the most of the beauty available on its doorstep.
If you are an outdoor enthusiast who isn't too fussed about following the crowd or being close to the nearest kombucha-inspired cafe, then Squamish might be the perfect place for you to set up base during your Working Holiday in Canada. After all, they don't call the area around Squamish the "Sea-to-Sky Corridor" for nothing. On an average day, you could go glacier skiing in the morning, have a kite-surf back in the afternoon when the wind picks up, and be back in town for a craft beer or two over dinner. Most of the job opportunities in Squamish are in the tourist, hospitality, and outdoor pursuits sectors. However, the commute to Vancouver is only around an hour and you could conceivably work in the city (especially in North Vancouver) and be back on the slopes or trails before dinner. And to be fair, this is no ordinary commute. The drive from Vancouver to Squamish is truly jaw-dropping and would make you want to do it every single day.
Advantages: A happy balance for those who want to be close to the city but still enjoy all that beautiful BC has to offer, and for a lot less rent each month.
Potential disadvantages: Fewer job opportunities for those not interested in working in the retail, tourism, or hospitality sectors.
Fun fact: The Coast Mountains have risen two kilometers  in the past five million years and continue to rise today.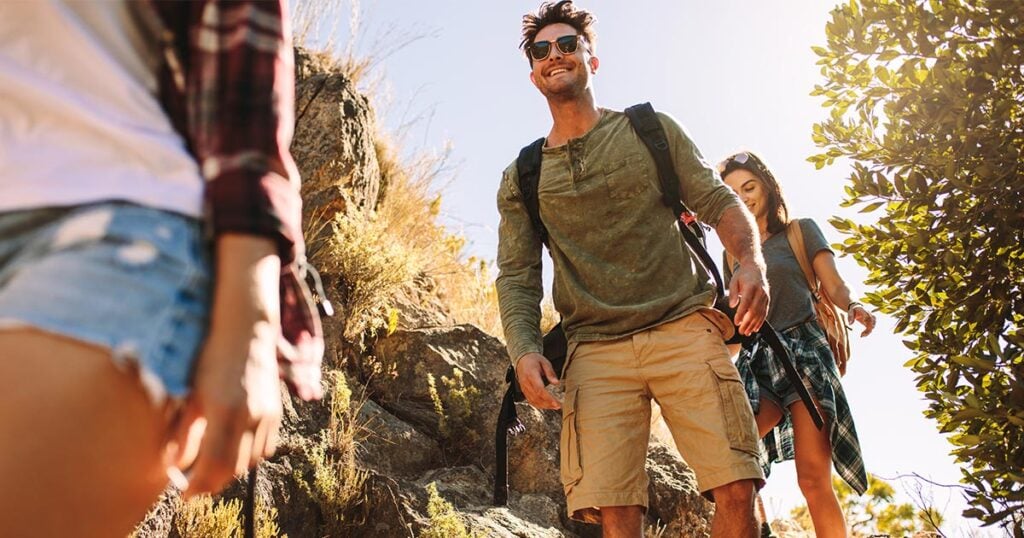 Free
Your personalized guide to IEC!
Our free interactive, personalized checklist will help you plan for every step of the journey, just like it has for thousands of successful IEC participants.
Get started
6 – Winnipeg, Manitoba
Winter is long in Winnipeg. So much so that the city somewhat affectionately wears its moniker of Winterpeg with a certain amount of pride. But just because the biggest city in the prairies endures a long winter does not mean that it is an unattractive destination for IEC working holidaymakers.
Winnipeg is home to the recently opened Canadian Museum for Human Rights, as well as the Centennial Concert Hall and the ever-popular Winnipeg Folk Festival. In terms of employment, Winnipeg was recently ranked as the third-fastest growing economy among Canada's major cities, and is also considered to be one of the most diversified. In addition, rental prices are among the lowest in Canada, making Winnipeg ideal for newcomers who want to find their own place after arriving in Canada rather than share an address with roommates. Finally, food lovers can sample the culinary delights offered up by the city's significant Filipino population in one of the many great restaurants across the city.
Advantages: Winnipeg is an affordable city with a growing economy located in the heart of Canada.
Potential disadvantages: Isolation from the rest of the country, long and bitterly cold winters.
Fun fact: Despite the length and severity of winter in Winnipeg, it is actually one of the sunniest cities in Canada.
7 – Prince Edward Island
Prince Edward Island, or PEI as it's often commonly known, is the smallest of the 10 Canadian provinces and three territories. However, what it lacks in size, it more than makes up for with its broad range of diverse and unique natural landscapes. PEI is connected to the Canadian mainland by the 12.9 kilometre Confederation Bridge, and once you arrive, you'll soon see why so many people travel back to the province every single year – or even set up home on the island.
From the red sandy beaches of Cavendish and the red soil of the farms further inland to the historical and picturesque beauty of the provincial capital, Charlottetown, PEI has so much to offer. In fact, the city is referred to as The Birthplace of Confederation in Canada, so its roots to modern-day Canada are vital. In terms of job opportunities, it should be no surprise that two of the biggest industries in PEI are fishing and farming. On top of that, seasonal work in the tourism and hospitality sector may be appealing to newcomers arriving on a Working Holiday.
Advantages: A beautiful island home where you can explore the unique red beaches and other outdoor pursuits at a slower pace of life.
Potential disadvantages: Depending on your career or employment aspirations in Canada, the small-ish PEI may make finding the job you want quite challenging.
Fun fact: PEI is home to the irrepressible literary wonder, Anne of Green Gables.
8 – Edmonton, Alberta
If you have your heart set on living in a city close to the Rockies, but don't want to pursue the same path as many other IEC Working Holiday participants in Calgary, then Edmonton might be the perfect place for you.
Edmonton is arguably the most northerly "big city" in North America, but don't let this deter you from what the city can offer newcomers looking for the perfect balance of city living and amazing outdoor experiences. For instance, you could start your day with a hike in the majestic Jasper National Park and finish it strolling through the West Edmonton Mall, the biggest mall in North America. One thing that anyone thinking about moving to Edmonton needs to keep in mind is that Edmontonians are highly reliant on driving. Public transport is certainly not as reliable as it is in other cities further east or in Vancouver. As is the case across all of Alberta, taxes in Edmonton are low while the rental market is more competitive in Edmonton than in Calgary. Finally, if you're looking for work in the engineering, mining, or construction industries then Edmonton might be the ideal Canadian city for you.
Advantages: Edmonton is renowned for its many festivals, friendly locals, and relatively affordable housing. All three should be seen as major attractions for a move to Edmonton.
Potential disadvantages: The winters in Edmonton can be long and cold, so make sure to pack a jacket.
Useful resource: Moving2Canada Edmonton city guide
9 – Canmore, Alberta
Arguably one of the top spots on the list of best places to visit in Canada are the Canadian Rockies. If you are considering spending some or all of your IEC working holiday time in the mountains, you have probably heard that the town and national park of Banff are among the most beautiful places in Canada. But while Banff is stunning, it is also quite overrun every season, making it a bit tricky to find work and expensive to rent an apartment.
But, just a 20-minute drive south of  Banff lies a wonderful alternative: the quaint town of Canmore. Sporting a bustling downtown area with several great pubs, restaurants, and boutiques, it's a wonderful place to visit in Canada. With the backdrop of the Three Sisters, Canmore has its own stunning mountain view, and numerous easily accessible hiking getaways. Due to the popularity of the region, businesses in Canmore are usually looking for workers during all seasons, and you can often walk into a place and apply for work on the spot. Canmore is not only another great place to visit in Canada, but if you are looking for a working holiday destination in the Canadian Rockies, it makes for one of the best places to live too.
Advantages: Canmore is the cooler, more interesting younger sister of big brother Banff.
Potential disadvantages: If you want easy access to more shops and cinemas, then Banff may be a better place for you than Canmore.
Fun fact: The Canmore bunny rabbit is synonymous with the region and they are generally quite friendly, even if local gardeners might not agree!
10 – St. John's, Newfoundland & Labrador
Located off the eastern coast of mainland Canada, it is no exaggeration to suggest that Newfoundland really is out there, both literally and figuratively. Newfoundland only officially became part of the Canadian Confederation in 1949 – before this it was a British crown colony – and many believe that it is this storied past that contributes to many of the idiosyncrasies that make the island what it is today. Nowhere is this more on display than in St. John's, the provincial capital and largest city in the province, which could provide a unique environment to spend some or all of your Working Holiday in Canada.
From having a distinct timezone – 90 minutes ahead of eastern time – to the unique "Screech-in" greeting for newcomers to the island, it really is a part of Canada that has to be seen to be believed. St. John's has a population of over 210,000 and is the commercial and historical centre of the island and province. The energy, fishing, and mining industries are all big employers, both in St. John's and elsewhere on the island, and there is plenty of work in the many bars and restaurants.
Advantages: Moose as abundant as squirrels, icebergs floating by in spring time, and one of the most unique accents in North America.
Potential disadvantages: The summers are short in St. John's, and the misty, cold, and wet winters can be hard to take for those coming from warmer climes.
Fun fact: Marconi received the first transatlantic wireless message on Signal Hill on December 12, 1901.
Well, there you have it, our guide to alternative destinations for IEC working holidaymakers. Of course, there are countless other locations where you might decide to spend some or all of your IEC Working Holiday. Alternatively, you may decide to jump to two or more of these towns or cities during your stay in Canada. Either way, it pays to be informed. So, why not consult our destination guides or visit our dedicated IEC section on the Moving2Canada website? Bon voyage!
Finally, for the most up to date information on life in Canada and how to make the most of your move, register to create your very own Moving2Canada account and avail of newsletters and regular updates.
If you have a suggestion for a great place in Canada to live and work while on a working holiday, send an email to [email protected]. Thank you!
October 16, 2019
By Patrick Bourke