November 12, 2013
By Gemma Taylor
Are you looking to experience a one-of-a-kind winter, with the opportunity to ski or board every day and live in a beautiful alpine environment?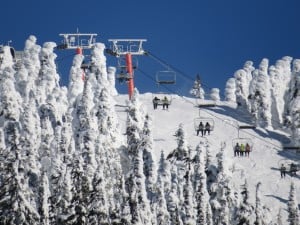 Canada's ski resorts provide employment for thousands of people every winter season, with work available in a variety of professions. Here are my tips to securing winter work at a Canadian ski resort.
Plan early. Most resorts in British Columbia and Alberta usually have hired most or all of their staff by late October or early November.
Most in-resort job fairs happen in September and October, but keep an eye on resort's websites from late summer onwards as it may be possible to apply for specific job before the crowds arrive. Supervisor roles, for example, are often advertised before the job fair.
If you arrive in Canada after the job fair has taken place, your best chance of finding work at a Canadian ski resort to head to the mountains and persevere in person. Basing yourself in either Whistler or Banff is a popular option as there may be local businesses, such as restaurants, hotels, and retailers, close to the resort who are still hiring for the season. Local employers sometimes have agreements with the ski hill to offer discounted Season Passes or lift tickets for employees.
Some resorts are open for mountain biking or sightseeing in between winter seasons, so if you have the time and opportunity, consider applying for summer work (late May/June start). Summer employees are likely to get 'first refusal' on winter jobs.
Don't ignore the smaller resorts. Though perhaps not as internationally renowned as others, destinations such as Panorama, Sun Peaks and Revelstoke still hire hundreds of new staff every winter. There may be a better chance of employment away from the hordes applying at Whistler. The smaller ski town life could be a better fit for you, as it was for me.
Keep your resume to relevant to winter season work, write a convincing cover letter, and don't forget to follow up.
Make it clear that you are already in Canada, or arriving soon, and will legally be able to work. Try and focus more on skills rather than qualifications.
Learn about the resort you want to work in. Enthusiasm for the local area and the resort's ethos can go a long way to making you stand out from the crowd. Resorts provide an experience to their customers, and want their staff to be able to contribute positively to this day after day, even if you've been shoveling snow since 6 a.m!
Enthusiasm for the alpine lifestyle is great, but remember to keep in mind that your employer wants to be sure that you will still come to work on a powder day. Even if it's 'puking' snow outside, the resort still has to run.
If you are applying at lots of resorts via email/online application, be careful with copying and pasting. Writing how much you'd love to work at Whistler in your cover letter and then sending it to Big White won't go down very well.
Remember that you're mainly here for the snow and lifestyle, not to further your professional career. Working at a Canadian ski resort is unlikely to make you a fortune; the work tends to be entry level and therefore minimum wage.
Think about when you would prefer to ski or board, whether that is during the day, at night or while you're working. An evening job in a restaurant or bar enables you to get out on the snow before your shift, while lift attendants are able to fit skiing into their breaks.
Be flexible. Try your hand at something new if you're not having much luck in your ideal job area. Once working at a resort, you may be able to move to another department later.
Consider focusing your efforts on high intake, high turnover jobs, such as lift operator ('lifty'), busser/server, housekeeper and kitchen assistant/dishwasher. Administration and snow maker roles can be hard to come by.

My last tip is not to give up!
If you have not managed to secure a job by the time the season has started, try again in January. There is a high dropout rate after Christmas — good enough for it to be considered a second (unofficial) hiring season. I was hired during this time, and am now working my third winter season. It's addictive!
To find out more about skiing options near some of the largest cities in Western Canada, visit our 'things to do' pages for Vancouver, Calgary, and Edmonton.
Gemma lives, works, and road-trips her way around the world with her French Canadian boyfriend, but they've settled on Vancouver Island for the time being. They label their form of voyaging 'slow travel', and her blog, Off Track Travel, focuses on hidden gems found off the beaten path.