Be Prepared
Do you have health insurance for Canada?
Our partner, Cigna, offers international health insurance plans that give newcomers peace of mind.
Get a free quote
Free
Find the best immigration programs for you
Take our 2-minute immigration quiz and we'll tell you the best immigration programs for you!
Take the quiz now
Join Moving2Canada for our virtual live events. We regularly host virtual events about topics including immigration, finding work, choosing a place to live, and other topics related to your move to Canada. Get your questions answered and meet other people on their own Canadian journey.
In order to attend our live events, you need to log in to your Moving2Canada account. Moving2Canada accounts are completely free and give you access to personalized resources matched to your profile, including events, immigration checklists, job opportunities, articles, and more!
If you already have a Moving2Canada account: log in here.
If you do not have a Moving2Canada account: register for one here.
Upcoming events
Check out the upcoming events from the Moving2Canada team and our trusted partners.
Free
Livestream — Finding a job in Canada
Want to land your first Canadian job? Join us as we walk you through resumes, Canadian work experience, recruiters and more!
Register for event
Past events
Links to our past events will be posted here once events have been completed.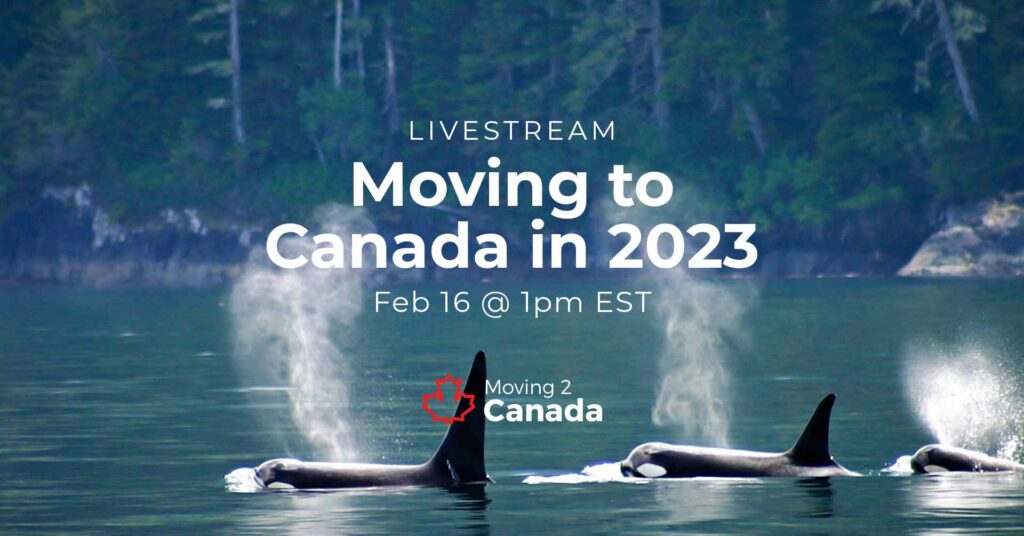 Free
Moving to Canada in 2023
Join us for our first livestream of 2023 where our team sits down to talk about the top tips you need to know to kick start your Canadian adventure!
Register for event