October 30, 2018
By Hugo O'Doherty
A new Irish Consulate has opened in Vancouver, with Ireland's Minister for Foreign Affairs and Trade, Simon Coveney, stating that the new consulate reflects the strength of Ireland's relationship with Canada.
The Irish Consulate in Vancouver will help to support a growing Irish population in the Greater Vancouver Area and across Western Canada.
Coveney's comments reflect earlier statements made by Ireland's Taoiseach (Prime Minister), Leo Varadkar, who has sought to expand Ireland's diplomatic presence in Canada, given the close relations the two countries enjoy, and economic opportunities presented by new trade agreements between the EU and Canada, and Brexit.
Over the past 19 months, there have been 18 ministerial visits to Canada made by members of the Irish government cabinet.
The Irish Consulate in Vancouver, based in The World Trade Center at Canada Place in a shared space with a German Consulate, is Ireland's first residential mission in Canada in almost 70 years.
Ireland's Ambassador to Canada, Jim Kelly, who was present at an official opening breakfast to mark the opening of the new Irish Consulate in Vancouver on October 30, estimates that 15,000 Irish people live in Vancouver, with a further 5,000 or so arriving each year under the International Experience Canada (IEC) two-year work permit and other temporary work permits.
Speaking to Vancouver-based Irish freelance journalist Meadhbh Monahan in an interview for The Daily Hive, Kelly said Vancouver has seen a huge surge of younger Irish citizens over recent years.
"It began during the economic crisis when one- to two-year working visas first became available in large numbers for Irish people coming to Canada," he said.
"But what's interesting is that it has sustained well beyond that. This is the fourth year of sustained growth in Ireland, but Irish people are still coming here."
Outlining the need for an Irish consulate in Vancouver, Kelly added that "Ottawa is a five-and-a-half-hour flight from Vancouver so there's only so much that an embassy in Ottawa can do to serve a growing community in Vancouver."
Other notable persons at the official launch included Frank Flood, Consul General, and Cathy Murphy, Executive Director of the Eamonn O'Loghlin Irish Canadian Immigration Centre.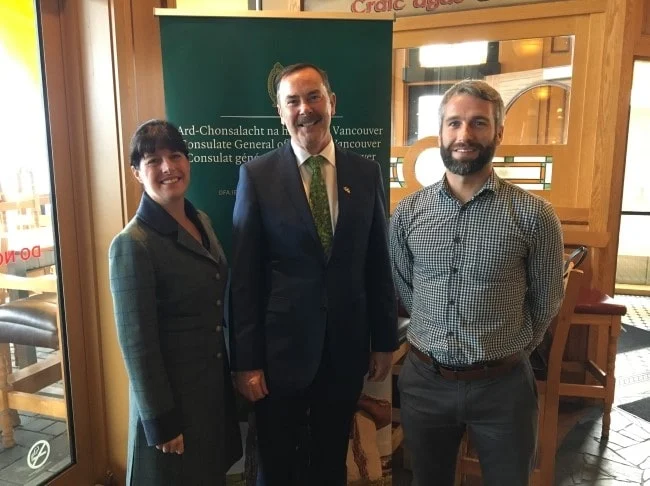 As Irish citizens continue to flock west to Vancouver in search of opportunity and adventure, media outlets have picked up on the story. Earlier this year, Moving2Canada founder Ruairi Spillane, an Irish resident of Vancouver for more than eight years, lended his expertise to features on CBC radio and TV.
Speaking at the official launch of the Irish Consulate in Vancouver, Spillane stated that the addition of the new facility "gives Ireland even more of a foothold in Vancouver and Western Canada, while easing trade back across the Atlantic."
With the prospect of increased trade links between Ireland and Canada made easier under the EU-Canada Comprehensive Economic and Trade Agreement (CETA), the new Irish consulate in Vancouver will also support international trade efforts between the two countries.
Travel and trade between Ireland and Western Canada has been growing, with new low-cost air routes from Dublin to Vancouver set to open in 2019.
Earlier this year, Vancouver was named by The Economist as one of the most liveable cities in the world.
Irish in Vancouver and Canada
Ireland was the third-largest European source of new immigrants to Vancouver between 2011 and 2016, and the largest per capita.
Under Canada's Express Entry immigration system, Irish citizens represented the fifth-largest national group of invited candidates in 2015, the sixth-largest in 2016, and the ninth-largest in 2017. Over the three years, this makes Irish citizens by far the largest per-capita national group of invited candidates.
You could fit the island of Ireland into the province of British Columbia 11 times over.
Learn more about the Irish Consulate in Vancouver and follow the Consulate on Twitter.
October 30, 2018
By Hugo O'Doherty
Tags