February 22, 2019
By Hugo O'Doherty
Nearly half of all provincial nominations issued by Ontario immigration authorities in 2018 went to candidates in the federal Express Entry pool, with the vast majority of those nominations issued under the ever-popular Human Capital Priorities stream.

Information released this week by the Ontario Immigrant Nominee Program (OINP) reveals that the 6,850 nominations issued last year included an additional 6,721 accompanying family members (spouses, common-law partners, and dependent children), for a total of 13,571 new immigrants to Ontario.
Additional newcomers to Ontario arrive through federal programs, such as family sponsorship, Express Entry programs, and refugee settlement.
Of the 6,850 nominations issued, nearly 40 percent (2,651) went to citizens of India, with Ontario's innovation-focused economy attracting interest from Indians in particular. Chinese, Brazilian, and Korean applicants also received nominations in significant numbers, as did applicants from Nigeria, Pakistan, Iran, Philippines, Algeria, and Morocco.
Nominees in 2018 came from a total of 147 countries.
| Country of birth | Number of nominations |
| --- | --- |
| India | 2,651 |
| China | 1,424 |
| South Korea | 303 |
| Brazil | 203 |
| Nigeria | 158 |
| Pakistan | 124 |
| Iran | 111 |
| Philippines | 110 |
| Algeria | 105 |
| Morocco | 94 |
| Other countries | 1,567 |
OINP nominations by stream
Ontario immigration authorities spread their nominations far and wide, not just in terms of the nationality of those approved, but also the range of OINP streams through which these newcomers were ultimately approved for nomination.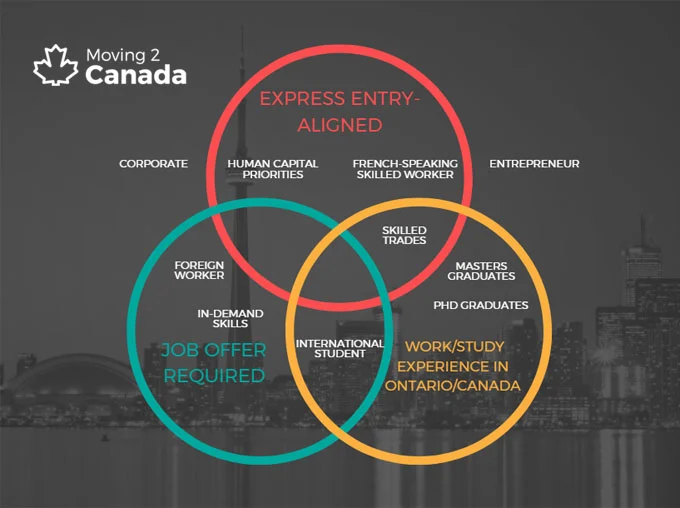 Applicants nominated through an Express Entry-linked receive 600 additional Comprehensive Ranking System (CRS) points and an invitation to apply (ITA) for immigration to Canada at a subsequent Express Entry draw.
In 2018, the OINP saw a high number of nominations in technology-related occupations. Approximately 25 per cent of all nominations were to individuals citing work experience or a job offer in a high-tech occupation, including software engineers and designers, computer programmers, interactive media developers, IT systems analysts and technology consultants.
No job offer = no problem!
Many would-be applicants, both in Canada and around the world, may be under the impression that a job offer is required in order to apply for immigration to Canada through a PNP. However, this is not necessarily the case, as the table above shows.
As a case in point, as few as 36 percent of OINP nominees in 2018 already had a job offer in Ontario prior to nomination. The OINP offers a range of streams for which a job offer is not required.
More than 94 percent of nominees held a post-secondary degree and at least 60 percent had high language skills (Canadian Language Benchmark 7 or above) in at least one of Canada's official languages.
Bonjour Ontario
Francophone immigration to Ontario was also on the rise last year, with the province surpassing its target of 5 percent for francophone immigration. Ultimately, 526 French-speaking nominees were approved, representing 7.7 percent of the total.
The Express Entry-linked French-Speaking Skilled Worker Stream was a big factor in this achievement, with the Human Capital Priorities Stream, also linked to the federal Express Entry system, bringing through additional francophones.
Key resources:
PNP Live Tracker: Now includes a great new tool to help you find the right option for you!
Though the OINP continues to welcome applications and nominate applicants, Ontario is currently awaiting its nomination allocation for 2019 from the federal government.
Get help with your Canadian immigration application
Do you need assistance in preparing an application for Canadian permanent residence? If so, view Moving2Canada's Book an Immigration Consultant page to see our list of recommended, accredited representatives who can assist you in your goals.
February 22, 2019
By Hugo O'Doherty