October 13, 2023
By Shelby Thevenot
Not only were these Canadian companies ranked among the top in terms of revenue growth, but they are also hiring right now.
When you're looking for a job in Canada, you would ideally like to find a good company that's going to match your skills, vision, and values. Being a high-growth company with good revenue also brings a sense of security and pride. If they are ranking among the top growing companies in the country—even better!
The Globe and Mail, a renowned Canadian publication, recently came out with its fifth annual Report on Business ranking of Canada's Top Growing Companies. The report ranks 425 businesses representing various products and services that have all shown staggering three-year growth rates, and reported at least $2 million in annual sales in its most recent fiscal year.
From the Globe's list, we picked out some of the top companies with job openings marked on their website, and added some basic info about the company to get you started. We also included the companies that made the top of the list, but were not posting job opportunities in Canada—you might want to keep these on your radar for future job listings.
5 high-growth companies hiring in Canada
Salt XC
Salt XC is a marketing and commerce agency made it to the number two spot overall on the Globe's list. They specialize in developing proprietary technological solutions to help solve their clients' marketing challenges. They have a number of job openings in Toronto and the Greater Toronto Area, as well as the United States.
Salt XC posted a 2022 revenue of between $50 million to $75 million, representing a three-year revenue growth of an impressive 20,315 percent. At the time of the Globe's posting, they had a reported 220 employees.
You can browse the current job opportunities at Salt XC on their careers page.
Dexterra
Dexterra offers a number of services including facilities management & operations, food services, workforce accommodations, energy services, modular solutions and forestry. The company came in second place in revenue on the Globe's, posting $750 million to $1 billion. Their three-year revenue growth was 272 percent. Not too shabby.
Dexterra boasts some 9,000 employees. There are job openings across the country including in cities like Missassauga, Hamilton, and Edmonton, among many more.
You can browse the current job opportunities at Dexterra on their careers page.
Lightspeed Commerce
Lightspeed Commerce is a point of sale and payments platform. It specializes in serviceing retail, restaurants, and golf businesses. They have openings in some major cities in Canada, especially Montreal. The types of job postings include roles related to operations, technology, marketing, product, and sales.
They came in third for revenue at $500 million to $750 million, and posted growth of 608 percent over three years. Lightspeed Commerce has about 2,785 employees.
You can browse the current job opportunities at Lightspeed Commerce on their careers page.
UniUni
This ecommerce delivery company placed fourth in terms of growth. UniUni grew 12,854 percent in three years. Its 2022 revenue was a reported $50 million to $75 million, and it employs some 800 people. This is their third year making it into the list of Canada's Top Growing Companies.
UniUni has a number of job openings in Vancouver, and other major Canadian cities.
You can browse the current job opportunities at UniUni on their careers page.
FYidoctors
FYidoctors is an eyecare provider with 300 clinics across Canada. They placed fourth in revenue at $500 million to $750 million in 2022. Their three-year growth rate was 95 percent and they employ about 4,500 people.
They have a number of openings listed in Calgary and other Canadian cities. They are not just hiring eyecare professionals but also for roles in marketing, finance, IT, and manufacturing.
You can browse the current job opportunities at FYidoctors their careers page.
Canadian companies to watch for jobs
These companies scored highly on the Top Growing Companies in Canada List but either posted no or few job postings in Canada. So, just because they are not hiring right now, doesn't mean they should be left out. These are the companies you might want to watch for job listings.
Subterra Renewables Inc.
This company that designs, engineers and installs geothermal exchange systems ranked number one overall. Subterra posted growth of a whopping 42,676 percent in three years. Their 2022 revenue was $75 million to $100 million with 25 employees.
Adentra
Adentra is a wholesale distributor of architectural building products. They came in first place for revenue at more than $1 billion. Their three-year revenue growth was an impressive 186 percent, and they have about 3,080 employees.
Resources for immigrant job-seekers
Moving2Canada offers a comprehensive suite of resources for newcomers seeking jobs in Canada. Whether you're a recent immigrant or a foreign job seeker, these resources can be invaluable in your quest for meaningful employment in Canada. You'll find guides for Canadianizing your resume, job search tips, sample interview questions and more.
Getting a job in Canada is not only about finding the right employer, but also having the right authorization. In order to work in Canada, most people need a work permit. In certain cases, you may be eligible for an open work permit that allows you to work anywhere for any employer in Canada. Othertimes, you may be able to get a closed work permit that requires your the employer who hired you to complete a labour market test. Learn more about Canadian work permits.
By signing up for a free Moving2Canada account, you'll not only see your eligibility for more than 20 immigration programs, but you'll also get access to a wealth of resources that will set you up for success in the Canadian job market. This includes a ready-made template for a Canadian-style resume, and a cover letter that you can use to create a compelling application. Plus, when you login, you'll see Canadian job openings right on your dashboard.
If you're interested in working for Moving2Canada, check out our careers page for current openings. Also, don't miss out on even more opportunities listed on the Moving2Canada Jobs Board.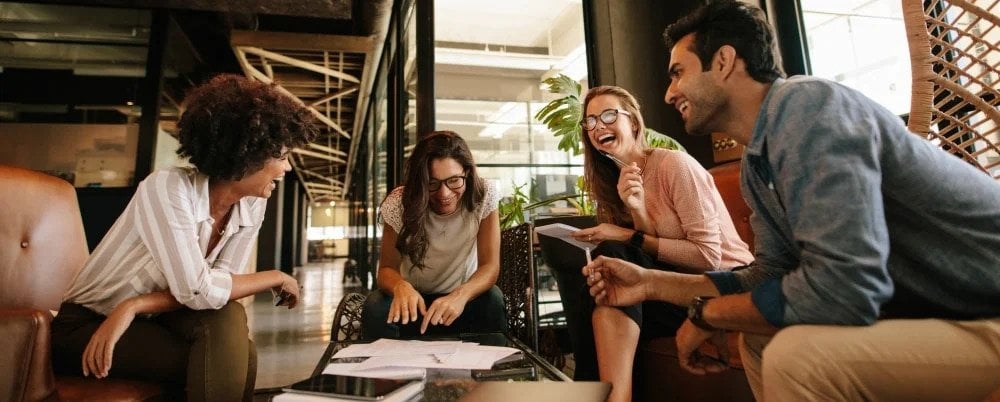 Jobs
Your perfect role is waiting for you.
Visit our Jobs Board to view open positions across a range of industries.
Find your next job