October 14, 2019
By Patrick Bourke
So, you've made it. You're in Canada and ready to get the next chapter of your life started in the Great White North. This is no mean feat, and you should be proud for making it this far.
However, before you start patting yourself on the back it's important to remember that it's not all plain sailing. If you want things to go smoothly in Canada, then you need to avoid these mistakes commonly made by IEC Working Holidaymakers.
1. Failing to spot an accommodation scam for what it really is
If a deal seems too good to be true, then it usually is. While the vast majority of apartment listings on popular websites like Kijiji and Craigslist are legitimate, you should be aware that some individuals post rental listings for the sole purpose of scamming potential renters. Often this is achieved by posting ads for rentals in popular locations with a below average asking price. Unsuspecting apartment hunters are then asked to transfer a sum into a bank account. The problem is, that ad you saw isn't a real deal. Now your money is gone and you still don't have a new place to call home.Working holiday makers are not immune to this nefarious behaviour – in fact, because they are new to Canada, they are often a top target for scammers.
You need to keep your wits about you when it comes to finding a suitable place to live. Whether you are living alone or with a partner or friends, it pays to be as diligent as possible in your accommodation search. You should always view the apartment or house you are interested in before agreeing to sign a lease and putting down a deposit. Similarly, make sure you are as familiar as possible with all tenant rights in the province . Tenant rights can vary considerably from one province to another, so it pays to do your research. If the landlord is asking for something that contravenes the tenant rights of that province, or you simply feel that the deal is too good to be true or the whole thing feels a bit weird, then there's probably something awry and you'd be better off trying another option.
Tenant rights in Canada
Key resource: Finding Accommodation in Canada
2. Not going the extra mile with your job hunt
Moving country is never easy, and there is so much to be done in the first few weeks. From finding a place to live, getting a mobile phone plan and organising your SIN, it can be hard to fit anything else in. However, unless you're coming to Canada with a briefcase full of cash, the reality is that you're going to need to find a job sooner rather than later. Whether you like to admit it or not, as a newcomer to Canada you are more than likely going to have to work a little harder than a Canadian to land a job. This means that you will have to go the extra mile in pursuit of your first job – be it a dream job or not. Some top tips in achieving this goal include:
Making sure your CV (called a resume in Canada) shows your achievements and value, and is refined and error-free.
Pounding the pavement. An enthusiastic applicant will certainly outperform someone who is only submitting online applications.
Networking properly with those in your chosen industry and maybe even people from your home country. It really helps.
Exuding confidence. After all, you've made it this far and obviously have a lot to offer employers in Canada.
Key resource: Finding Jobs in Canada
3. Failing to explore all that Canada has to offer as a working holidaymaker
To say Canada is a vast country is somewhat of an understatement. It is the second-largest country in the world, and if you travel from Newfoundland in the east all the way to Vancouver Island off the west coast, then you will have travelled through six time zones, past diverse cities and a wide variety of jaw-dropping landscapes.
One of the biggest mistakes we often see from IEC working holidaymakers is a failure to explore the country beyond the city they move to. Air travel in Canada is not cheap, but there are plenty of bus routes and trains as well, or you may be able to rent a car for a road trip of a lifetime. If you are only here for 12 or 24 months, or even if you decide to stay longer, it would be a shame to miss out on all that this beautiful country has to offer. From well-known tourist attractions like Niagara Falls and the Rocky Mountains to quaint Maritime fishing towns and the old-town feel of much of Quebec, there really is something for everyone.
Key resources: Moving2Canada Destination Guides, Driving licences in Canada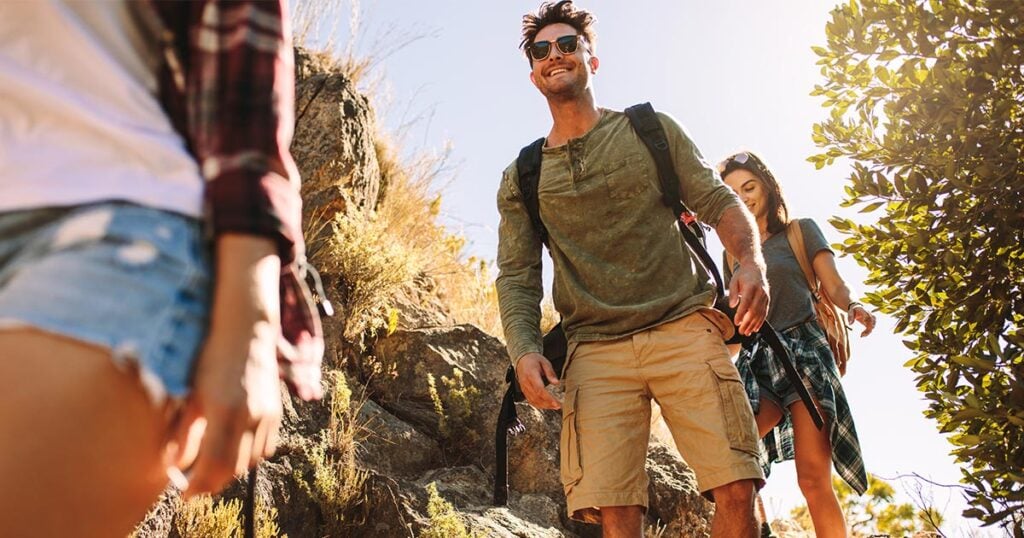 Free
Your personalized guide to IEC!
Our free interactive, personalized checklist will help you plan for every step of the journey, just like it has for thousands of successful IEC participants.
Get started
4. Not leaving your comfort zone to try new things
When it comes to trying new experiences in Canada, there really is no shortage of options. From ice-hockey, curling, and mountain hikes to sugar shack retreats, late-night poutine, and "screeching in", you really have no excuse for missing out on some of the weird and wonderful activities that Canadians partake in. When you move to Canada from a new country, it is understandable that you may be a little homesick and want to surround yourself with familiar people and activities. However, if you spend all your time in Canada with friends from home, you will miss out on the opportunity to learn more about the culture and customs that make Canada such an interesting and diverse place to live. Moreover, making yourself open to new experiences will enhance your understanding of the country, and may even entice you to stay longer.
Key resource: 10 Things to do in Canada
5. Deciding you want to stay in Canada, but leaving it too late to start the process
Speaking of wanting to stay longer, here's an error we see all too often. While they say it's better late than never, the reality is that this isn't always the case. This is particularly true when it comes to wanting to remain in Canada after your IEC work permit expires. Whether your work permit was for 12 or 24 months, you need to make sure that you get the wheels in motion as soon as possible.
Depending on your situation, there may be a route to another work permit or even directly to permanent resident status in Canada. But the later you identify the right route for you, the more likely it is that you'll have to stop working and leave Canada, either temporarily if your application is submitted late, or for good, if there is no application to be made at all.
While it is not the only way to remain in Canada after a working holiday, Express Entry is one of the most common routes chosen by working holidaymakers. Express Entry is broken into three strands, with the Canadian Experience Class (CEC) being one of the most sought-after options for those who came here on an IEC Working Holiday . CEC candidates must have at least 12 months of full-time (or equivalent part-time) skilled work experience in Canada within the last three years and pass a language test. Seems straightforward, right? Well, the issue is that many CEC hopefuls leave it too late to begin the process of applying for Express Entry and have to leave Canada as their IEC work permit has expired. Don't make this mistake!
Key resource: Express Entry in Canada
6. Being unclear what "skilled work" means when planning to apply for Express Entry
As we covered in mistake #5, the Canadian Experience Class (CEC) is one of the most popular Express Entry routes to permanent residence for those wishing to make Canada their long-term home. However, one of the biggest errors we see is a failure to understand what constitutes "skilled work".
The rules on skilled work are clear. The one year work experience must have been obtained while on a valid work permit in Canada and needs to be in one or more occupations classified as skill type 0, A or B under the National Occupational Classification (NOC). The experience can be gained in two different NOC codes, so long as they are skilled positions and the work experience is gained legally. In essence, this means that "skilled work" covers management roles (such as a bar or restaurant manager), professional roles (such as an editor or accountant, or hundreds of other occupations), and technical or trades jobs (such as chefs or electricians, plus loads of other occupations) If your job falls outside these categories then you may need to look at alternative options for staying in Canada.
For skilled work, it doesn't matter so much who your employer is, but what work you do (or did) there. So if you pass that key 12-month threshold managing a restaurant, great! But if you're on the wait staff at the same restaurant, that's not considered skilled work, unfortunately. A ski lift supervisor is considered skilled, but a ski lift operator is not. Similarly, a retail sales supervisor is skilled, but the retail salesperson being supervised is not. If you're unsure if your position is skilled or not, use this tool to find out. If the result is 0, A or B, that's skilled. But if it's C or D, that's not skilled.
Key resource: Staying in Canada after a working holiday
And there you have it. If you want to make sure that your time in Canada runs smoothly, then these are six errors that you really should avoid. If you have a suggestion to add to the list, you can email us at [email protected]. We won't promise to include it, but we might!
Finally, for the most up to date information on life in Canada and how to make the most of your move, register to create your very own Moving2Canada account and avail of newsletters and regular updates.
October 14, 2019
By Patrick Bourke